Key points:
As Bitcoin rises, the MSTR stock price has risen 35.9% in a week.
As a result, investors are excited that the worst may be over for cryptos.
So, should you buy MSTR stock? Read on to find out.
The MicroStrategy Incorporated (NASDAQ: MSTR) stock price has risen 35.9% in a week amid a recovery in the crypto markets that has many excited that the worst might be over for cryptos. However, given its massive Bitcoin holdings, MSTR stock has suffered immensely this year as Bitcoin prices fell.

The company, which doubled down on Bitcoin as it fell, has experienced a relief rally in its stock price as Bitcoin prices surged higher, raising hope that the crypto winter might finally be over. MSTR holds 129,699 Bitcoins with an average buying price of $30,700.
Also read: Cryptos, NFTs, or Shares. Which Is The Better Investment?
The company is currently sitting on unrealized losses of approximately $1.4 billion, which could be easily crystallized if it decided to sell the bitcoin. But luckily for investors, Microstrategy's Michael Saylor is not a man to be easily perturbed by turbulence in the crypto markets.
The likelihood of the Microstrategy liquidating its Bitcoin holdings is relatively minimal. So, is there a scenario where the company could be forced to sell its Bitcoin to meet some debt obligations? The short answer is yes, but this is highly unlikely.
Microstrategy has borrowed billions to buy Bitcoin, but its earlier debts are priced quite favourably. As a result, there is no immediate risk that the company will be unable to meet its debt obligations soon.
For example, Microstrategy's first loan was a senior convertible note offering worth $650 million due in 2025, with an interest rate of 0.750%. The company pays $5 million in interest on this loan annually. The second loan was a  $1.05 billion senior convertible note offering due in 2027 with a 0% coupon rate and a 50% conversion premium.
In June 2021, Microstrategy raised $500 million via senior secured notes yielding 6.125%, which brings its annual interest payments on the loan to $30.6 million. The company's last loan in March 2022 was a $205 million 3-year loan from Silvergate Bank secured by 19,466 Bitcoin.
While the company's capital cost has risen recently, Microstrategy is far from being liquidated despite recent rumours suggesting the same.
So, should you buy MSTR stock? The answer depends on your long-term outlook on Bitcoin. I think the worst is not over yet, given the Fed's hawkish policy stance.
*This is not investment advice. Always do your due diligence before making investment decisions.
MSTR stock price.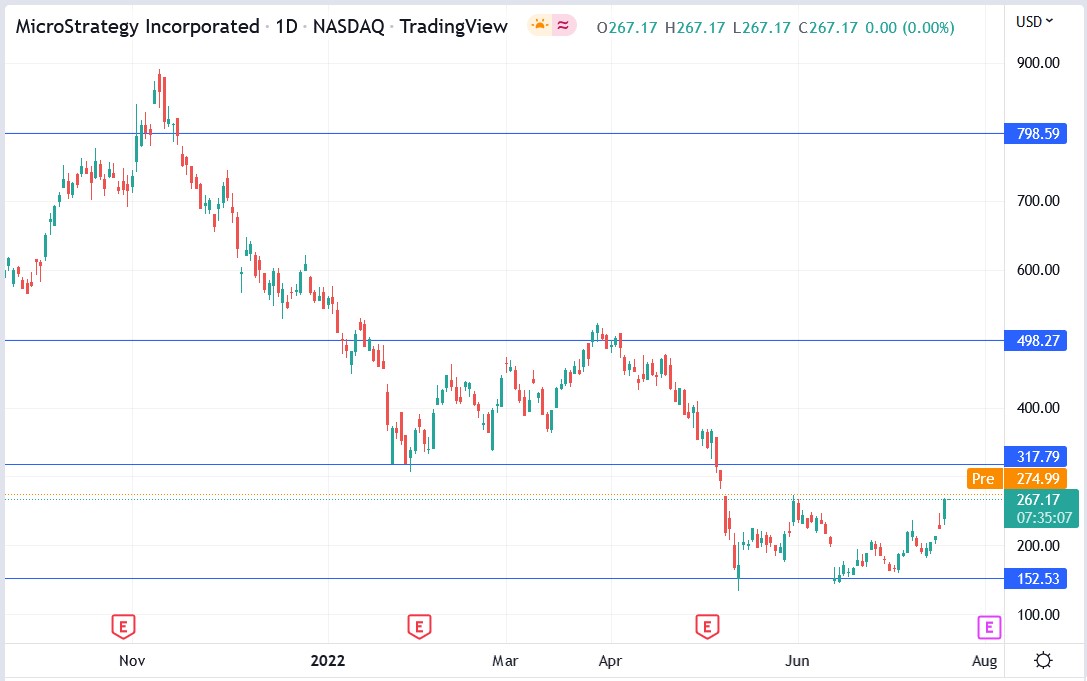 MSTR stock price has rallied 35.95% in the past week amid a recovery in the crypto industry. What's next?