Key points:
Tesla Second Quarter Earnings Shows Sale Of 75% Of Bitcoin (BTC) Holding
China Supply Chain Worries Cited As The Reason
But The BTC Chart Has Already Indicated A Bottom
Wednesday saw Tesla announce their second-quarter earnings, and in it, they revealed they had sold 75% of their Bitcoin holdings. This comes in the wake of a drop in profit and a need to maximise its cash position due to supply chain issues related to shutdowns at its Shanghai Gigafactory. Despite a dip in BTC, the technical outlook has significantly improved for the cryptocurrency leader in the past 1-2 weeks!

Tesla Second Quarter Earnings Shows Sale Of 75% Of Bitcoin Holding
Tesla released second-quarter earnings on Wednesday that showed profits dropped by 32% from prior record levels from Q1, posting a $2.26 billion net profit. The automotive company also announced they has sold the majority of their BTC holdings, stating in a letter to shareholders, "As of the end of Q2, we have converted approximately 75% of our Bitcoin purchases into fiat currency," adding "Conversions in Q2 added $936M of cash to our balance sheet."
China Supply Chain Worries Cited As The Reason
Tesla continues to suffer from manufacturing slowdowns with supply chain and other issues limiting its ability to reliably allow its factories to run at full capacity. Earlier in Q2, Tesla involuntary suffered a temporary shutdown of its Shanghai Gigafactory as it complied with China's zero covid policy and lockdown restrictions. This produced a rare drop in delivery numbers.
Elon Musk, the Tesla Chief Executive Officer, added on an earnings conference call that the company sold the Bitcoin to maximize its cash position because of uncertainty related to the Covid shutdowns. He noted that the sale should not be seen as "some verdict on Bitcoin."
But The BTC Chart Has Already Indicated A Bottom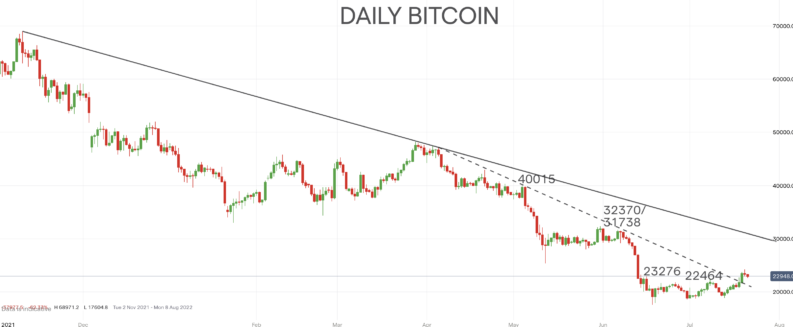 Despite setting back lower on Wednesday after the aforementioned announcement from Tesla, the earlier, mid-July Bitcoin rally has secured at least a short-term and arguably an intermediate-term bottoming pattern and bullish reversal. We highlighted these upside prospects in our post last week Ethereum Merger Countdown – Are ETH and BTC Looking Bullish?
The 25-30% trough to peak surge over the past 1-2 weeks through 22464 and 23276 has confirmed a technical base. In addition, the reversal of the bear trend line form April has reinforced this positive view from a charting perspective. This sets up prospects for a more sustainable recovery rally than the market has experienced throughout the 2022 bear market. Upside risks are now to chart targets from May/ June at 31378/ 32370 and maybe as high as 40015!