Shares of Mode Global Holdings PLC (LON: MODE) surged after the payments company revealed that it had raised £6 million via an oversubscribed share placement at a price higher than its IPO price.
The fintech company said that it would use the funds to launch a new payments solution built on Open Banking models, eliminating credit/debit cards. The firm also intends to develop a loyalty and rewards 'engine' to deliver personalised offers to clients.
Mode Global intends to incorporate the above functionality into its Mode Super App set for launch shortly. The company also intends to use some of the funds to market its business and expand its client base globally.

The company's main objective is to connect British and European business to clients in China and other countries that have witnessed significant growth in recent years. The firm intends to market its services via Alipay and WeChat.
Mode intends to up its Bitcoin holdings to ensure that the cryptocurrency makes up 10% of its Treasury holdings at all times. The company invested $1 million in Bitcoin after its IPO in October 2020, representing 10% of the capital raised, and it intends to maintain this ratio.
The last time we discussed Mode Global was in early February when the stock had just started rising following a parabolic rally selloff, and it went on to rally to a high of 85p, after which it fell to its current prices.
I expect either the 56p or 52p levels to hold, after which we could get a rally. However, a break below 52p would invalidate this trade setup.*
Jonathan Rowland, Mode Global's Chairman, said: "The company has been extremely busy since our October IPO, but shareholders can expect with these additional funds that we will now accelerate these ambitious and exciting development plans,"
Mode Global share price.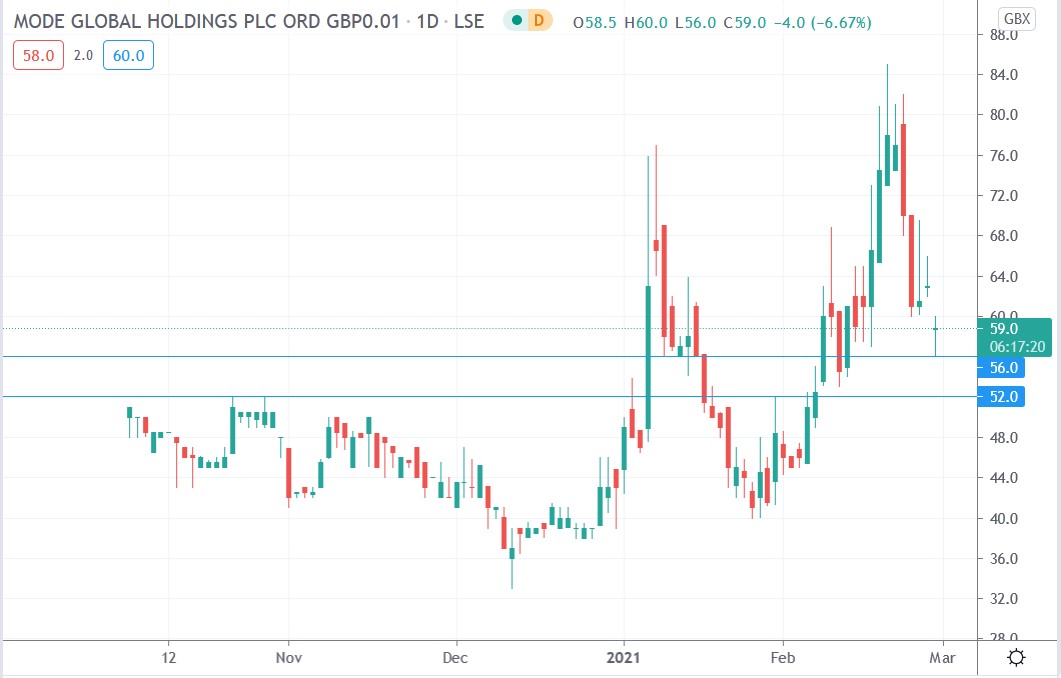 Mode Global shares crashed 11.1% to trade at 56p, falling from Thursday's closing price of 63p.