Key points:
Nanosynth shares plunged 37.6% after unveiling its new strategy.
Investors were initially unimpressed by the announcement.
Will the new strategy pay off? Read on to find out.
The Nanosynth Group PLC (LON: NNN) share price plunged 37.6% after the nanoparticles company unveiled its new corporate strategy. The firm said that it had identified 37 business verticals where it could partner with clients to sell its patented nanoparticle technology.

However, investors did not share the same enthusiasm as the company, given the initial drop. Still, Nanosynth shares had recouped most of their losses at writing after investors digested the new strategy but were still in negative territory.
Some of the industries identified and targeted by Nanosynth include animal health & wellbeing, cosmetics, medical, plants, fertilisers, food & drink, electronics and functional coatings. The company said it was pursuing deals with some interested clients but warned that there were no guarantees that current discussions would result in signed contracts.
Investors were also sceptical of Nanosynth's plans to cover the commercial costs during the development phase, which will limit its revenue generation to either a royalty payment on future sales or payments for the supply of nanomaterials to the client.
Nanosynth clarified that it is pursuing multiple patents to protect its nanotechnology in the industries it will be operating and has created different business packages for each of its target markets.
The quick recovery in Nanosynth's share price is a sign that investors are willing to give the company a chance to prove that its nee strategy works. However, signing a partnership agreement would provide substantial proof of the demand for its products.
Mark Duffin, Nanosynth's CEO, commented: "As a Company, we are extremely excited about the significant market sectors that have expressed an interest in adopting our technology which is expected to take us from a licensing business model into the development, production and supply of nanoparticles."
Nanosynth shares today bounced off a crucial support zone after their initial decline. However, I wouldn't rush to buy NNN shares until there is proof that the company can generate revenues with its new corporate strategy.
*This is not investment advice. Always do your due diligence before making investment decisions.
Nanosynth share price.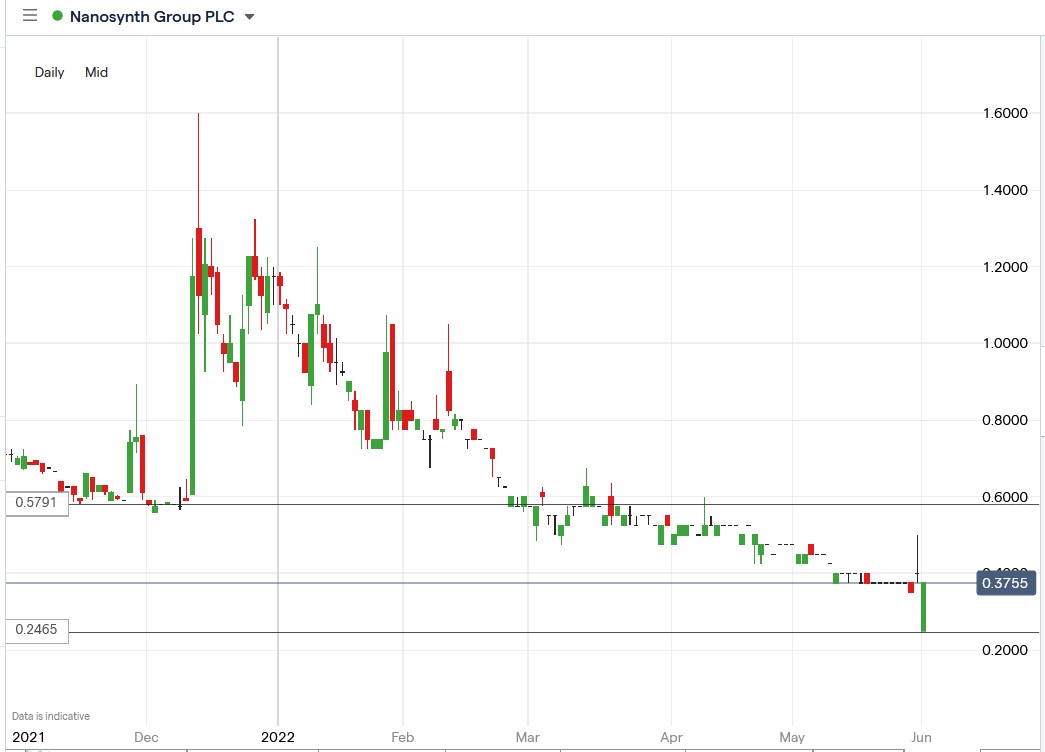 Nanosynth share price plunged 37.57% to trade at 0.2497p, falling from Tuesday's closing price of 0.4000p.