Key points:
Chill Brands' share price rallied 8% despite unveiling a share offer.
The new offer to shareholders was priced similar to its April fundraise.
Read on to find out what we think of the firm's prospects.
The Chill Brands Group PLC (LON: CHLL) share price rallied 8% after the cannabis consumer products company announced an open share offer for its existing shareholders to raise £484,000 for use as working capital.

The move follows the firm's proposal on 9 May 2022, outlining the plan to raise almost £500,000 to fund its operations. The open offer will see the company issue over 4 million new open offer units to raise approximately £483,673.92 before expenses.
Existing shareholders can acquire one new open offer unit at 12p each for every 60 Chill brands shares they own. Each offer unit includes one ordinary share and five unsecured convertible loan notes valued at 2p each, which explains the 12p price for each open offer share.
Investors will buy six Chill Brands shares at 2p each if they choose to convert the convertible loan notes they acquire if they participate in the open offer.
The cannabis company pointed out that the terms offered during the open offer to shareholders were identical to those offered to other investors during its last fundraising in April this year, which raised £3.5 million.
Interestingly, investors did not react negatively to the announcement despite the new shares being priced at a discount to Chill Brands' current share price. It appears that investors are pretty confident in Chill Brands' prospects.
The cannabis products specialist has been making significant progress in rolling out its products within the US and globally via its website. Still, the markets have ignored its positive prospects. As a result, chill Brands' shares have fallen 84.38% since the year started.
However, the stock appears to have recently bottomed, given that it has been trading sideways for most of the past month. Therefore, we could be gearing up for Chill Brands' share price rally. However, I would wait for a solid rally to emerge before jumping in.
*This is not investment advice. Always do your due diligence before making investment decisions.
Chill Brands share price.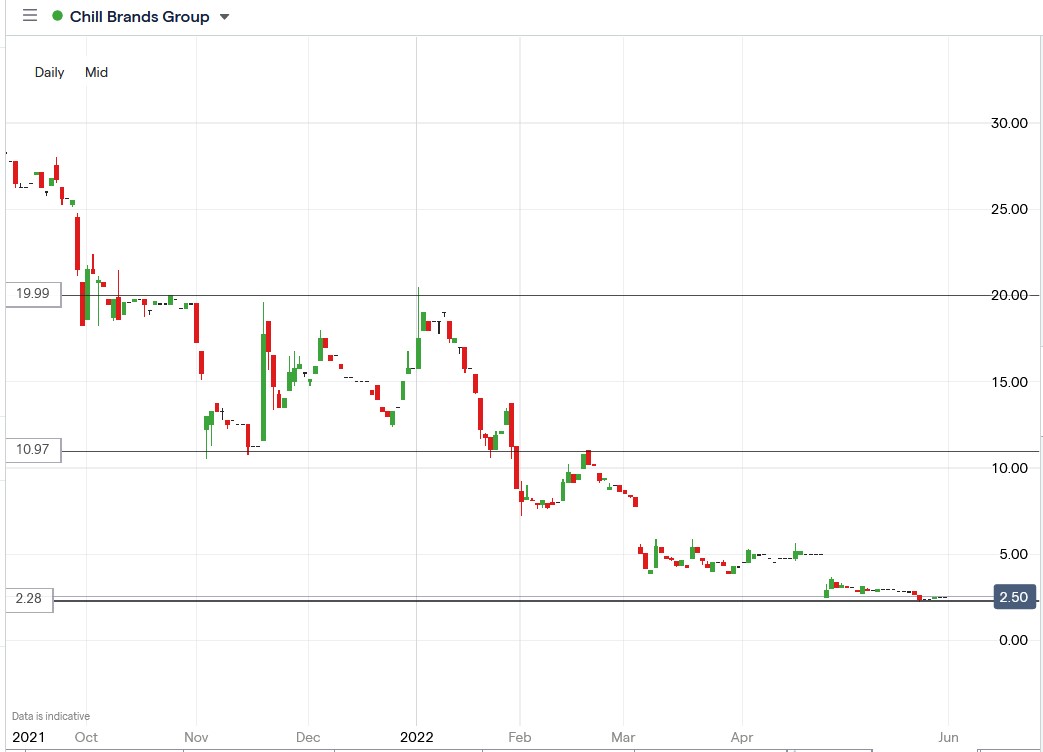 Chill Brands' share price rallied 8% to 2.70p after announcing the open offer to raise £484,000.