Key points:
The Nasdaq stock plunged 67.6% on Friday, yet we can't blame the Fed.
The decline was triggered by a 3-for-1 stock split affected by the company.
A forward stock split is a positive development, unlike a reverse stock split.
The Nasdaq Inc (NASDAQ: NDAQ) stock price plunged 67.6% on Friday amid a broader market selloff attributed to the hawkish comments by Fed Chair Jerome Powell during the much-anticipated Jackson Hole Symposium.

Market participants blamed the Fed chairman Jerome Powell for the 1008.38 points (3.03%) decline in the Dow Jones, the 497.56 points (3.94%) decline in the Nasdaq and the 141.46 points (3.37%) decline in the S&P 500 index.
Also read: The Five Best Momentum Stocks To Buy Right Now.
While investors were right in blaming their Friday market losses on the Fed chair, the 67.6% decline in the Nasdaq stock price was a positive development since it originated from a forward or regular split in Nasdaq stock.
Investors holding Nasdaq stock got three shares for every share they had in the company on Friday when the new shares were distributed to shareholders. The company had proposed the 3-for-1 stock split on April 20, 2022, with the move receiving shareholder and SEC approval in June.
Unlike reverse stock splits, forward stock splits usually come from companies with robust businesses that have seen their share prices rise above certain crucial levels, as determined by the company's management team.
In such cases, the company's management team could choose to affect a stock split to make the firm's stock price cheaper and accessible to most investors. Many companies have done this in the past, including Amazon.com, Tesla and Google parent Alphabet inc.
Before Friday's stock split, Nasdaq stock was trading at over $185, and the shares are trading at just over $60 following the stock split. As a result, investors with smaller accounts can now trade Nasdaq stock comfortably, while investors with larger accounts can own more shares.
However, most stocks owe their Friday losses to the Fed chair's hawkish comments that indicate there will likely be a 75 basis points rate hike in September.
*This is not investment advice.
Nasdaq stock price.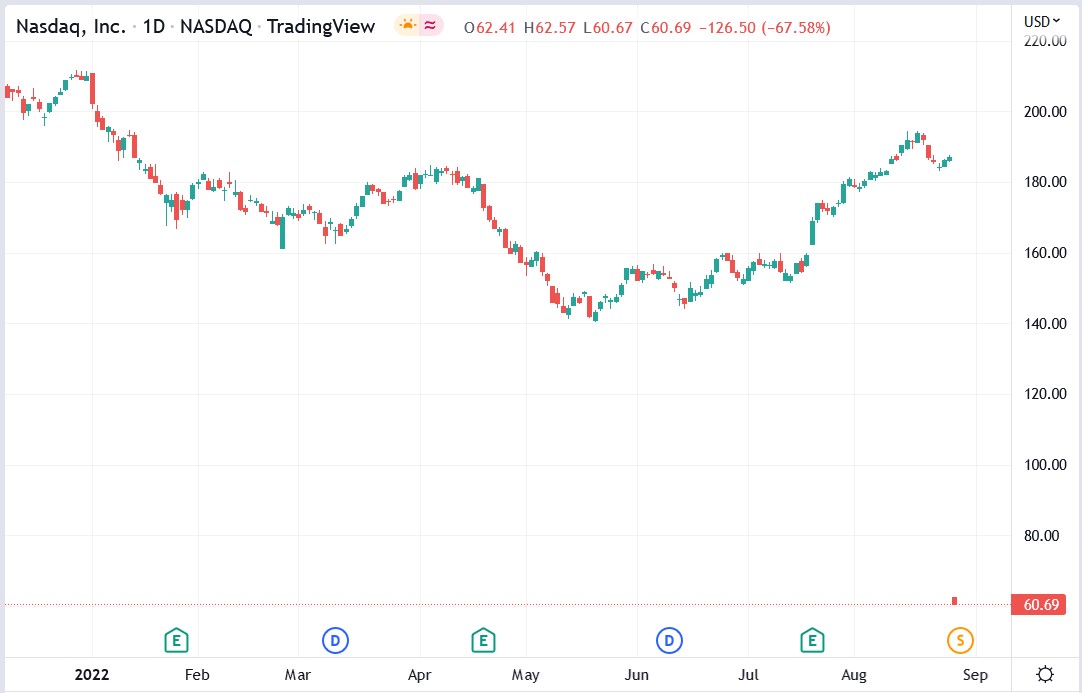 The Nasdaq stock price plunged 67.58% on Friday, falling by $126.50 in a move that cannot be attributed to the Feds.