Key points:
Open orphan shares surged 9.33% after winning a £10.4m contract.
Investors reacted positively to the news, as evidenced by the rally.
However, the company's shares are down 47% this year. Are they a buy?
The Open Orphan PLC (LON: ORPH) share price surged 9.33% after the company won a £10.4m contract with an existing top 5 global pharma client. The contract is for manufacturing a new batch of H1N1 influenza challenge virus.

The contract builds on an existing proprietary challenge model, followed by a human challenge trial to test the client's antiviral product. The company proudly noted that this was the third contract with the same client.
Also read: Five Best Pharmaceutical Stocks To Watch in 2022.
The company's hVIVO subsidiary will manufacture the challenge agent based on its decades-long experience manufacturing such agents. The company has ramped up its activities since the emergence of COVID-19 and has now established its position as a leading contract research organisation (CRO).
Open Orphan has now fully transitioned into a provider of end-to-end services in the human challenge trial sector. It designs and manufactures the challenge trial agents, recruits volunteers and runs successful human challenge trials.
The company said it would start manufacturing the challenge agent immediately at its "Good Manufacturing Process" (GMP) compliant facility. The firm expects to complete the manufacturing process by Q2 2023, after which it will start a Phase 2a double-blinded placebo-controlled human challenge study, projected to end in Q4 2023.
Yamin 'Mo' Khan, Open Orphan's CEO, said: "We're delighted to be working again with this top 5 global pharmaceutical company to test its antiviral, using a new influenza strain developed by our highly experienced team. This contract is the third challenge study with this client and our second end-to-end full-service contract overall. Our one-stop-shop service offerings, from manufacturing bespoke challenge agents to conducting full challenge studies, is unique in the market."
Despite securing multiple contracts, Open Orphan's shares have fallen 47% this year. It seems like its superior earnings are not being reflected in its share price. One of the reasons for this is investor apathy towards the high-flying biotech stocks of 2020 and 2021.
The decline is also because most of Open Orphan's revenues will be recognised over several years. So should you buy Open Orphan shares? The shares look attractive since they bounced off a resistance zone. I would buy at current prices.
*This is not investment advice. Always do your due diligence before making investment decisions.
Open Orphan share price.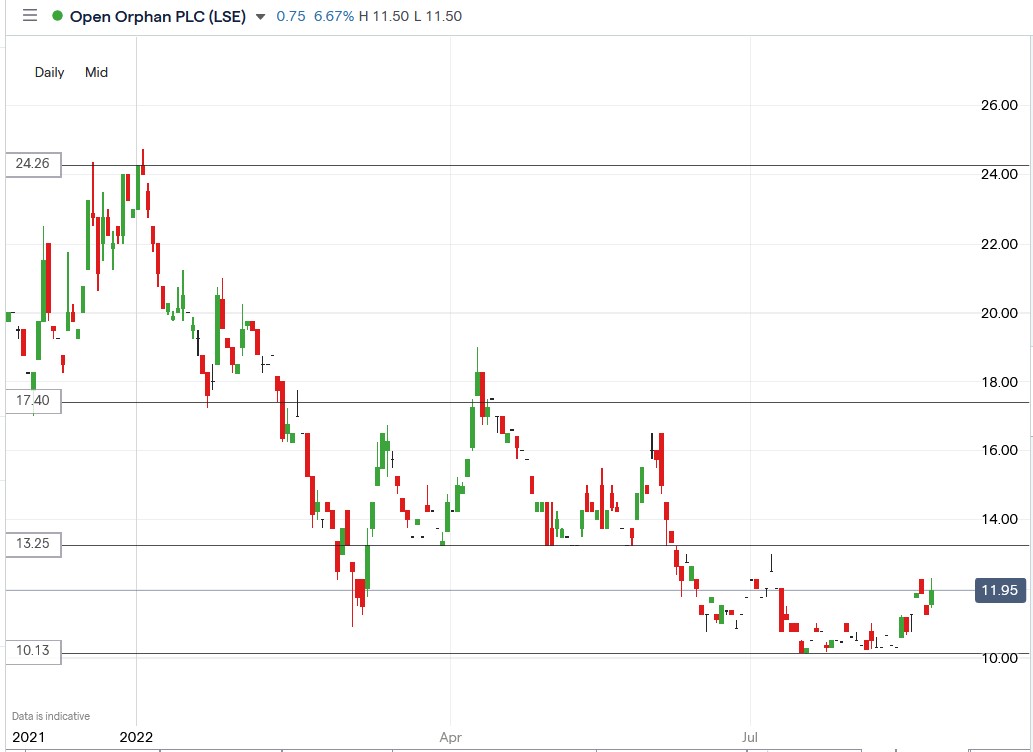 The Open Orphan share price surged 9.33% to trade at 12.30p, rising from Friday's closing price of 11.25p.