Key points:
BOO bought into REVB last week
BOO shares have fallen 10%, REVB fallen back too
Prices are telling us that this might not be a good deal
Revolution Beauty (LON: REVB) shares surged last week on the news that Boohoo (LON: BOO) had taken a significant stake in the company. BOO bought some 7% and change of REVB on the open market and this led to an, as we would expect, jump in Revolution shares. From perhaps 13p while the buying was going on, all the way up to 27p when the news was announced. We pointed out at the time that while REVB was up 16% just on the day of the news, BOO shares fell 2% at the same time.

Revolution is now markedly lower, at some 18 pence this morning. But it's the effect upon the Boohoo share price which seems more notable. For that's down around 10% since the beginning of this little story. That's not, perhaps, quite what we'd expect if the Revolution deal was being looked upon kindly by the market. The staider end of the market – as represented perhaps by the FT – is not greatly enamoured of the deal, that's for sure.
It's possible to take the view the FT does, which is this is little more than an opportunistic stake in a disastrous float. It's also possible to think of this as being about Boohoo noting that the products are doing well in its own distribution chains so why not buy in at the source? That is, that there's a structural rationale here as well as tactical.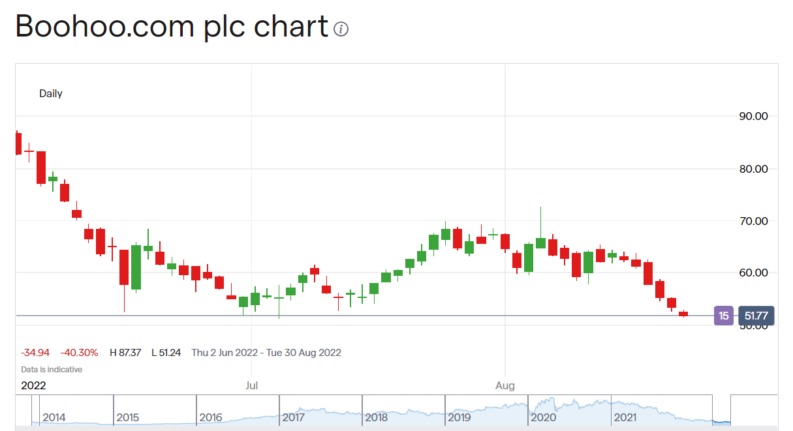 Also Read: A Guide To The Best Clothing Stocks To Buy Right Now
One little piece of gossip going around the market is that the REVB deal is seen as Boohoo not being serious – not doing what it needs to be doing. There are significant cost and logistics problems within the Boohoo business that need to be solved. Perhaps they are being – but management time being taken up by dabbling in the crashed out stock of a failed IPO (to be unkind about REVB) is not something we want to see. It may well be possible to take a turn on such investments – but there are more important things that management should be attending to instead.
Now, whether that's a fair view, a fair piece of gossip, that's another thing. But it is true that the Boohoo model requires some serious work. The costs of returns are making it necessary to do something about the volume of them. Those well known difficulties with the subcontracting chain in Leicester are increasing costs as alternative suppliers are required. Lead times with overseas suppliers increase. The whole idea of logistics in the US needs work. There's plenty for management to be attending to that is. Some are therefore muttering about cobblers and their lasts.
It is entirely possible to take that other view though. That a bit of vertical integration could capture more of the profit stream. That if REVB goods are being sold through the BOO chain, why not won a piece of them? And the price looks attractive after all.
Currently not all that many seem to believe that second story – and the BOO share price might need more to do so to recover.