Key points:
The Tilray stock price edged higher premarket after Poland's approval.
Polish authorities allowed the firm to sell medicinal cannabis in the country.
The cannabis country faces some threats but has potential opportunities.
The Tilray Inc (NASDAQ: TLRY) stock price edged 1.60% higher after revealing that authorities in Poland had given its medical cannabis division, Tilray Medical, permission to market its medical cannabis products in the European country.
Also read: Five Best Momentum Stocks To Buy Right Now.
However, I was slightly disappointed by the muted reaction to the announcements, which gives Tilray access to a small part of the European medical cannabis industry. Investors did not think the approval would significantly impact the company's top and bottom lines.
Denise Faltischek, Tilray's Chief Strategy Officer and Head of International Business, said: "I'm extremely proud of our team in Europe for once again expanding our approved authorization for Tilray Medical products across Europe. Tilray will continue to advocate for reasonable patient access to reliable and high-quality medical cannabis in Europe and countries around the world."
Tilray shares have fallen 43.6% this year as the company continues to lose market share in its home market of Canada amid stiff competition from other firms as the Canadian cannabis market matures. Canada was the first western country to legalize cannabis use for both recreational and medicinal purposes.
The cannabis company saw its market share in Canada shrink to 8.3% in the last quarter of its 2022 financial year from 12.8% at the end of the second quarter. However, its net revenues for the 2022 fiscal year rose by 22% to $628.4 million.
Most analysts have a negative view of Tilray stock, with most having a sell rating. However, we have seen many firms in the past defy analyst ratings and go in the opposite direction; hence, Tilray could easily do the same.
However, there is a silver lining to Tilray's story in that the European Union is actively considering legalizing cannabis use for recreational use across the region. Such an eventuality would significantly boost Tilray's revenues since it already has a presence in the region as a supplier of cannabis for medical uses.
From a technical analysis perspective, Tilray shares are attempting to rally higher but do not have enough momentum to launch higher. Therefore, the next key upside target for TLRY stock is the $5.22 resistance level.
*This is not investment advice. Always do your due diligence before making investment decisions.
Tilray stock price.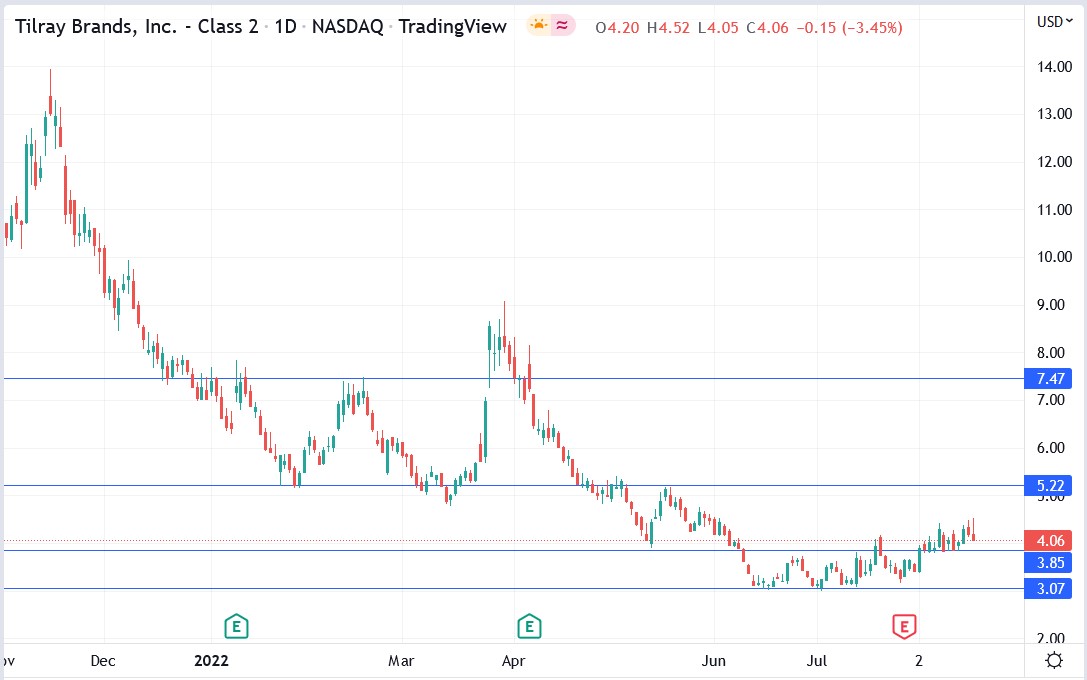 The Tilray stock price was trading at $4.12, up 1.60% premarket after rising from Wednesday's closing price of $4.06.