Key points:
The Paysafe share price rose 15.6% after its Q4 results beat estimates.
The payments company faces stiff competition from new entrants.
Therefore, it has to diversify its income sources to other industries to survive.
The Paysafe Ltd (NYSE: PSFE) share price rallied 15.6% after the online payments company revealed that it made $371.7 million in Q4, beating analysts' estimates of $357 million.

Investors cheered the news, evidenced by the premarket rally and the positive open today.
The company's upbeat revenues were driven by a surge in its US acquiring business, which increased 9.7% on an annualised basis to hit $166.8 million.
Revenues from its integrated and eCommerce solutions also rose 3.1% to $23.5 million, while revenues from its digital wallets fell 8.8% to $87.9 million. Paysafe's eCash revenues also shrunk 6.3% to $99.2 million.
Paysafe mentioned that growth in its key European markets remains soft, but its expansion into the US legal sports gambling market could open a significant revenue stream.
The payments company is currently working on a partnership with Hard Rock Online Casino in New Jersey to handle the processing of payments made via credit and debit cards on its mobile app.
Paysafe faces a significant challenge in stiff competition within the online-payments market from companies such as Wise Plc (LON: WISE) that have made it easy for people to move money across borders.
As an incumbent that was among the first companies to offer fast and secure online payments, Paysafe is struggling to remain relevant. Its competitors offer much cheaper rates and faster transactions times.
However, other payments companies such as PayPal face a similar threat from new entrants forcing them to diversify their income sources to other industries amid declining transaction incomes.
Many investors want Paysafe to partner with other leading gambling companies such as Barstool Sports, given the significant growth potential of the US gambling market that is still undergoing legalisation.
Paysafe expects to generate $355 million to $365 million in revenues during Q1 2022, with full-year revenues expected to be between $1.53 billion and $1.58 billion. Analysts expect the firm's Q1 revenues to be $362.7 million, while annual revenues are pegged at $1.54 billion.
Paysafe shares have fallen 26.1% in 2022, bringing their total losses over the past 12 months to 81.76%. Many are hoping that today's positive results will launch a new uptrend. However, nothing is guaranteed in the markets.
*This is not investment advice. Always do your due diligence before making investment decisions.
Paysafe stock price.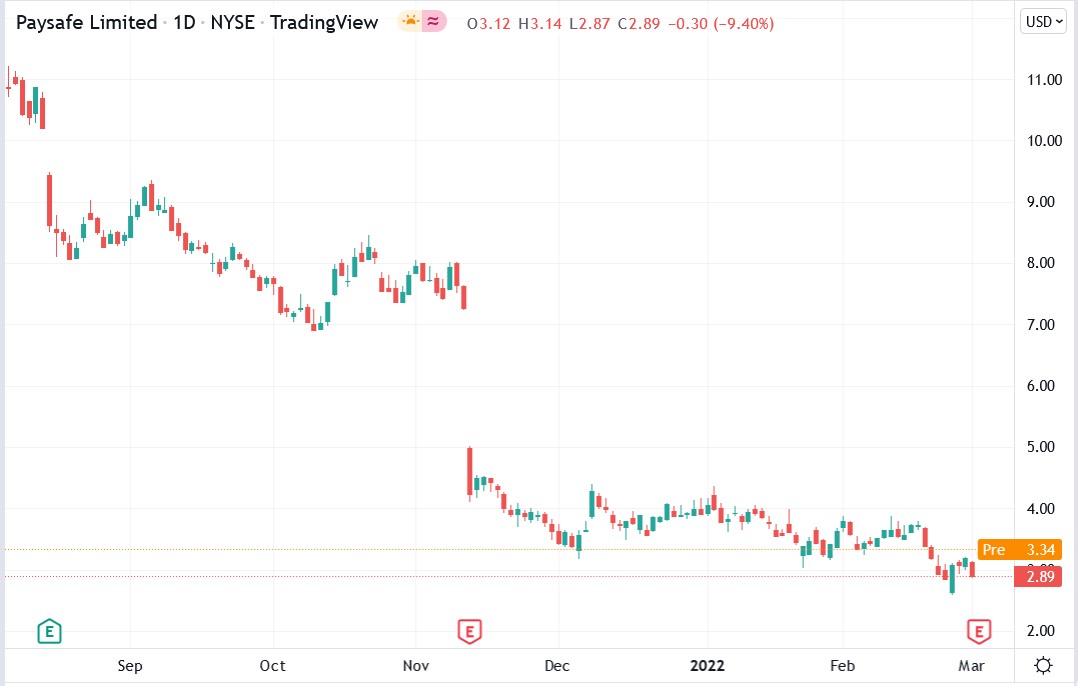 Paysafe share price edged 15.57% higher to trade at $3.34, rising from Tuesday's closing price of $2.89.