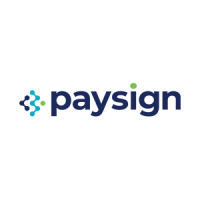 Payment company Paysign (NASDAQ: PAYS) shares have plummeted premarket after the company released its third-quarter earnings showing a fall in revenue and a net loss. 
Despite estimating positive revenue, Paysign reported revenue of -$153,000, a decrease of $9.2 million compared to the previous year. It also includes a charge of $6.3 million for a change in accounting estimate. 
When the company reported its results for Q2 analysts told investors to expect an increase in sales, but its revenue declined 26% instead.
Paysign also recorded a net loss of $6.2 million in Q3 or a diluted EPS of -$0.12. 
"The pandemic continues to have a meaningful impact on our business due to its adverse effect on our clients in the pharma and plasma industries. However, we remain cautiously optimistic in their recovery and we continue to target a return to year-over-year growth, subject to the ongoing effects of the pandemic," commented Mark Newcomer, Paysign's CEO.
The Nevada-based company said that it remains well-capitalised and in a good position to weather the continued impact from the Covid-19 pandemic. 
Paysign shares are priced at $4.70 premarket on Wednesday, down 23.45% from Tuesdays close at $6.14. However, Wall Street analysts surveyed by TipRanks still see potential upside in the stock, with an average price target of $7.50. 
PEOPLE WHO READ THIS ALSO VIEWED: