Key points:
The ProShares UltraPro Short QQQ ETF (SQQQ) stock price is falling.
Does this mark the end of its recent rally? What should investors buy?
Read on to find out our recommendations for traders and investors.
The ProShares UltraPro Short QQQ ETF (SQQQ) stock price has started falling, erasing some of this year's gains as US stocks markets start recovering. As a result, many are now wondering, is this the end of the bull run in the SQQQ ETF stock?

The short answer is that it is too early to tell, but there are signs that the US stock markets are on a recovery path, given that US stock equity funds recorded their first net weekly inflow this week compared to the last seven weeks saw net outflows.
Investors and the markets are tired of the bearish narrative and are becoming hopeful. The main reason behind the recent change in investor behaviour is that many analysts are now predicting that the Federal Reserve's rate-hiking cycle will end much sooner than initially expected.
The Fed cannot keep hiking rates with the US economy now teetering on the edge of a recession. Therefore, the Fed's rate hikes are likely to end much quicker than most people anticipated amid slowing consumer spending and rising production costs.
The US Federal reserve would want to burden consumers with higher rates when their incomes are squeezed and vital economic sectors such as real estate and the retail sector start falling.
Therefore, we might be nearing the end of the significant rally in SQQQ ETF stock. Investors should also remember that SQQQ is not a long term investment, and as such, you should only hold the ETF for short periods, given its high costs. Institutional investors mainly use SQQQ stock to hedge against bullish bets in a falling stock market.
Retail investors have no business buying and holding SQQQ since stock markets tend to increase over time, and SQQQ is a proven capital destroyer. Moreover, as a three times short ETF, SQQQ tends to perform exceptionally poorly when stocks are rising, leading to numerous past reverse stock splits to shore up its prices. The last reverse split happened earlier this year.
Investors will likely have better luck with the Invesco QQQ Trust Series 1 (QQQ), which tracks market movements, especially now that stocks are showing bullish signs.
*This is not investment advice. Always do your due diligence before making investment decisions.
SQQQ stock price.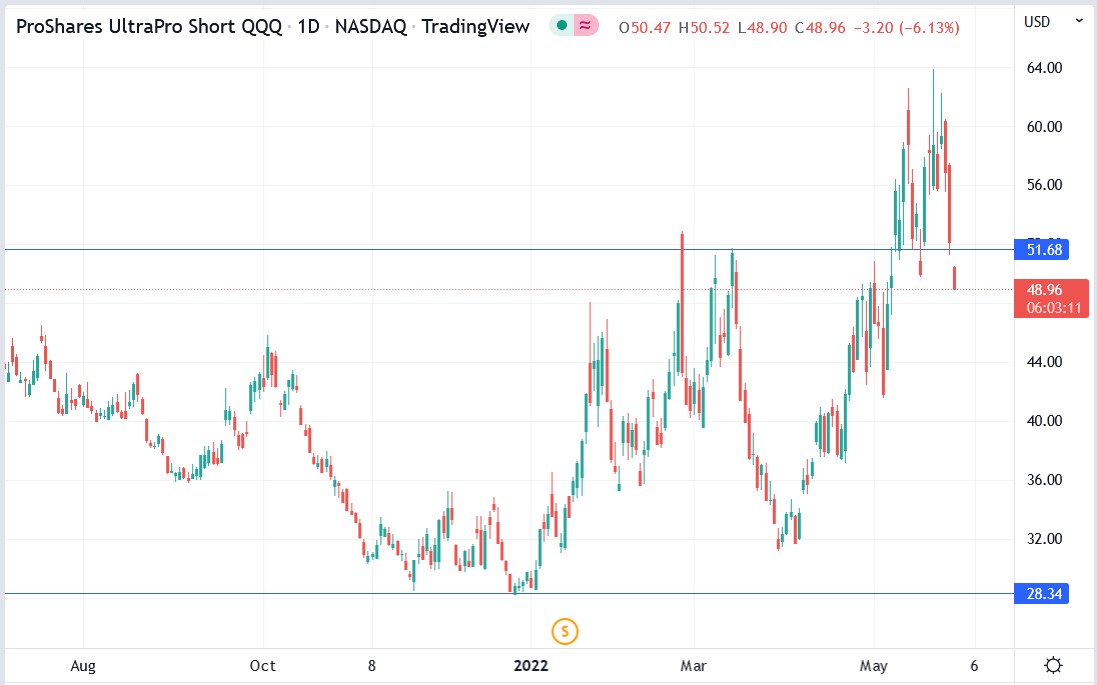 The SQQQ stock price has fallen 10.47% in the past week as US stocks rallied higher. Is this the end?