Key points:
Protalix Bio stock rallied 68.6% on positive phase III clinical trial results.
The company's pegunigalsidase alfa (PRX–102) drug met primary endpoints.
Investors cheered the news that marks a major milestone for Fabry patients.
The Protalix Biotherapeutics Inc (NYSEAMERICAN: PLX) stock price surged 68.7% higher after reporting that the BALANCE Phase III clinical trial, which tested the effectiveness of pegunigalsidase alfa (PRX–102), 1 mg/kg as a treatment for Fabry disease.

The treatment and clinical trials were developed in collaboration with Chiesi Global Rare Diseases, a division of Chiesi Farmaceutici S.p.A., with the two organisations announcing the positive topline results.
The 4-month study is now complete, and the topline results from the final analysis of all the data collected are now available. The study was conducted on adult Fabry patients with deteriorating renal function. All the 78 patients enrolled in the study had been previously treated with agalsidase beta for at least one year.
The topline results showed that PRX–102 was comparable to agalsidase beta in controlling eGFR decline, a critical measure of Fabry disease progression, and demonstrated a favorable tolerability profile for PRX–102.
Dror Bashan, Protalix's President and CEO, said: "We are pleased to announce positive topline results from the BALANCE Phase III clinical trial and would like to thank the Fabry disease patients and their families, as well as the study investigators and their teams. Our robust clinical development program, from the Phase I\II clinical trial, through the three Phase III clinical trials and the related extension studies, required substantial time and effort from study participants who showed a strong level of commitment allowing our clinical development program to move forward,"
Adding:
"Based on results from our clinical program, we believe that PRX–102, as a PEGylated enzyme replacement therapy with potentially two different dosing regimens, may be a valuable new treatment option for individuals suffering from Fabry disease."
Einat Brill Almon, PhD, Protalix's Sr. Vice President and Chief Development Officer, said: "This is an important milestone both for the Fabry community and Protalix in a long and productive journey. We thank all of our collaborators for their contributions and support throughout this journey,"
Adding:
"We believe that this multi-year study demonstrates the potential for switching from agalsidase beta to PRX–102 in the treatment of patients with Fabry disease. The study met our pre-defined criteria for non-inferiority of the primary endpoint of kidney function in a head–to–head active comparison on both the Intent–to–Treat (ITT) and Per Protocol (PP) analysis sets. Given these results, we plan, together with Chiesi, our commercialization partner, to work with regulatory agencies on the applicable submissions, hopefully bringing PRX–102 to approval as a new PEGylated enzyme replacement therapy for all adult Fabry patients."
Investors cheered the news, as evidenced by the rally in Protalix Bio stock, but I would not buy PLX shares after today's rally. Waiting for a pullback is what savvy investors would do, and I will do that.
*This is not investment advice. Always do your due diligence before making investment decisions.
Protalix Biotherapeutics stock price.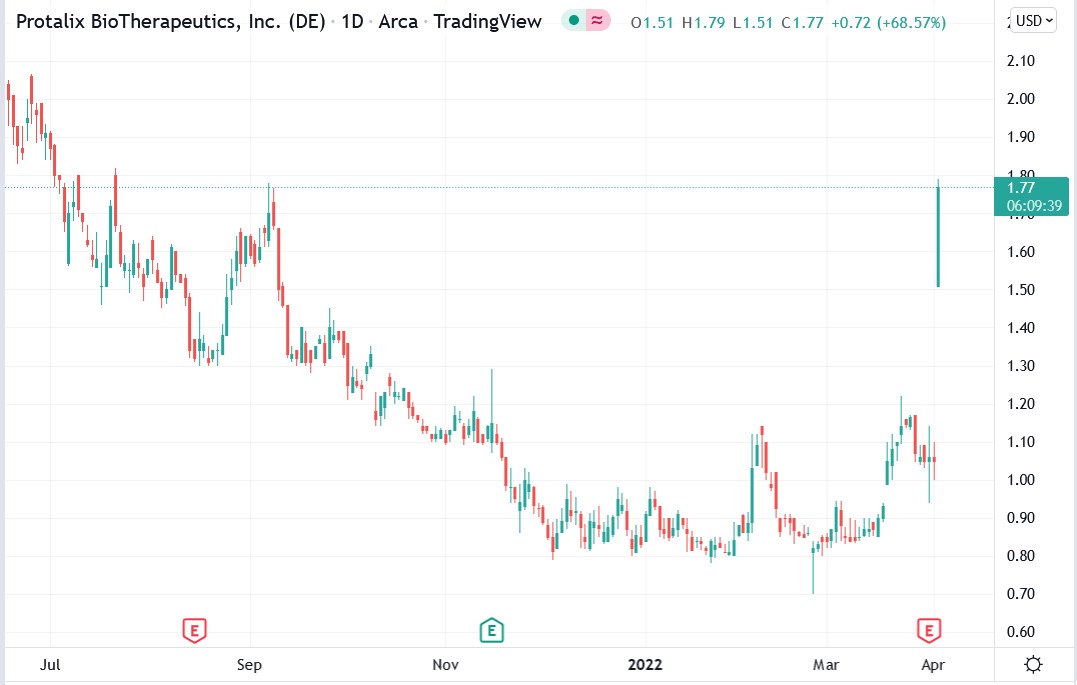 Protalix Bio stock rallied 68.57% to trade at $1.77, rising from Friday's closing price of $1.05.