Shares of gold and base metals exploration company Rockfire Resources (LON: ROCK) have fallen on Thursday after the company completed a placing of new ordinary shares, raising gross proceeds of £850,000.
Through a placing by the company's sole broker, Allenby Capital Limited, 121.4 million new ordinary shares of 0.1p were issued at an issue price of 0.7 pence per share.
Rockfire Resources share price fell to lows of 0.70p following the London open; however, they have clawed back some of those losses, now priced at 0.7726p, down 11.42%.

The placing shares represent 12.72% of the enlarged issued share capital of Rockfire, with new and existing investors subscribing. 
Rockfire's largest shareholder and one of its non-executive directors, Nicholas Walley, has subscribed for 6 million shares in the placing, increasing his holding to 59 million shares.
The funds raised will be used for inaugural drilling at the Copper Dome and Copperhead projects and funding ongoing drilling at the Plateau Gold Deposit, part of the Lighthouse tenement in North Queensland, Australia.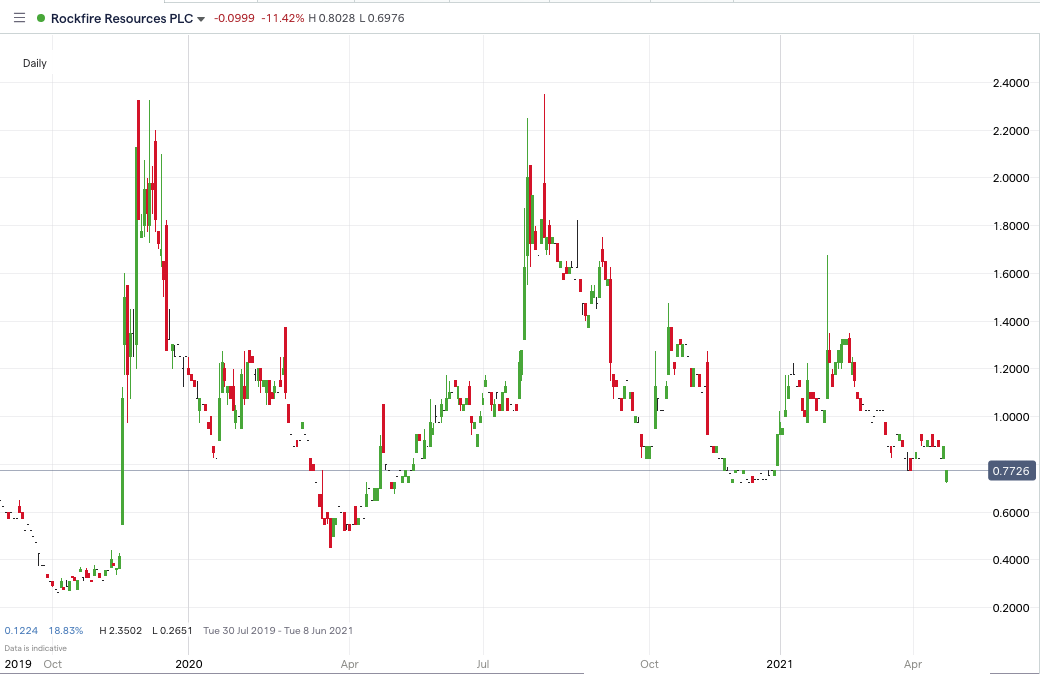 David Price, CEO of Rockfire, said: "The Copper Dome and Copperhead porphyry projects have not been drilled for almost 50 years. When drilled in 1972, significant copper (and gold) was encountered in each drill hole. At Copper Dome, seven holes were drilled in 1972, and five holes were drilled at Copperhead. 
"With new data from the very high-resolution magnetic surveys recently flown by Rockfire, specific targets have been identified which we expect will vector towards the central parts of the porphyries.
"The Plateau Gold Deposit is shaping up nicely, having returned a material increase in resource ounces and positive indicators in early scoping work. It is prudent for the Company to continue to drill this resource and to extend the gold envelope in areas which remain open along strike and at depth."
Should You Invest in Rockfire Resources Shares?
After a fall from the $2,000 level, could gold be set for another run higher? If you're a gold investor, you won't want to miss out on these stocks… Discover which companies our analysts are focusing their attention on for the coming months. If gold does move back to $2,000, these investments could see significant gains