Key points:
Roku stock's down 82% over the past 12 months
Another 25% overnight too
It's not just past results, the future looks rockier too
Roku (NASDAQ: ROKU) stock is down 82% over the past year and then has fallen another 25% overnight and premarket. This last juddering drop is on the back of the Q2 earnings which, as we might surmise from that price change, were not good. But what's really damaged that ROKU stock price is the prediction that times are going to be tough ahead – a reminder of that grand lesson that stock markets are forward looking.

The results themselves were not in fact terrible but they were a miss. The GAAP EPS of minus $0.82 was 0.13 below market average expectations. Similarly, revenue of $764 million was a miss of $40 million off from the average predictions. As we have pointed out before and all should know it's new news that moves prices. What we already know is already encapsulated in that one market price. So, that Roku is having a tough time making profits currently, yes, we know – and knew. What's moved the Roku price is that things are worse than we thought they were.
But even that's not enough to explain a 25% price change in the Roku stock over an about 5% shortfall in revenue. Well, OK, we can think that profits will be geared to revenue and so on and thus that's enough but here that's probably not the case. What's really damaging the stock price is the corporate prediction that the second half of the fiscal year is going to be harder going even than this.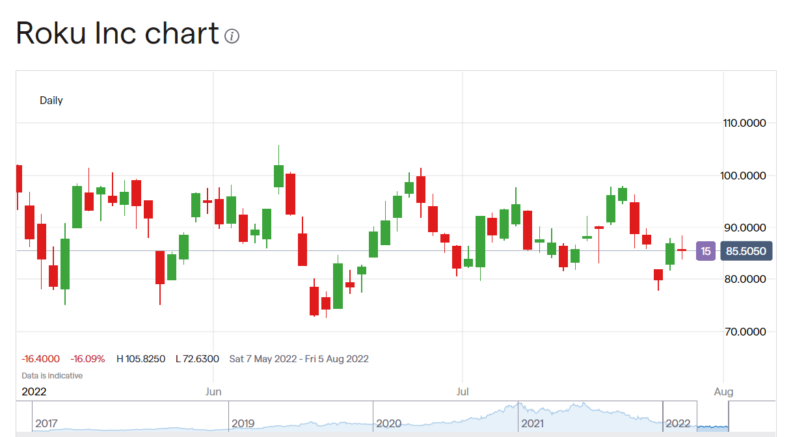 Also Read: What Do Quarterly Earnings Mean For Investors?
The previous estimate of Q3 revenues was for some $900 million and change, Roku management has guided this down to $700 million. That is, far from there being growth there's going to be shrinkage in revenue. That's not good. The specific problem is not one that Roku really has all that much power over either. Advertising spends are pulling back everywhere. So, as a company with significant ad revenues Roku is going to get hit. The only way out of – if anyone cares to do it – such a problem is to reduce advertising rates to keep volumes up. But that then reduces ad revenue anyway. It's an external influence that is, not something solvable internally.
What might spread a little fear into investors' hearts though is the expressed plan of the management, which is to pursue volume. Or rather, growing the market share taken by the company. Sure, that's an obvious desire, something that every company wants to do. Gain a larger share of the market in which it operates. It's the how this is done that's the difficulty.
For, if we're in a stressed or even shrinking market then the way to expand market share is to cut those prices once again. Which has the inevitable effects upon the bottom line. It might be, maybe, that as and when the market turnaround comes then the position to exploit it will be better with a higher market share. But then everyone else is going to be trying the same tactic too.
Roku stock is not just down because of the earnings miss but because the future prospects look worse too.