Key points:
Rolls Royce shares have fallen 41.7% in 2022 and just broke vital support.
RR shares could erase half their current value to reach the next support.
So, should you buy RR shares? Read on to find out.
The Rolls-Royce Holding PLC (LON: RR) share price has fallen 41.7% since the year began, having fallen 16.3% in the last month. So the question on most investors' minds is, can Rolls Royce shares recover?

To answer this question, let's look at what is ailing Rolls Royce first. The jet engine manufacturer reported feeble first-half results on August 4, 2022, which triggered the latest decline.
Rolls Royce generated operating profits of £125 million ($152 million), representing a significant drop from the £307 million reported in the previous year. However, the company expects to manufacture and deliver 309 large and business engines this year, even as its current CEO prepares to leave at the end of the year.
Also read: The Best Airline Stocks To Buy In 2022.
Investors should note that RR shares have broken through the crucial 79.07p support level and could be headed to the next support level at 37.54p. Therefore, shareholders could be looking at more losses in the future.
For Rolls Royce shares to rebound, they would need a strong fundamental driver, such as a significant increase in the flying hours of wide-body plane engines. This is because most of the company's revenues come from the maintenance fees charged on the engines it makes.
Another key growth driver would be the company's re-entry into the narrow-body plane engines market, which is the largest section of the industry. Still, the firm does not have the necessary infrastructure to start manufacturing this type of engine.
A fast way to enter the industry would be to partner with a company that makes narrow-body plane engines, which it had done in the past when it partnered with Pratt & Whitney to make engines for single-aisle planes.
Another option would be directly acquiring a narrow-body plane engine manufacturer and integrating the same into Rolls Royce. The plane engine manufacturer has a long way to go before it can return to profitability despite the ongoing cost-cutting measures, and its share price is now at risk of falling much further. I would stay away from RR shares for now.
*This is not investment advice.
Rolls Royce share price.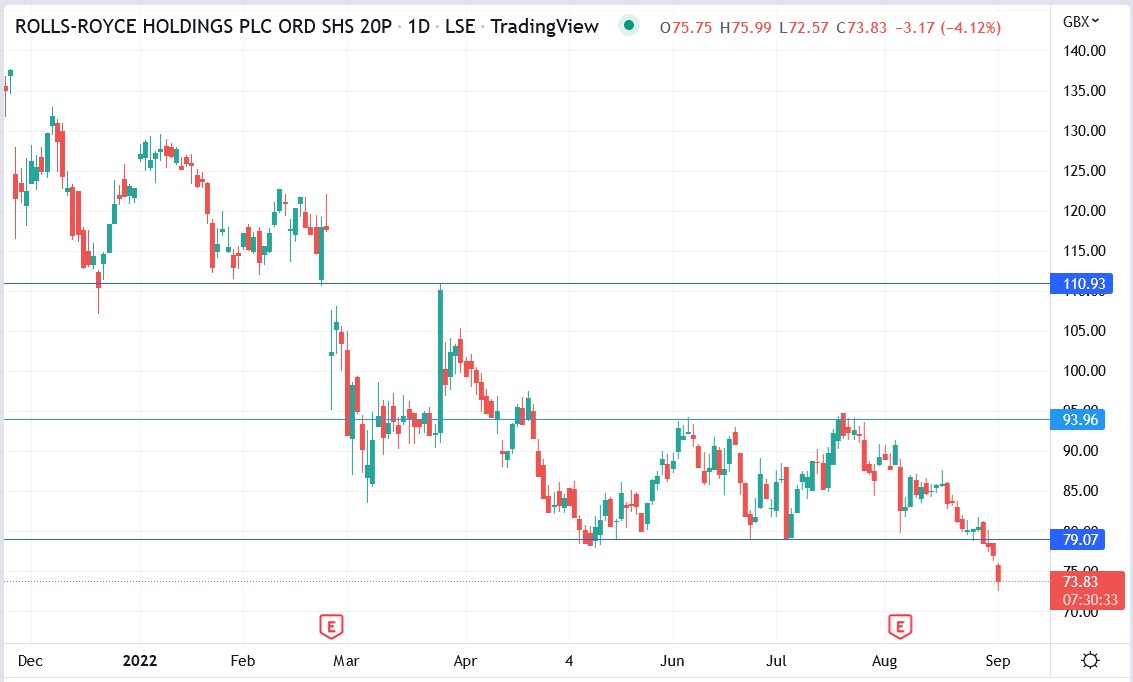 The Rolls Royce share price has fallen 16.25% in the past month, bringing its total annual losses to 41.69%. Can it recover?