Key points:
Avacta shares are up 2% on Phase I trial news for AVA6000
This is very early in the drug development process but still a hurdle that must be leapt
How much further can the shares go given development timescales?
Avacta (LON: AVCT) shares have risen just the 2% this morning on the news that Phase I trials of AVA6000 are to continue. This might well be an appropriate lift to the ACVT share price on such news but there's also another way of looking at this. The excitement – then following disappointment – of the covid extravaganza have now left the stock and we're back to reviewing it as what it is, a development stage pharma company. This does remove some of that earlier excitement of course, but also removes the weight of that disappointment that followed.

The problem that Avacta had over covid was that, for that period, anyone with a lab was hellbent on producing covid tests. Which was great at the societal level, we wanted them, in volume, yesterday. It was very much less good for some of the companies that went and developed such tests. For Avacta, in common with several others (Genedrive (LON: GDR) and Abingdon (LON: ABDX)) managed to miss the boat. They spent the money on the development, made the tests which worked to a greater or lesser extent, but then didn't secure those vast government orders. There was a flurry of excitement over the Avacta CE Mark announcement but that then faded when it was realised this is a precursor to being able to sell, not sales themselves.
Since the nadir of that story, back around March, we've seen a general rerating of AVCT shares as the normal, background, pharma development story makes its comeback.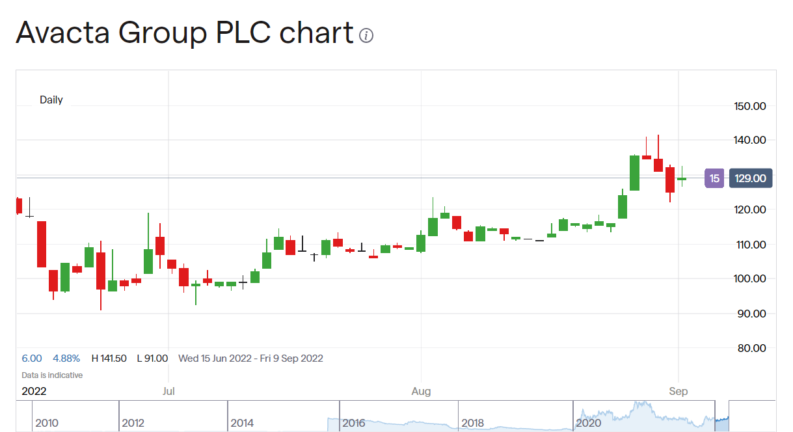 Also Read: Five Best Pharmaceutical Stocks to Watch in 2022
This refocus on the core business seems to be doing the share price some good. Avacta shares rose 113% in a month for example. We've also had bounces from AVA6000 dosage news too. Their JV, AffyXell has received funding. In general, things seem to be going better after that boom and bust of covid tests and the pandemic that is.
So, now the valuation of Avacta is to be based upon that research pipeline. And so there's today's announcement: "announces that the first-in-human Phase I trial (ALS-6000-101) of AVA6000 Pro-doxorubicin will advance to the fourth dose cohort of patients following a positive review of the safety and tolerability data from the dosing of the third cohort."
A 2% rise might well be the correct response to that news. Because we're still many years away from any revenue that might accrue from this drug. Phase I trials are where volunteers are rounded up (usually impecunious students) and given the drug, whatever it is. Then they're checked to see it if kills any of them. Sometimes it actually does too. Very rarely, but sometimes. It's Phase II trials that test the curative aspects, Phase III that then look for side effects in a large population. Phase I is, thus, very early in the development process.
On the other hand, failing any of the steps means everything stops. So, passing a phase of trials is a positive step. The real lesson here is that we now need to value Avacta on that drug development pipeline, not whatever happened over covid tests.