Key points:
The Scottish Mortgage (SMT) share price has risen 13% in a month.
The mobe higher was driven by a rally in US stocks held by the fund.
Is now a good time to buy SMT shares? Read on to find out.
The Scottish Mortgage Investment Trust PLC (LON: SMT) share price has risen 13% in a month, leaving many wondering whether now is a good time to buy SMT shares. The good news is that SMT shares have mounted a recovery in the past month as US stocks rallied higher.

One of the primary drivers behind the recent rally in stock prices is the falling oil prices, especially in the United States. However, there are no guarantees that the worst is finally over for global stocks.
Also read: The Best Undervalued Stocks To Watch In 2022.
The US Federal Reserve is expected to announce its latest rate hike tomorrow, with many expecting a 75 basis points hike and a few hinting at a 100 basis point hike. Unfortunately, the European Central Bank has joined the rate hiking party a bit late with a 50 basis point hike pushing rates from negative territory to zero.
The upcoming Fed rate hike is probably already priced in by the market, so we may not see a significant adverse effect on stocks once the Fed announces the rate hike. Furthermore, investors may get some breathing room soon since the Fed may be forced to halt its rate hiking cycle by the end of the year.
Investors are closely looking at the Q2 GDP growth data, with many expecting the print to be larger than negative 1%, which means that the US economy will officially be in a recession. It takes two quarterly GDP contractions to declare that a country is in a recession.
Therefore, the FEd may have to stop hiking rates by the end of the year. However, it may have no choice but to resume its quantitative easing program in 2023 to prop up the markets, given the shifting geopolitical relationships triggered by the Russia-Ukraine war.
Many energy experts say that oil supplies have not normalised and that oil prices are likely to spike higher later this year, mainly driven by high demand and low supplies. Currently, the markets are relatively calm, which supports the rally in stocks and SMT shares.
Therefore, while SMT shares look attractive at current prices, I would restrain from buying until later in the year when there is a shift in market fundamentals.
*This is not investment advice. Always do your due diligence before making investment decisions.
SMT share price.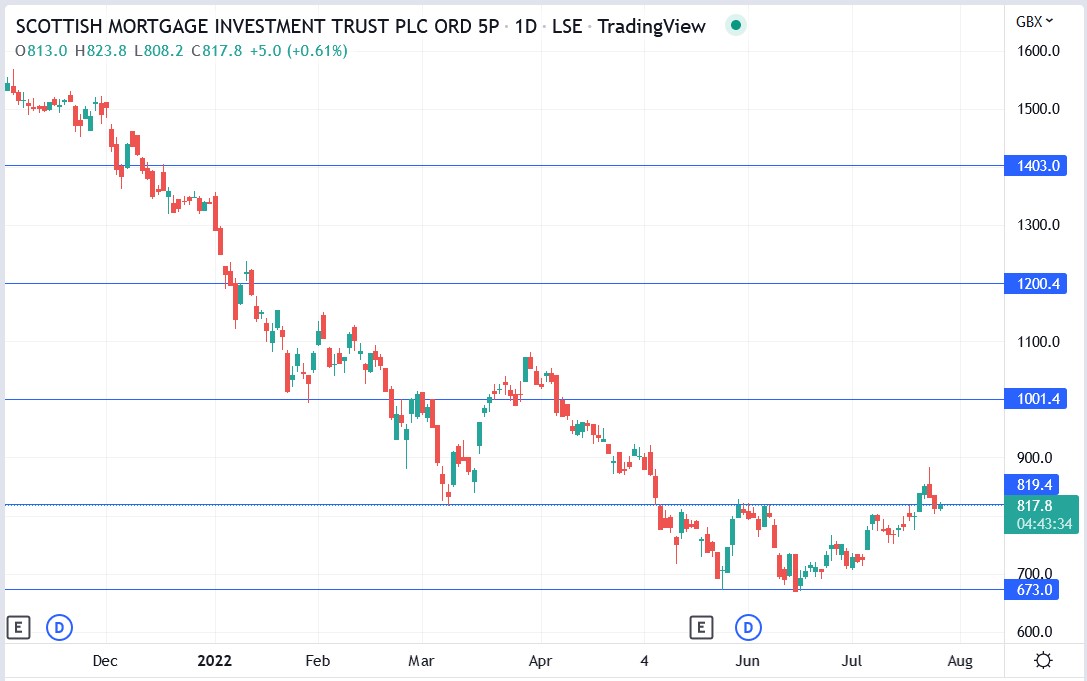 The SMT share price has risen 13% in the past month. Is now the right time to buy?