SolGold plc (LON: SOLG) shares have fallen as low as 19.8p during the London session on Friday after the company said, regarding its Alpala pre-feasibility study, that it has determined additional work is required to sufficiently address several mine development and metallurgical alternatives and potential upsides, including the resource potential on other targets within the Cascabel concession.
Commenting on the update, SolGold CEO, Nick Mather said: "Continued strength in global copper and gold markets will further endorse the strategy of making the Cascabel project lower risk, quicker to build and bring to production if a development decision is made and with reduced upfront capital exposure. We believe the extra time to be spent on the revised study is well founded and will lay the basis for the next phase of the evolution of SolGold."
The company said the committee has identified vital work required and noted it would be advisable to consider adjusting the current draft mine development plan and the draft mine production plan to de-risk the project with a view to facilitating development and capital requirements.

Some of the critical work includes:
Examining alternative mine access to accelerate the development of the cave

Reviewing the draft mine production plan to ascertain the optimum production rate

To study an optimised block cave footprint 

To optimise the capital cost and construction schedules 

To reassess all potential near-surface mining options 

And, to investigate the resource potential at satellite targets on the Cascabel concession
According to SolGold's press release, it's management is also investigating other options and scenarios to deliver additional value, including the adoption of dedicated hydro-power plants and the improvement of metallurgical recoveries.
There has been some work carried out over the last six months, such as further drilling with the collection of extensive geotechnical and hydrogeological and metallurgical datasets, while exploration drilling has been completed at the Tandayama-America target, situated 3km north of the Alpala deposit.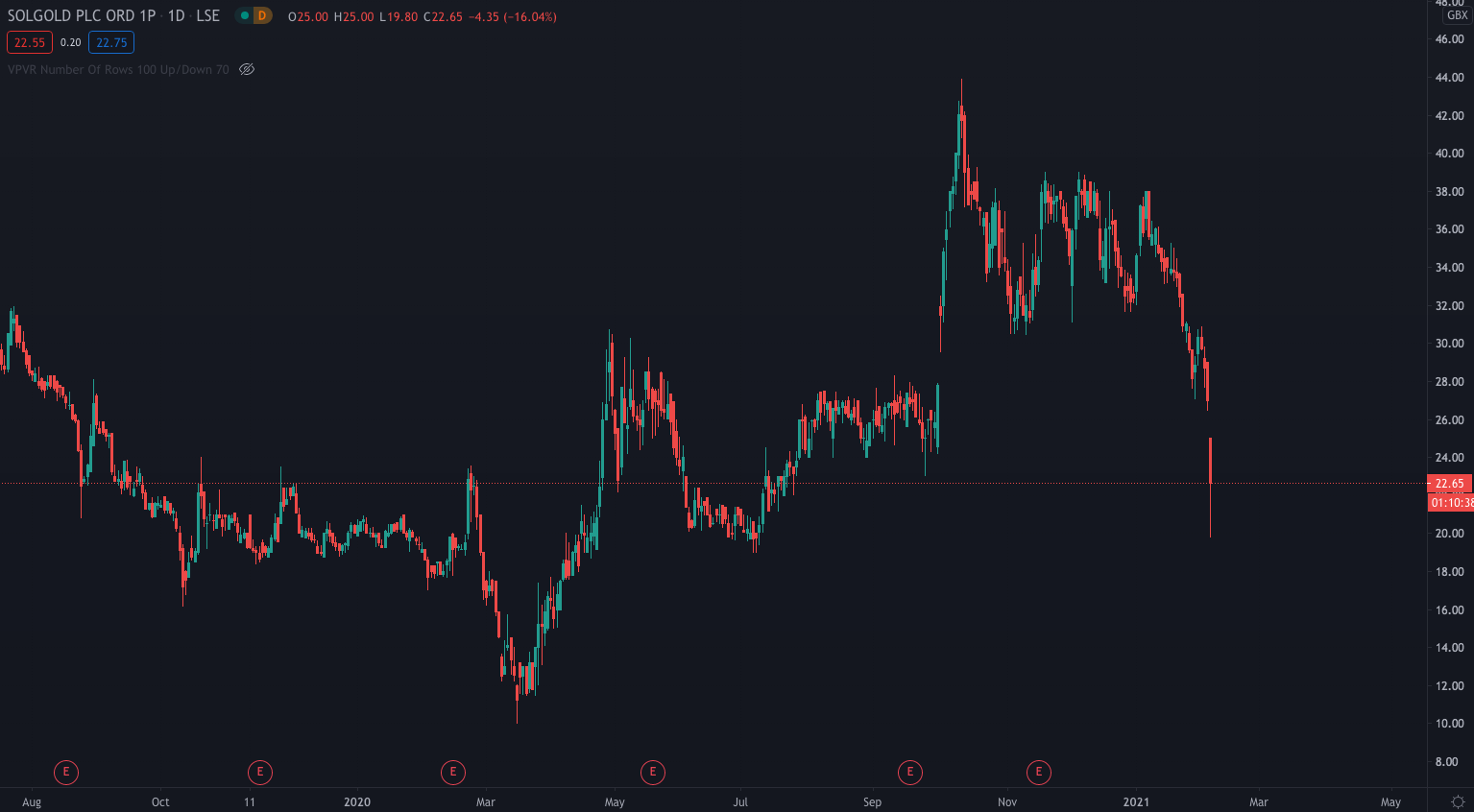 SolGold has committed a portion of its drilling fleet to a planned 28,795m resource extension program at the Alpala Deposit.
With the extra work required, SolGold said the publication of the pre-feasibility study is not expected until late 2021; however, they are confident that the additional time and work to complete a pre-feasibility study is in the company's best interests.
SolGold shares are currently trading at 22.65p down 16.11%.