Key points:
Sound Energy shares rose 5.56% after Tendrara Concession started construction.
The company issued a notice to proceed to the project contractor earlier today.
The Moroccan project has significant commercial potential once completed.
The Sound Energy PLC (LON: SOU) share price rose 5.56% after confirming that its Moroccan subsidiary had issued the project contractor at its Tendrara Concession mLNG Facilities a notice to proceed after receiving the initial payment for the project.

Sound Energy's subsidiary, Sound Energy Morocco East Limited, issued the notice after receiving a $5 million payment to Italfluid Geoenergy S.r.l. (the Contractor) on behalf of the joint venture that controls the Tendrara Concession.
The contactor is now obligated to execute the works set out under the Project Contract to construct a gas processing and liquefaction plant, part of phase 1 of the concession's development plans.
Sound Energy also notified Afriquia Gaz S.A. (Afriquia) that the Loan Note Subscription Agreement (LNSA) signed between the Company and Afriquia on 29 December 2021 was now in full force and effect.
Since the LNSA was now in full force, Sound Energy intends to draw down a proportion of the funds available under the LNSA to meet the Initial Payment.
Investors cheered the news that moved the Tendrara Concession into the construction stages bringing the project closer to commercialisation, at which stage it will start generating revenues for Sound Energy.
Graham Lyon, the Executive Chairman at Sound Energy, commented: "We are delighted to have issued the Notice to Proceed to Italfluid and to have satisfied all conditions to give effectiveness to both the Project Contract and LNSA, which means that following receipt of the Initial Payment by Italfluid, the execution phase of our fully-funded Phase 1 micro LNG development of the Tendrara Concession will be underway. This is a key milestone for the Company, and we look forward to working with our strategic partners, Italfluid and Afriquia Gaz, together with our joint venture partner, ONHYM, in developing the project and delivering gas to the Moroccan market in around 2 years."
Investors looking to buy Sound Energy shares should know that it moves in gaps either up or down, as shown on the daily chart below; hence, they might be pretty illiquid. However, long term investors may find the shares attractive given their longer investing timeframe.
*This is not investment advice. Always do your due diligence before making investment decisions.
Sound Energy share price.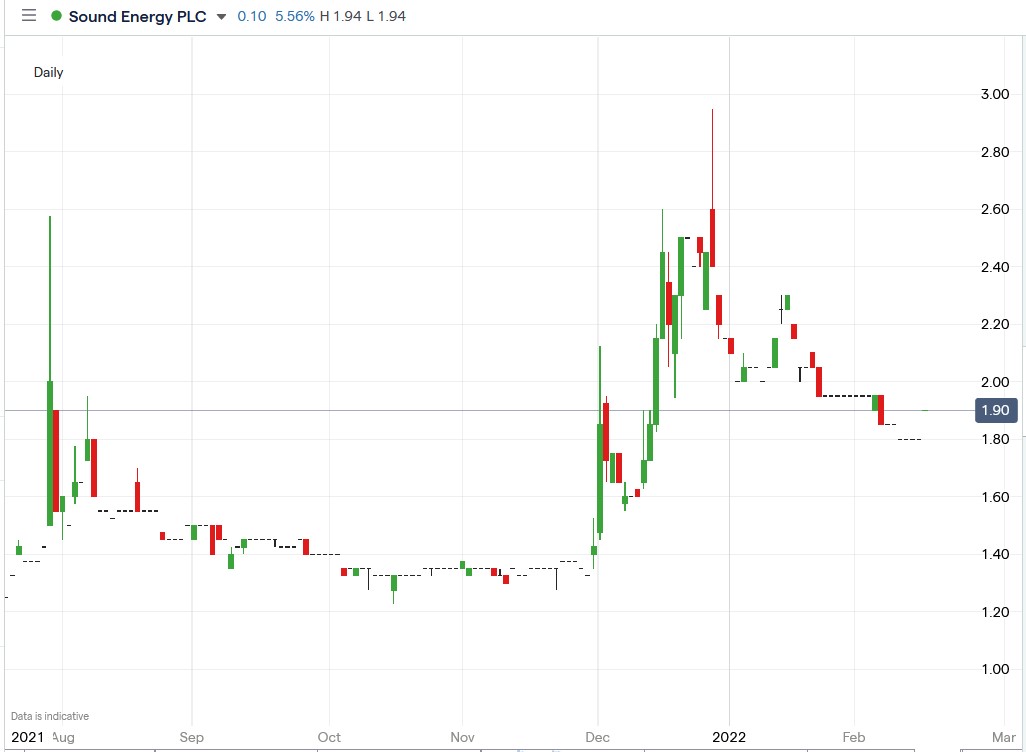 Sound Energy shares rose 5.56% to trade at 1.90p, rising from Tuesday's closing price of 1.80p.