Key points:
Contango shares surged 10.8% after issuing an update on Garalo-Ntiela.
The miner said that its IP survey could confirm the presence of 2Moz of gold.
Investors cheered the news, as evidenced by the rally in CGO shares.
The Contango Holdings PLC (LON: CGO) share price surged 10.8% after revealing that it had completed almost 50% of the Induced Polarisation ("IP") survey currently underway at the Garalo-Ntiela gold project.

The miner revealed that the IP survey combined with historical studies and aero-magnetic studies would allow it to complete its 2022 drilling campaign. The campaign intends to confirm the existence of 1.8 to 2 million ounces of gold resources at the mine.
Investors cheered the announcement,w which was sweetened by the news that Contango had been approached by several local and international investors wanting to partner with it in developing the mine given its massive potential.
The Garalo-Ntiela mine is located within the Bouguoni Cercle administrative subdivision in Mali's Sikasso Region, close to the Guinea border. The region has significant gold deposits and has played a critical role in making Mali the third-largest African gold-producing country.
Contango expects the available gold reserves at Garalo Ntiela to be more than 2 million ounces since it has identified multiple anomalous zones with potential for gold discovery within the area. The initial estimates as based solely on the G1 and G3 targets.
Carl Esprey, Contango Holdings' CEO, said: "Shareholders will be aware that Garalo-Ntiela has proved to be considerably larger in terms of resource quantum than originally modelled by our team, presenting the Company with a significant opportunity. Given the potential scale of Garalo-Ntiela, the Company has benefited from heightened interest in the project by third parties. Whilst these discussions are at a relatively early stage, it certainly highlights the optionality we have with this project and the international interest which has been generated by our work so far."
Adding:
"With our Lubu coking coal project in Zimbabwe remaining on track for the first production at the end of the current quarter, it is a very exciting period for Contango, and I look forward to updating the market on both projects due course."
Contango shares have risen 30.1% in 2022 and are up 84.1% in the past six months. However, investors are worried about the pending withdrawal of French troops from Mali, which could lead to political instability in the country, affecting foreign mining companies.
*This is not investment advice. Always do your due diligence before making investment decisions.
Contango share price.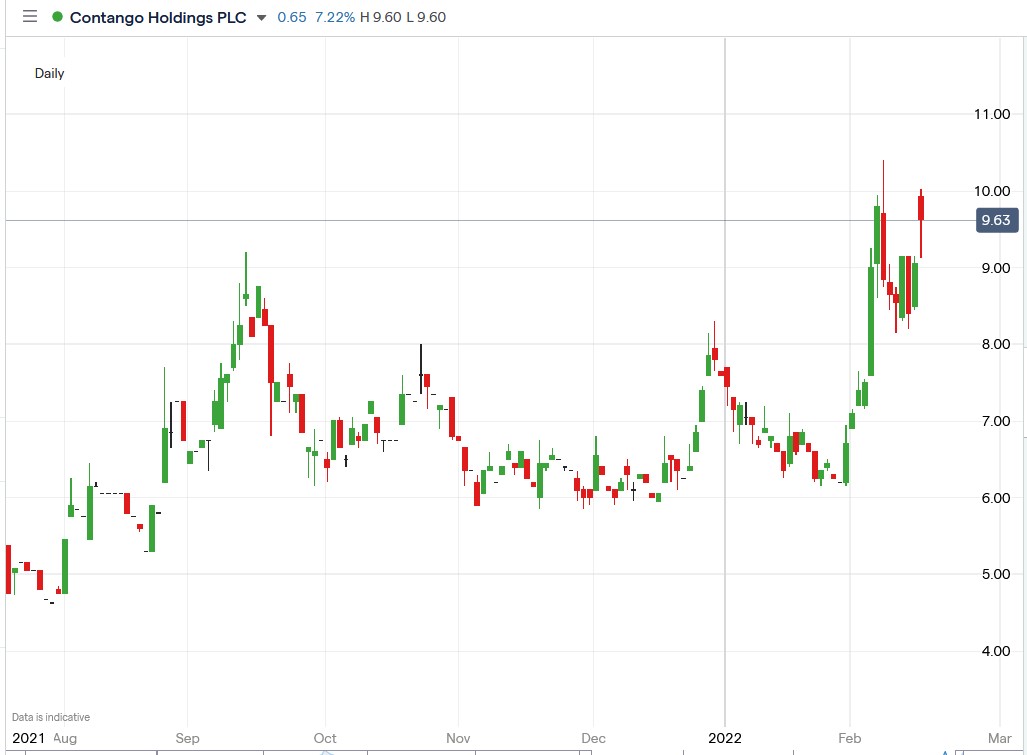 Contango shares surged 10.82% to trade at 10.03p, rising from Tuesday's closing price of 9.05p.