Key points:
Stealth Bio (MITO) shares soared 46.5% on positive initial test data.
The company presented positive test data about its ALS treatment.
However, the SBT-272 drug candidate still has to pass clinical trials.
The Stealth BioTherapeutics Corp (NASDAQ: MITO) stock price soared by 46.5% after the company presented new SBT-272 preclinical data showing functional improvement in the upper motor neurons with TDP-43 pathology.

The TDP-43 pathology plays a significant role in both amyotrophic lateral sclerosis (ALS) and frontotemporal dementia (FTD). The company presented the data during the Keystone Neurodegeneration Symposium in Keystone, Colorado.
Stealth Bio is currently conducting a phase 1 study in healthy volunteers to determine the safety and tolerability of SBT-272. The drug candidate showed significantly improved mitochondrial structural integrity and motility in TDP-43 mutant-expressing upper motor neurons.
Investors were pleased by Stealth Bio's announcement, as evidenced by the rally in its share price. In addition, the company has aptly named its ticker symbol MITO, indicating its focus on the mitochondria.
SBT-272 also led to enhancements in mitochondrial health, which were associated with improved axon outgrowth, a key indicator of improved neural health. The drug candidate had superior results than edaravone and AMX0035.
Investors were elated by the presentation, which indicates that SBT-272 has the potential to become a treatment for ALS and dementia. While many drugs treat these two illnesses, a drug with better results than existing ones stands a great chance of becoming an industry leader.
Stealth Bio confirmed that it would investigate SBT's potential as an ALS treatment given the positive initial test results.
If you are considering buying MITO shares, you should remember that SBT-272 is still in the preclinical stages and has a long way to go before it can be commercially available as an ALS treatment.
Investors who buy now should be ready to endure the ups and downs accompanying companies working on various noel treatments as they undertake clinical trials to meet their primary endpoints.
There is also a significant possibility that SBT-272 may fail to meet its primary endpoints and be discontinued in future, which could lead to a crash in MITO shares, as has happened to other firms after their drugs failed to meet expectations.
*This is not investment advice. Always do your due diligence before making investment decisions.
Stealth Bio stock price.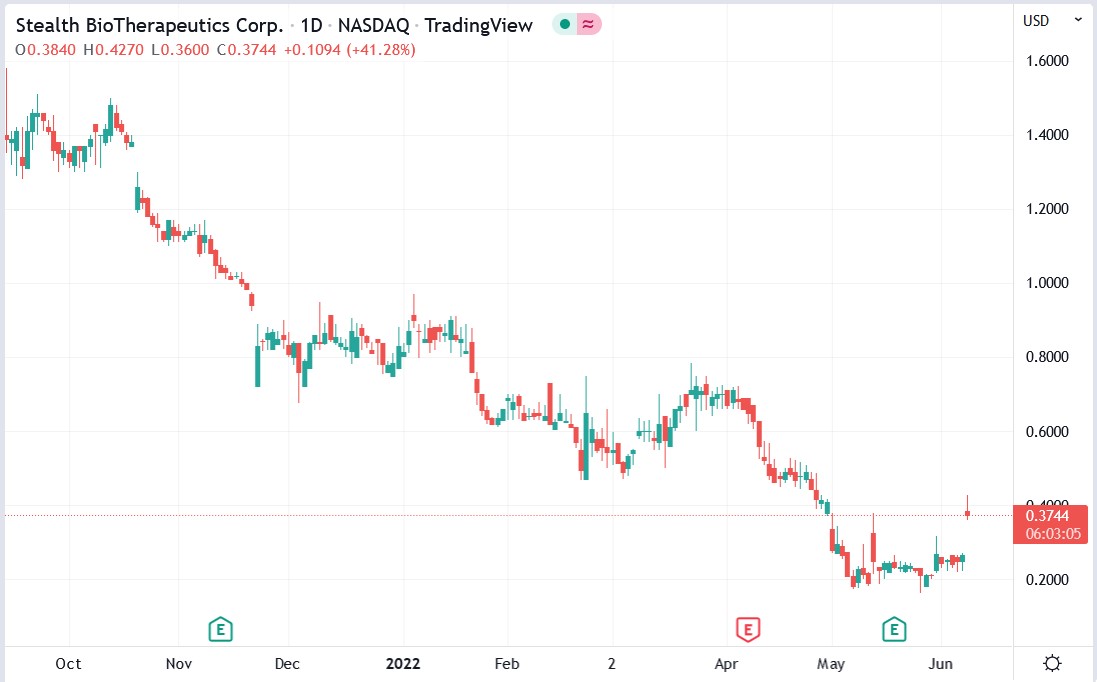 The Stealth Bio stock price soared 46.47% to trade at $0.3990, rising from Tuesday's closing price of $0.2650.