Key points:
BYD stock has risen 46% in weeks, making it the 3rd-largest carmaker.
The Chinese EV manufacturer has seen its sales soar recently.
In addition, the company is set to start supplying battery packs to Tesla.
The BYD Company ADR (OTCMKTS: BYDDY) stock price has risen by 46.58% in the past month to make it the third-largest car manufacturer globally behind Tesla (worth $740.6 billion) and Japan's Toyota Motor Company (worth $229 billion).

The electric vehicle manufacturer's market capitalisation had risen significantly in the past month after the company surpassed Tesla's vehicle deliveries in April when it sold 106,000 vehicles compared to Tesla's 66,000 vehicles. This was the first time that the Chinese EV manufacturer had beaten Tesla.
BYD stock surged 4% earlier today on the Shenzen Stock Exchange after hitting a market capitalisation of $121.9 billion during yesterday's trading session. Investors cheered news that BYD would soon start delivering battery packs to Tesla.
Tesla sold 180,000 vehicles globally in March, surpassing BYD for the first time in China, but it is clear that BYD has quickly reclaimed its top spot. In addition, Tesla's production capacity in China suffered greatly in April and May due to the covid lockdowns in Shangai, China.
However, BYD performed better due to its more resilient supply chain, which is why it delivered more vehicles than Tesla in April. The two companies also target different groups of consumers, with Tesla cars being more expensive than BYD vehicles.
There is no doubt that Chinese customers prefer to buy vehicles manufactured by Chinese companies such as Nio, BYD, and Li Auto, which dominate the local Chinese market. However, these Chinese EV manufacturers have made inroads in foreign markets such as Europe and the US, where Tesla has long been a dominant player.
Luckily, China is the world's largest single vehicle market; hence, there are enough customers for the market leaders and their upcoming competitors as the world moves towards electric vehicles while ditching the internal combustion engine (ICE).
Investors interested in BYD should have bought in May before the rally began. I wouldn't buy the stock after the recent rally, but I would wait for a pullback before buying.
*This is not investment advice. Always do your due diligence before making investment decisions.
BYD stock price.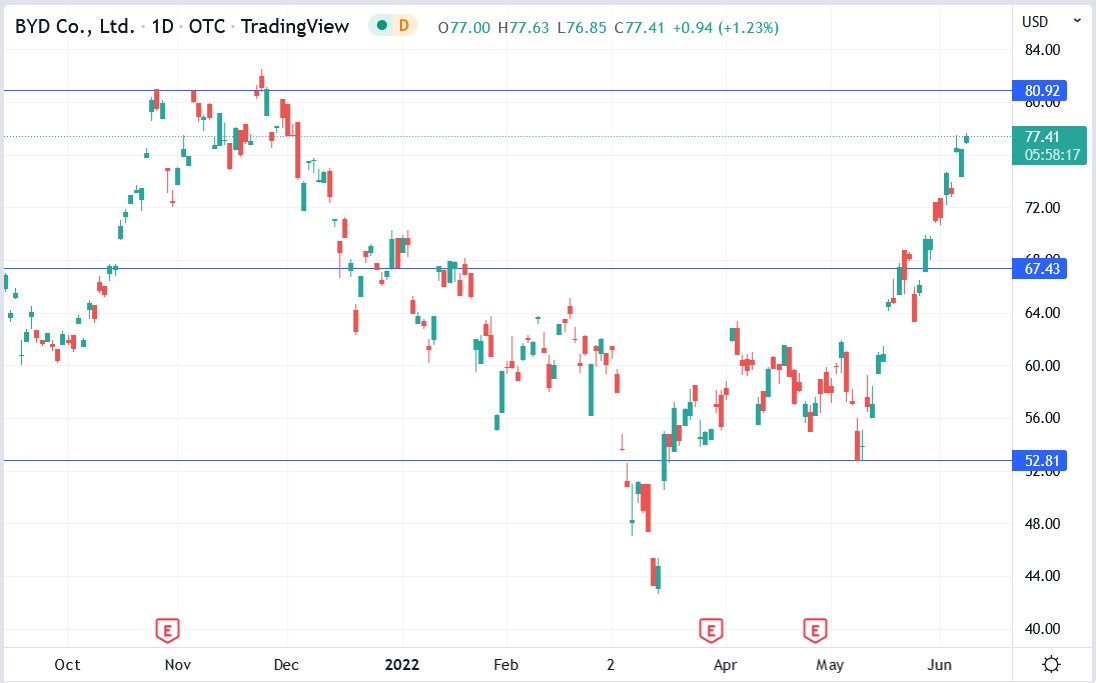 The BYD stock price has risen 46.58% from its May lows of $52.81 to its current price of $77.41.