Latest

17:01


Jumia Technologies

Jumia Technologies shares have spiked after Citron Research sent out a tweet saying the stock is on its way to $100.
16:35


European Markets Close
FTSE 100: –0.12%
DAX: +0.16%
STOXX 50: +0.12%
IBEX 35: +0.17%
CAC 40: +0.21%
16:30


Dropbox Inc

Dropbox shares fell over 11% after the company said it is cutting its global workforce by about 11%, while they also announced that COO Olivia Nottebohm will leave the company on the 5th of February.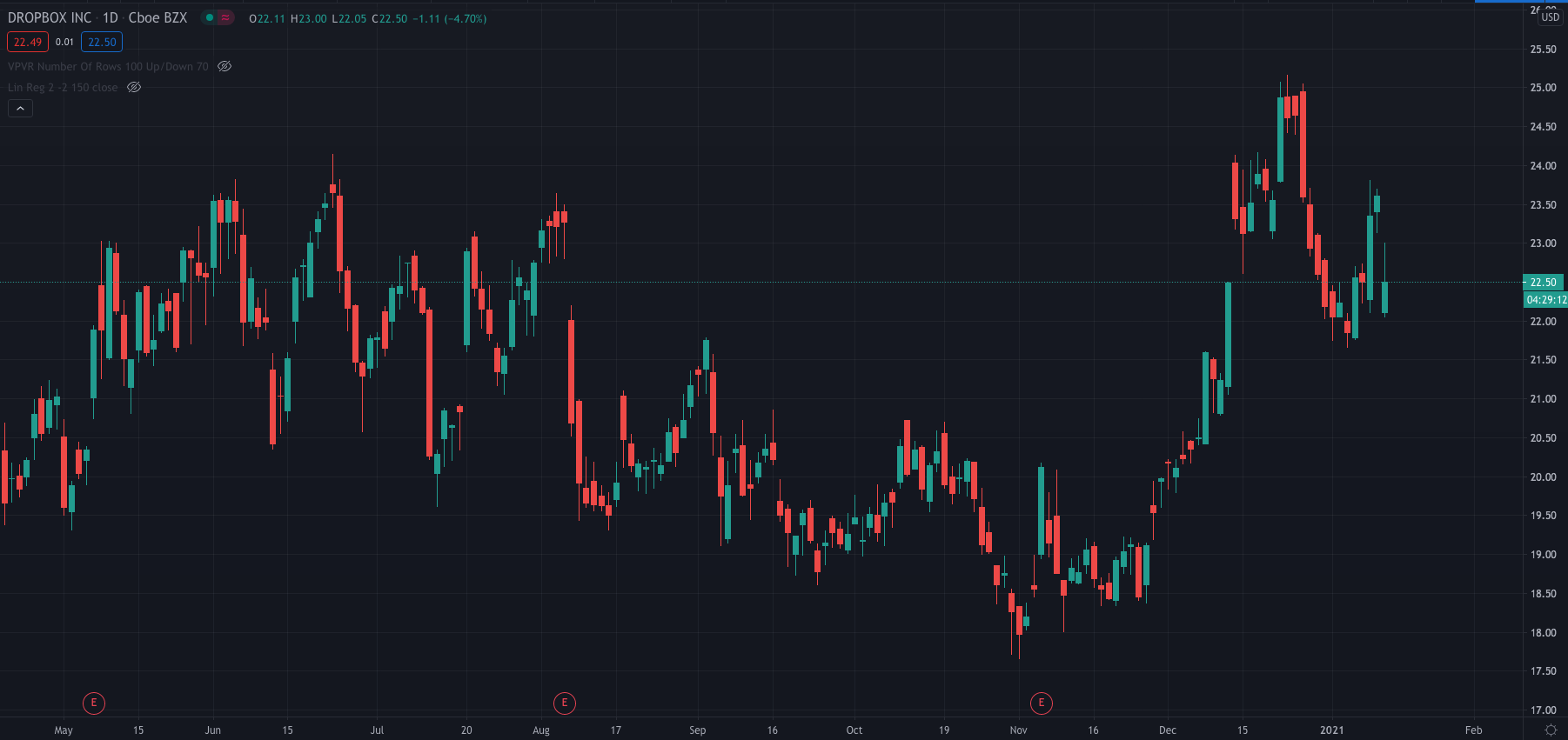 16:20


Live Ventures Incorporated

Diversified holding company Live Ventures Incorporated's (Nasdaq: LIVE) share price surged after it announced financial results for its fiscal year ended September 30, 2020.

The company reported revenues of $191.7 million, net income of $10.9 million, and basic EPS (earnings per share) of $6.40. They also reported operating income of $20.4 million, an increase of 527% compared to last year.

Live Ventures completed two acquisitions in 2020, Lonesome Oak in January and Precision Marshall in July.

The company's shares rose 88.32% to $23.54 on the news.
14:24


US Equities
DOW: +0.02%
S&P: -0.04%
NASDAQ: +0.15%
13:40


Plug Power

Plug Power (NASDAQ: PLUG) shares are up over 6.5% premarket, trading at $70.39.

Its shares have surged since the announcement that Groupe Renault, and Plug Power Inc, have signed a Memorandum Of Understanding (MOU) to launch a 50-50 joint-venture based in France by the end of the first half of 2021.

Yesterday Plug shares closed 22.33% higher at $66.02.

"This strategic JV will position Groupe Renault and Plug Power to become key players in Europe in the research and development (R&D), transformation, manufacturing and sale of fuel cell-powered vehicles and hydrogen turn-key solutions in the coming years. This joint-venture platform will serve the fast-growing market of fuel cell light commercial vehicles, taxis, and commercial people transportation," Renault said in a statement.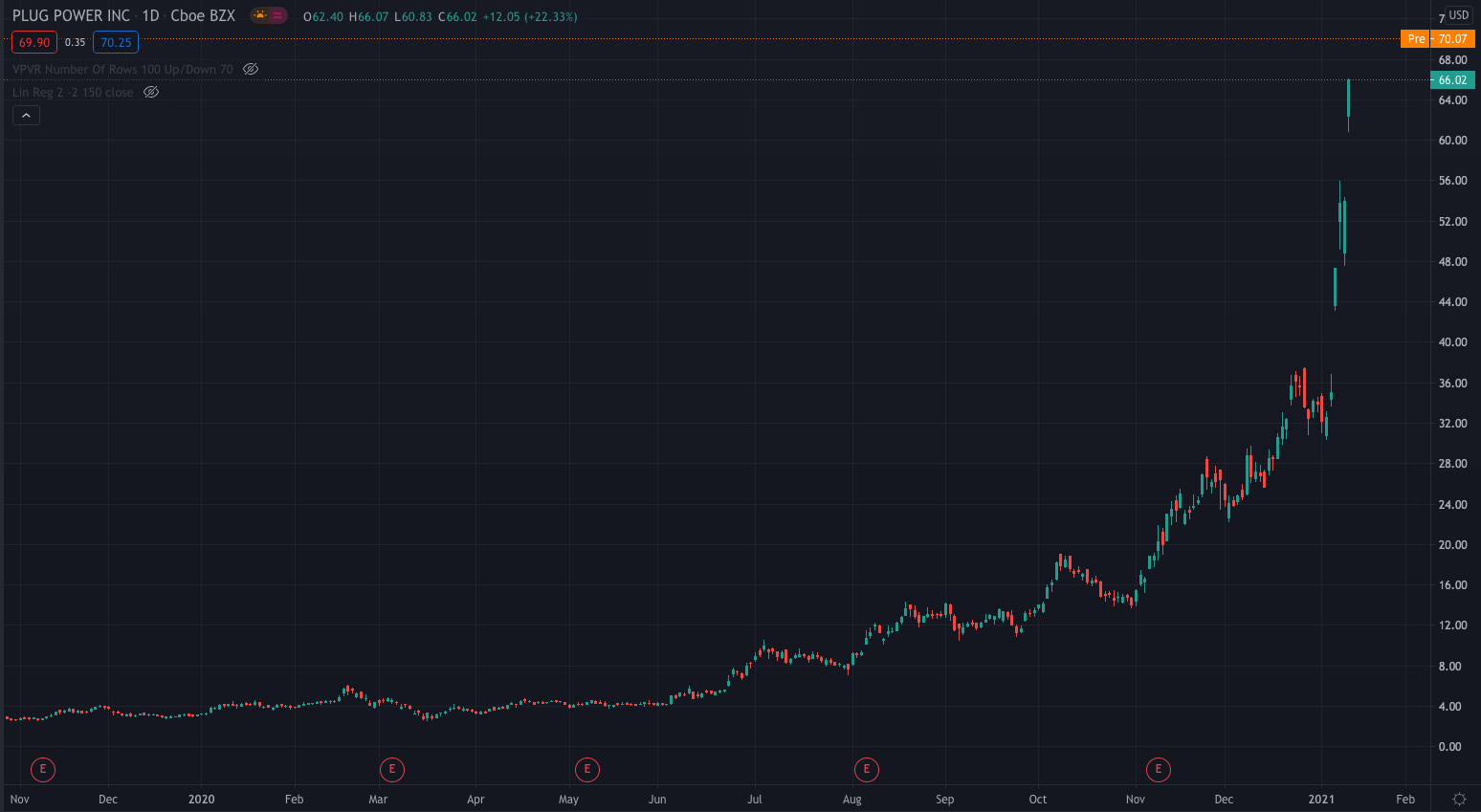 13:11


Regeneron Pharmaceuticals

Regeneron Pharmaceuticals (NASDAQ: REGN) share price has increased by over 3% premarket to $521 after the company announced an additional US order to purchase 1.25 million doses of its COVID-19 antibody cocktail bringing the total number to over 1.5 million doses.

Check out The Best Healthcare Stocks To Buy Now
11:49


Top Stories So Far...

SYNAIRGEN SHARES SOAR AS LARGE COVID-19 TRIAL GETS UNDERWAY

ARC MINERALS SHARES SPIKE 26.8% HIGHER ON £2M SHARE PLACEMENT, CONTRACT EXTENSION

OPEN ORPHAN SHARES ARE STUCK IN A 3-MONTH TRADING RANGE, CAN THEY BREAKOUT?

ORACLE POWER SHARES FALL OVER 4% FOLLOWING MINING UPDATE

Check out the Best AIM Shares To Buy Right Now
10:13


Johnson & Johnson

Johnson & Johnson expects to release critical results from its COVID-19 vaccine trial in as little as two weeks according to the New York Times.

However, there are some issues with the number of doses available…

"Federal officials have been told that the company has fallen as much as two months behind the original production schedule and won't catch up until the end of April, when it was supposed to have delivered more than 60 million doses, according to two people familiar with the situation," the NYT said.
09:00


UK Stock Gainers
Touchstar Plc +30.00%: Touchstar (LON: TST) released a trading update stating a "profitable outcome for the year," that they were strongly cash generative throughout the year, and they have a year-end cash balance of £1.9 million compared to £850,000 the previous year.
Arc Minerals +17.02%: ARC MINERALS SHARES SPIKE 26.8% HIGHER ON £2M SHARE PLACEMENT, CONTRACT EXTENSION
Xeros Technology +15.45%
Capital Metals +13.33% 
Holders Technology +12.50%
08:02


European Equities
FTSE 100: +0.08%
DAX: +0.10%
STOXX 50: +0.05%
IBEX 35: -0.05%
CAC 40: +0.09%
News:
Blink Charging announced the closing of its public offering of common stock for total gross proceeds of $232.1 million
Visa and Plaid called off their $5.3 bn merger deal after the Justice Department sued to block it on antitrust grounds
Blackberry sold 90 patents to Huawei according to the Globe and Mail
Apple held talks with Canoo over its electric vehicle move according to The Verge
Moderna and Uber said they are collaborating on supporting the uptake of COVID-19 vaccines. The companies will work on providing accessible and "credible information" on vaccine safety through Uber's in-app messaging
Companies reporting earnings today include Infosys, IHS Markit, Volt, and Washington Federal Inc