Key points:
The Strong crypto price has fallen over 90% as sellers remain in control.
However, many investors wonder if the crypto will break above $34.4.
A move higher is quite likely since the coin has formed a bottoming pattern.
The Strongblock platform has been around since 2020 and has had an impressive rally in 2021, reaching its all-time high of 1202 USDT on 29 October 2021. However, since then, Strong crypto has been on a downtrend.

Strong crypto has fallen 93.93% in 2022 and is currently trading at 32.30 USDT. Therefore, many crypto investors wonder if the STRONG crypto can soon reclaim its previous highs given the recent rally in crypto prices.
Investors seem to have discounted the services offered by the StrongBlock project, which offers the unique Nodes-as-a-Service (NaaS) to new blockchain projects that want to add secure, decentralised blockchains to their applications easily.
The company rewards users who join the network and offer to run blockchain nodes by making it easier for them to run the nodes without leaving their devices running 24 hours, 7 days a week.
StringBlock's Nodes-as-a-Services (NaaS) is a unique business that fits the greater Blockchain-as-a-Service (BaaS) category. It took the project two years to finally launch its NaaS business, which has attracted over 497,000 nodes, rewarded using the platform's NFTs.
Nodes play a crucial role in the blockchain ecosystem by keeping a complete record of the blockchain transactions generated by miners and other blockchain network users.
Running a node is an expensive process that requires individuals to keep their devices running 24/7 at a high cost, whereas StrongBlock steps in with Node-as-a-Service (NaaS).
The platform allows cryptocurrency miners to create nodes in seconds, after which they are rewarded with the blockchain's native cryptocurrency STRONG for maintaining their nodes.
Once a user launches a node, anyone can use it to access the blockchain it was built for. The StrongBlock platform supports nodes built for hundreds of blockchain nodes, with the monthly fee for running an Ethereum node being $113.11. While the process of listing your node on the platform is free, you will incur a mining deposit of 10 STRONG tokens.
The STRONG token had an initial supply of 10 million tokens. Still, the platform burned approximately 94% of the available tokens when it launched the second version of its DeFi protocol leaving a supply of only 555,000 STRONG coins.
The limited supply of STRONG tokens led to its meteoric rise to trade above 1200 USDT. However, the latest decline in its price indicates less demand for the token among crypto investors.
Still, the situation could change in future, given that STRONG tokens have formed a bottoming pattern at their current prices. Therefore, I would buy the token in anticipation of the rally, but there are no guarantees that we will get this much-awaited rally.
*This is not investment advice. Always do your due diligence before making investment decisions.
STRONG crypto price.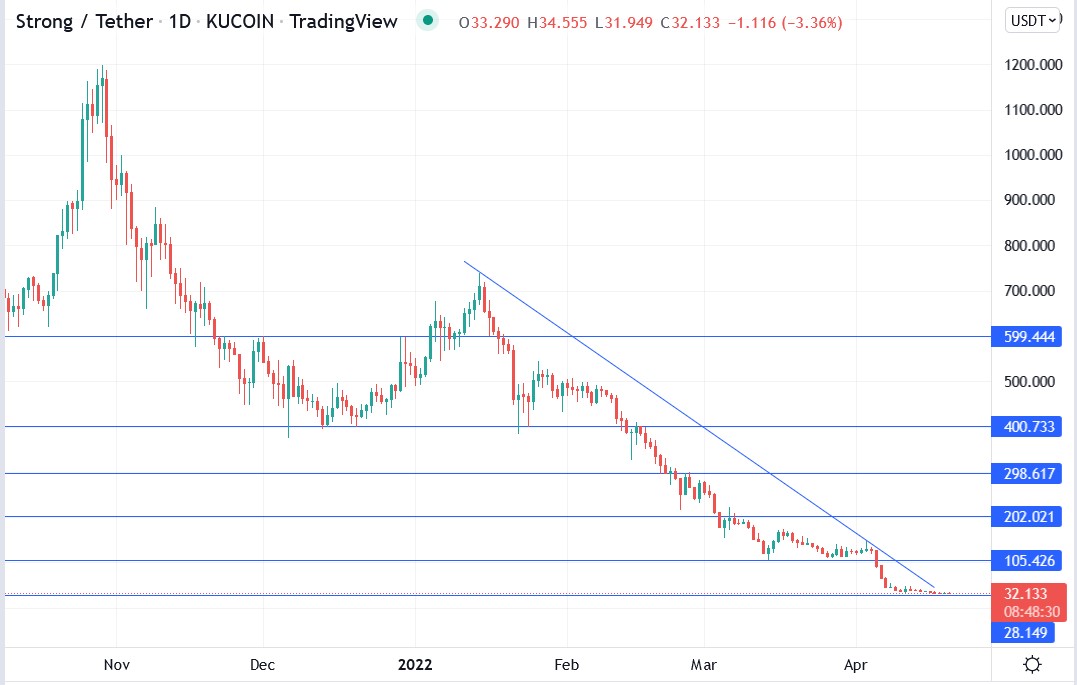 The Strong crypto price has fallen by 93.93% in 2022 and could have formed a bottoming pattern. Can it break above $34.4?