Key points:
[email protected] Capital shares fell 5.1% after issuing 9.58 billion new shares.
The inventory monetisation firm raised £4.365 million via the capital raise.
So, should you buy SYME shares despite the dilution? Read on to find out.
The [email protected] Capital PLC (LON: SYME) share price fell 2.5% after announcing the issuance of over 9.58 billion SYME shares, which will start trading on the London Stock Market's main segment tomorrow.

The new shares include all the outstanding 1.23 billion Venus Mandatory Subscription Shares and the remaining 7,500,000,000 Venus Optional Subscription Shares, which were issued at 0.05p each to raise £4,365,000 for the company.
Also read: 12 Best Shares To Buy As a Beginner.
The inventory monetisation company noted that it issued a further 848.5 million shares to Venus Capital following the conversion of £417,500 Tranche A Venus convertible loan notes (CLNs) and an additional £61,500 Tranche A Venus CLNs, which were issued and converted immediately.
SYME also plans to issue a further 30,897,410 new Open Offer Shares following the conversion of a similar number of warrants by warrant holders who subscribed to the 320,855,008 Open Offer Warrants issued earlier this year.
All the new shares will be admitted to the LSE and will be available for trading starting tomorrow. Investors' muted reaction to the latest dilution of existing shareholders by SYME's management team was impressive, given that SYME sold the new shares at 0.05p each, yet SYME shares traded at a low of 0.08p.
The market's reaction indicates that investors are optimistic about SYME's prospects and believe that its share price should be worth more than 0.05p, which explains why SYME's shares did not drop to the 0.05p level like most companies following such a massive dilution.
[email protected] Capital will now have 56.62 billion shares after today's capital raise and issuance of new ordinary shares.
So, should you buy SYME shares? The short answer is it depends on your investment timeframe and whether you are comfortable with future dilutions. SYME has been raising capital for a while and remains unprofitable; hence, it will need to raise more funds in future.
*This is not investment advice.
SYME share price.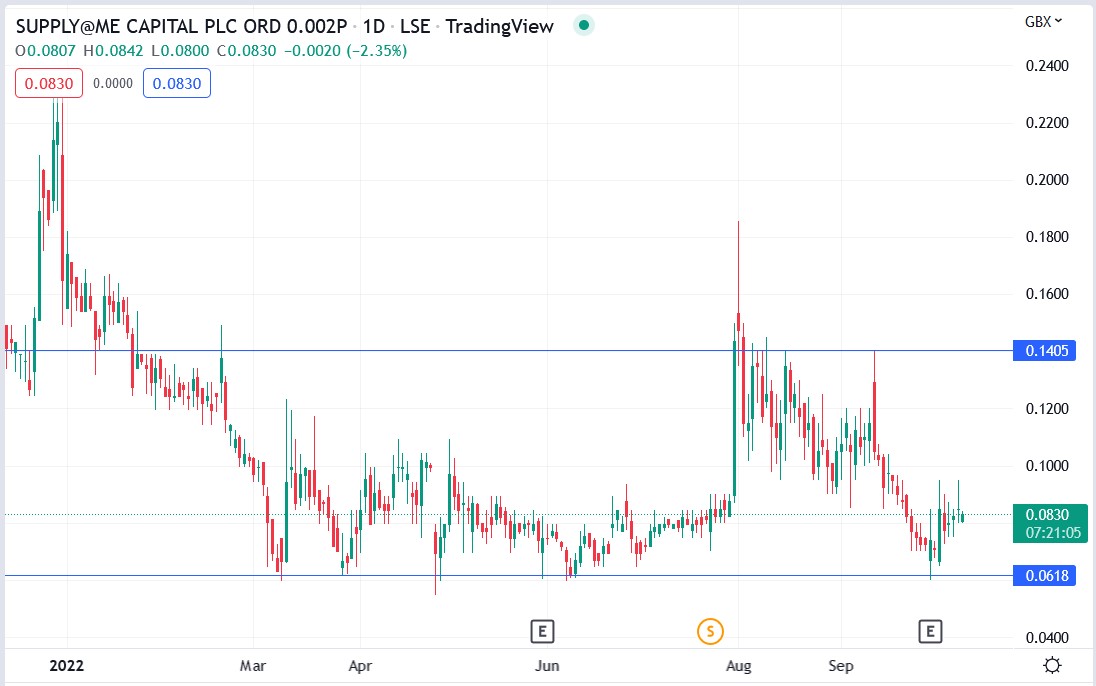 The SYME share price fell 5.06% to trade at 0.0806p, from Friday's closing price of 0.0849p.