Key points:
[email protected] (SYME) shares rallied 9.8% after issuing more shares.
The shares later gave up most of their gains as investor sentiment shifted.
SYME is growing as a business and attracting better financing terms.
The [email protected] Capital PLC (LON: SYME) share price rallied 9.8% after the company announced that it had received a conversion notice relating to the warrants issued to participating shareholders during the open offer that closed on 17 August 2022.

The inventory monetisation company revealed that it had issued 615,335 new ordinary shares of £0.00002 nominal value each and received £399.96 due to the same transaction. Now, the tiny amount received by the company indicates that investors were not cheering today's conversion.
Also read: 12 Best Shares To Buy As A Beginner.
Investors must have been cheering other factors, not the £399.96 paid to the company. Such an amount can be considered petty cash, easily used within a day or a week for general administrative purposes.
However, today's rally indicates positive investor sentiment towards the company as buyers stepped up, driving SYME shares higher. The positive outlook could be related to the significant milestones achieved by [email protected] Capital, including the full repayment of the Mercator convertible financing facility worth £3,536,553.
SYME continues to secure much better financing terms that do not require issuing new equity to its lenders. This shows that the business is becoming more attractive to leaders who are now offering better terms on funding issued to the company.
[email protected] Capital recently completed its first inventory monetisation transaction and announced that it was working on other deals that it would unveil in the future. Investors cheered the significant milestone and are looking forward to more transactions.
SYME shares have fallen 41.97% this year but seem to have bottomed around 0.0618p, a long-term support level since March this year, as its share price has bounced off this level multiple times.
The inventory monetisation company's shares had given up most of their gains by the time of going to press and were trading almost flat for the day. SYME looks like an excellent long-term play, but investors should be ready for further dilution as the company grows.
*This is not investment advice.
SYME share price.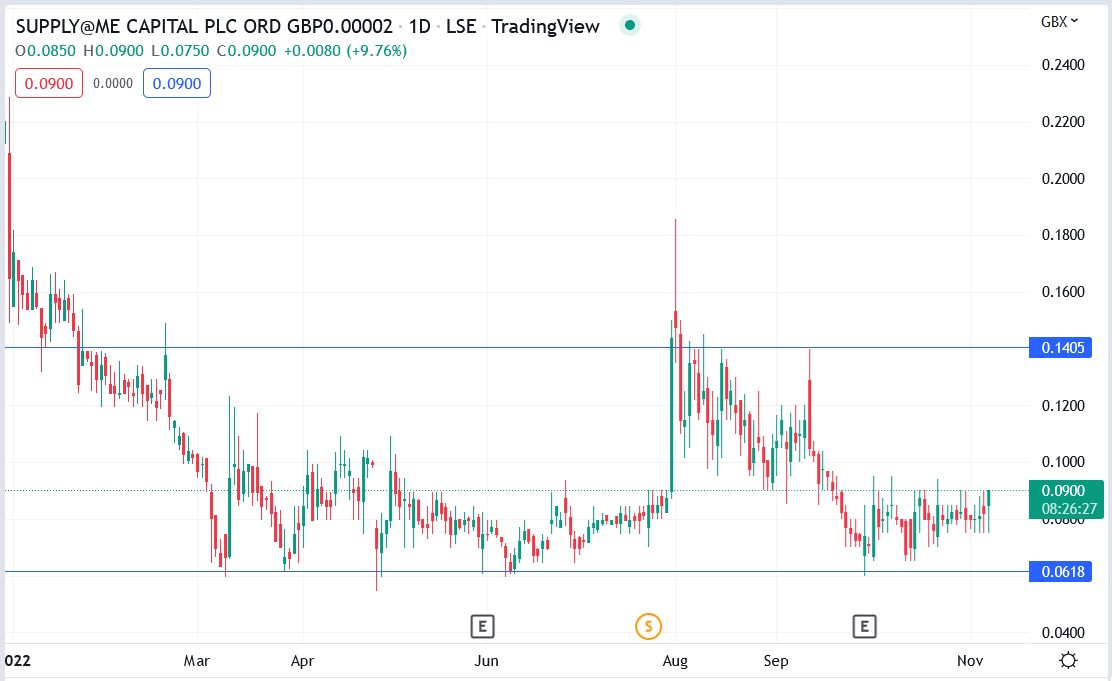 The SYME share price rallied 9.76% to trade at 0.090p, rising from Friday's closing price of 0.082p.