Key points:
Taylor Wimpey shares have fallen 14.5% in 2022. Is the selloff over?
A double bottom pattern has formed on the daily chart, which is good.
However, rising interest rates pose a significant threat to the company.
The Taylor Wimpey plc (LON: TW) share price has fallen 14.56% in 2022, and some might be wondering when the selloff will be over so that the stock can rally again.

There is no way to know what will happen to shares in future, but we can look at some of the factors affecting a company and its industry to extrapolate the most likely future scenarios.
First, we must mention the land scandal that erupted in late 2020, resulting in Taylor Wimpey reversing its lease requirements that saw land rents double every ten years for homeowners living in leasehold houses.
The homebuilding company announced the changes to its rules and financial compensation for affected homeowners stuck with the punitive rates in late December 2021.
However, the scandal is not the main issue affecting Taylor Wimpey's shares. The company must sell the houses built to generate revenues as a home builder.
But, the conditions in the UK housing market are changing rapidly as the Bank of England raises interest rates to stem rising inflation. The higher rates will be passed on to homeowners via higher interest rates on their mortgages.
The Bank of England was the first major central bank to raise interest rates in December and early February, raising the country's interest rate to 0.5%. At the BoE's latest monetary policy meeting, four of the nine policymakers wanted to raise rates to 0.75%.
The rising inflation in the UK means that the BoE is likely to raise rates again at its next meeting bringing interest rates to 0.75%, with most banks passing higher interest rates to their mortgage clients.
Therefore, many experts predict that demand for homes in the UK may slow down as the year unfolds due to the higher interest rates.
Still, Taylor Wimpey may benefit from current homeowners holding on to their homes for longer, which leaves current home buyers with no choice but to buy the new homes coming into the market.
As one of the UK's leading home builders, I expect demand for Taylor Wimpey's homes to remain high at the moment given the tight supply conditions, but this will change later in the year.
Taylor Wimpey shares look pretty attractive at current prices, but we cannot rule out a further decline. Still, I could buy at current prices given the double bottom pattern on the daily chart.
*This is not investment advice. Always do your due diligence before making investment decisions.
Taylor Wimpey share price.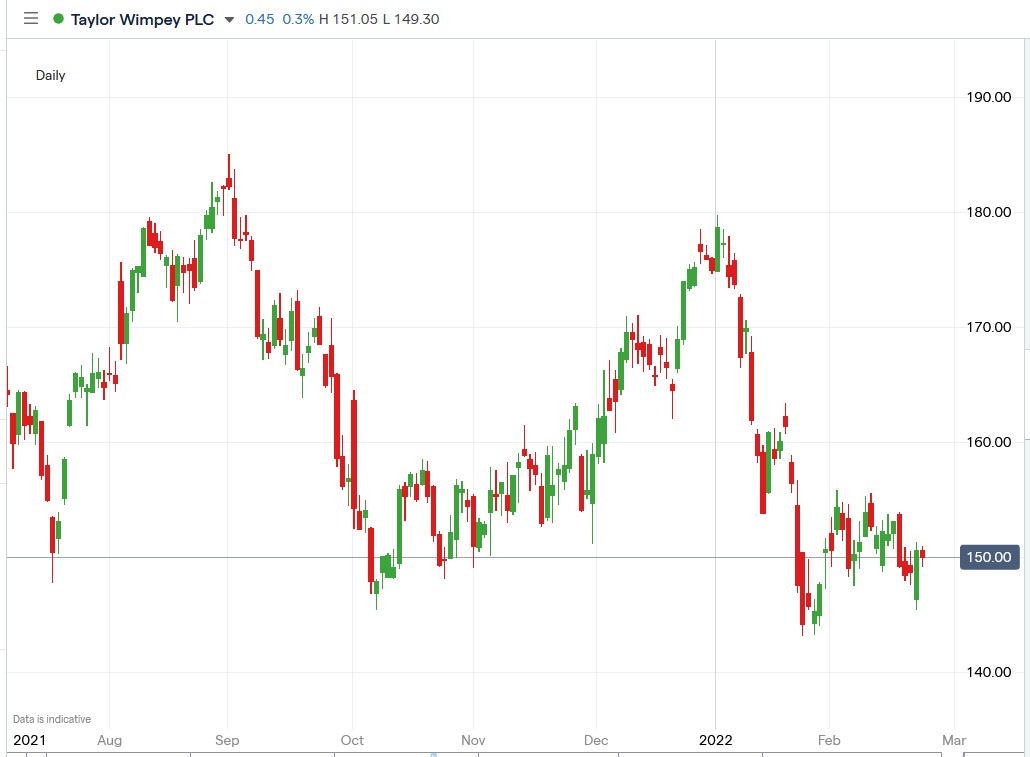 Taylor Wimpey's share price has fallen 14.56% since the year started. What's next?