Key points:
Darktrace shares rallied 5.26% after acquiring Cybersprint in a €47.5m deal.
The acquisition will give Darktrace new capabilities to boost its product suite.
Is the cybersecurity company ready to start afresh after the massive selloff?
The Darktrace PLC (LON: DARK) share price edged 5.26% higher after announcing that it was acquiring Cybersprint B.V. for €47.5 million ($53.7 million) in a 75% cash 25% stock deal.

Cybersprint is a company specialising in providing continuous, real-time insights to detect risks and eliminate blind spots from an outside-in perspective.
The leading cybersecurity company clarified that Cybersprint's technology and external data complement Darktrace's product suite, especially its recently-launched "Prevent" product.
Darktrace confirmed that Cybersprint's attack surface management data would improve the effectiveness of its Darktrace Detect and Respond products by providing external vulnerability data in real-time.
The acquisition will also help Darktrace penetrate other market segments like proactive AI cyber security much faster than if it had to build its team entirely from scratch.
The deal will give the company an extra European Research and Development Centre in The Hague, Netherlands. Cybersprint's R&D team will join Darktrace's current R&D team based in Cambridge, UK.
Investors responded positively to the news, as evidenced by the rally in Darktrace shares, but I would have loved to see a more significant rally.
There have been many questions about the quality and effectiveness of Darktrace's AI cyber security services. Today's acquisition is a step in the right direction for the company.
However, Darktrace's share price has fallen 64.5% from 1002.6p on 24 September 2021 to 355.6p. The shares are down by 15.3% in 2022, but the company's worst day may be in the past.
Poppy Gustafsson, Darktrace CEO, said: "We are very excited to welcome the Cybersprint team to Darktrace. Bringing inside-out and outside-in visibility together is critical, and having access to the robust, rich, real-time external dataset combined with Darktrace's Self-Learning AI means that customers get a holistic view of prioritised cyber risks to harden the parts of their organisation that are most vulnerable…,"
Pieter Jansen, Cybersprint CEO, said: "I'm very excited about this fantastic step in the journey of Cybersprint. We are passionate about automating manual tasks in cybersecurity from an outside perspective. We believe attackers never sleep and operate without scope. When we began conversations with Darktrace, we felt an instant connection on vision, culture and technology. That's why we are looking forward to joining Darktrace…,"
Darktrace finally cut all links with Mike Lynch, whose association with the firm could have been behind some people's lack of trust in the company. Lynch is accused of inflating sales figures in his past company, Autonomy, which he sold to HP for an exorbitant price.
It is too early to say that we shall get a rally higher in Darktarce shares, but the current setup on the daily chart is quite promising.
*This is not investment advice. Always do your due diligence before making investment decisions.
Darktrace share price.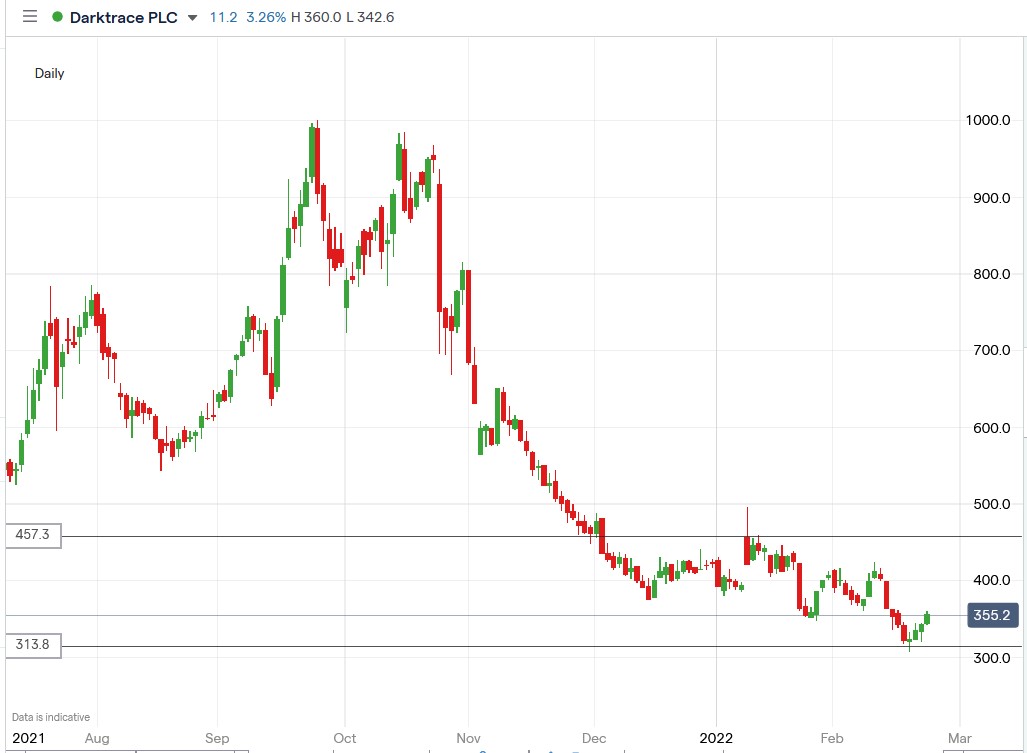 Darktrace share price edged 5.26% higher to trade at 360.1p, rising from Tuesday's closing price of 342.1p.