Key points:
Pinterest stock has fallen 65% over the past year
Is the 18% rise overnight a sign of the turnaround?
The key is that revenue is holding up, unlike some other social media companies
Some might think that we're seeing a welcome and timely turnaround in the Pinterest (NYSE: PINS) stock price as the last 12 months' stock price performance of a 65% fall is ameliorated by an 18.46% price rise overnight. This is off the back of the results announced after market close yesterday which showed a significant earnings miss but a very close shave with revenue predictions. Given the nasty surprises the other social media companies have been providing us with recently that's an interesting difference.

The thing about Pinterest that we should all note – and too few really do, often enough – is that it is very different from those other social media companies like Snap, Facebook, Twitter and so on. All of them – all the social media companies that have succeeded that is – take an existing model of human interaction and then digitise it. Twitter we might propose as shouting matches, Facebook as circles of friends but Pinterest really is different in that the model there is scrapbooking. The older name for which would be keeping a commonplace book. Out here in the real world this is something that has always trended female and so it is with the user base at Pinterest. As far as is generally known it's also the only one of the social media companies where the user base does, significantly trend female.
Too much can be made of this but a useful idea is that currently not enough is made of this fact. Because strange as it might sound that might well give Pinterest a more stable user base.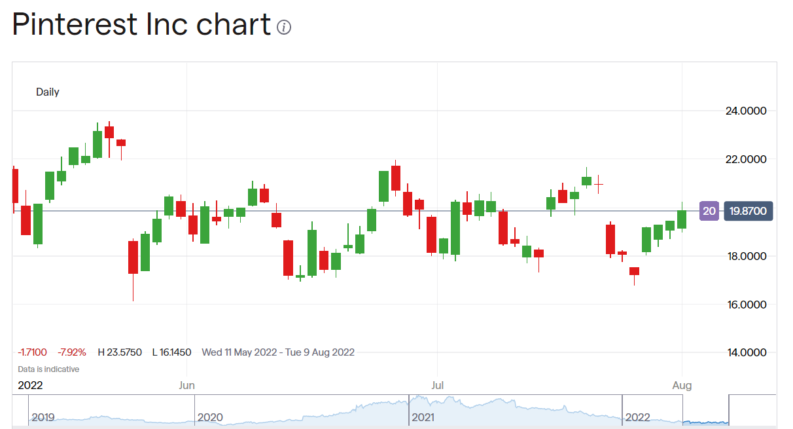 Also Read: Social Trading – The Easy Beginners' Guide
What we do seem to be seeing is a divergence in social media company performance. Snap's results were dire, Pinterest here is doing much better. Revenue at Pinterest came in as expected, only a $0.67million miss on $665.9 million. True, EPS on a non-GAAP basis was a miss of $0.07 as it came in at $0.11 cents. But that is indeed better than the revenue collapses some other social media companies have been seeing. Which could indeed be part of that having a very different user base. Females being, perhaps, less flighty in their interests and interactions.
It's also true that Pinterest thinks that the rest of the year will hold no grand surprises. Revenue growth should be in the middle single digits for example. That's for Q3 alone. They're expecting 30 to 40% revenue growth for year on year revenues. Which is indeed very different from the cliff edges some of the other companies are reporting.
It's a little early to say that the 18% rise after these results is the comeback and anyway percentages don't work that way. We need a 250% rise in the Pinterest stock price to earn back that 65% fall over the past year. But it is possible to say that the signs are encouraging, especially when placed beside those of the other social media companies. Maybe that user base really does make a difference?