Key points:
Snap results were not good, but it's the present trading that really worries
The big question is whether this is just specific to SNAP?
Are all the ad supported social media companies going to have the same problems?
Snap (NYSE: SNAP) stock slumped 30% overnight on the release of Q2 2022 results. The big question for us as traders is whether this is a move within social media companies – Snap becoming less popular, say, something else more – or is it something that affects the sector as a whole? It is possible for either to be true and given that most of the other social media companies will be reporting in the days to come we might want to think through which of these it is.

In some ways Snap's results were better than expected – the loss was smaller than forecast for example. Revenue grew 13% as against expectations of 15.5%. Operating cash flow moved to minus $124 million from minus $101 million. But the EPS loss was 2 cents a share beat the consensus forecast of 3 cents. So, a bit of a mixed bag those results. What cause the SNAP stock price to crash though was that the company refused to provide any guidance for the next reporting quarter. Which, given that we're already well into it isn't a good sign. If management doesn't know enough to have an idea of revenues and or costs then that just isn't good now, is it?
The really big question though is whether this is a shift within the marketplace – between social media companies say – or whether this is something that's going to affect all social media companies. Meta (NASDAQ: META) – what used to be Facebook – was down 5%, Pinterest (NYSE: PINS) 7% and so on. The market is certainly worrying that this is a sector wide problem.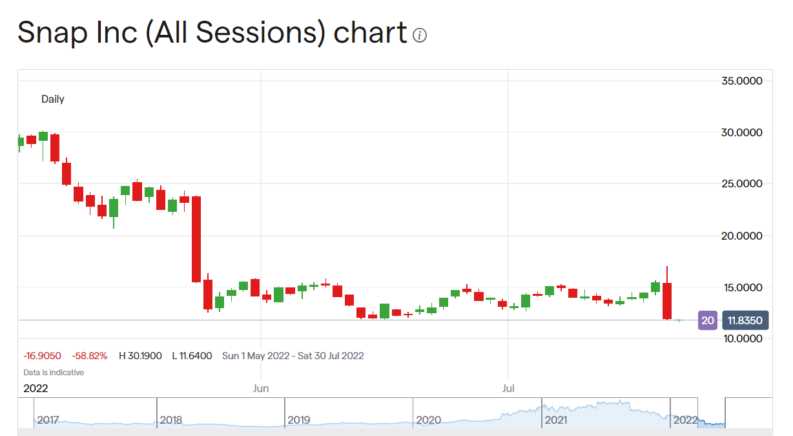 Also Read: How To Buy Facebook Stock
As we can see from the price movements of Pinterest and Meta (which is really still Facebook in our hearts of course) there's a certain concern that this could be an industry wide phenomenon. Lower consumer participation perhaps, or lower ad rates, or unsold ad capacity, or even possibly cost inflation as salaries for engineers rise. The point though is not the specific cause but the generality of it. Is this an industry wide problem? Something we'll learn, no doubt, as the other companies report in the net few days.
There is an alternative of course. Which is simply that there's a shift in who goes where, rather than how many people go at all. Possibly the older social media companies – Snap, possibly others – are just losing audience to the new and hipper ones like TikTok? That could be happening too – Facebook took over from MySpace after all, we could imagine something like that happening again.
That's what the current uncertainty in the markets for this sector is about. Are we seeing a cyclical turn of the wheel or some structural change underneath the whole market? Trading positions should be set dependent on views about that.