Key points:
The Peloton stock price edged higher on decisions to offshore production.
Investors seemed okay with the move, which could have a deeper impact.
Will many other companies follow Peloton's example? Read on to find out.
The Peloton Interactive Inc (NASDAQ: PTON) stock price edged slightly higher after the manufacturer of fitness equipment and workout apparel announced that it intends to outsource the manufacturing of its iconic workout bikes to a Taiwanese company known as Rexon International.

Also read: The Best Breakout Stocks To Buy Right Now.
The exercise equipment manufacturer has made significant adjustments to its operations since Barry McCarthy was appointed as CEO in February after the departure of former CEO and founder John Foley as the firm's performance tanked.
Peloton said that moving to fully outsourced manufacturing will help it ramp up production and scale it down quickly without the additional costs of having employees and operating several production facilities.
Investors did not mind Pleoton's decision, given that its stock was trading 5.9% higher at writing, raising questions about the strategy to revive American manufacturing started by President Donald Trump's administration and is also being championed by President Joe Biden.
Given the numerous supply chain issues that emerged due to the impact of the COVID-19 pandemic, many American companies had considered building manufacturing facilities at home to minimise their dependence on foreign countries for crucial goods.
However, the current global economic environment is jeopardising the move to onshore production as many companies struggle to remain afloat amid record-high inflation and shortages of commodities and other crucial items.
The world is at the edge of a recession, and the situation will likely worsen as the Federal Reserve hikes interest rates to tame inflation with the ultimate goal of achieving a soft landing for the American economy once inflation is under control.
The question remains, how many companies will follow in Peloton's footsteps and announce layoffs as they opt to outsource their production to much cheaper countries as they wait to see if the economic situation will improve.
The latest employment data showed that the US economy is still creating jobs at a solid pace. Still, the situation is not rosy for many people as companies such as Peloton lay off thousands of workers to remain solvent.
The number of companies announcing decisions similar to Peloton will likely increase in the coming months as the economic situation worsens in the US and globally.
So, should you buy Peloton stock? Not yet, the worst is not over for the company, and despite its massive selloff, the firm is still worth $3.14 billion, which is a lot.
*This is not investment advice. Always do your due diligence before making investment decisions.
Peloton stock price.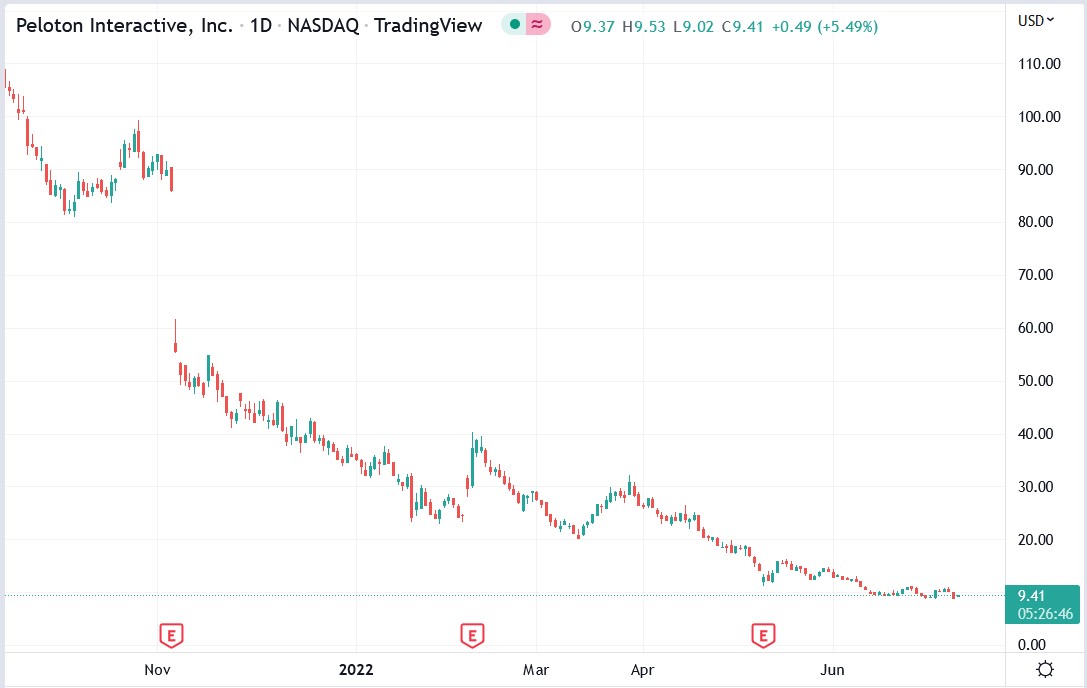 The Peloton stock price surged 5.89% higher to trade at $9.45, rising from Monday's closing price of $8.92.