Key points:
Hedge Fund Casualty Rumours
Bitcoin Just Holds $20K, as Fed Hikes 0.75%
$19,511 a Key Level for Bitcoin
Hedge Fund Casualty Rumours
A multibillion-dollar hedge fund, Three Arrows Capital, known as 3AC, could be in trouble, with rumours inflated by a cryptic Tweet from Zhu Su, co-founder of 3AC. The former Credit Suisse Group AG trader, alongside cofounder Kyle Davies, oversees Three Arrows Capital that had a net asset value of $18bn in its last public statement. In his Tweet, Zhu Su stated, "We are in the process of communicating with relevant parties and fully committed to working this out".

The Singapore-based crypto hedge fund is renowned for its positions in numerous cryptocurrencies including Bitcoin, Ethereum and Solana and also placing highly leveraged positions directly in crypto businesses, such as the BlockFi exchange, the blockchain-based game Axie Infinity and Deribit, an options and futures exchange.
This news had added to cryptocurrency market woes, which have been plagued by negative shocks since May, which saw the Terra ecosystem collapse and more recently the freezing of withdrawals by Celsius, a major cryptocurrency lender.
Any cryptocurrency holders should be closely watching this situation as it develops, we will keep you posted!
Bitcoin Just Holds $20K, as Fed Hikes 0.75%
As the market had quickly priced in, the US Federal Reserve hiked interest rates by 0.75% on Wednesday in reaction to spiralling inflation data. Although possibly edging the US and global economies towards recession, this more assertive stance against inflation gave some respite for beleaguered risky assets (US and global stock indices) and also for the cryptocurrency markets. The Bitcoin future on the CME just held the psychological $20K level, bouncing from $20,025. Not only is $20K a psychological level, but it is also important as it is an important option markets strike price.
But risky assets have rolled back lower on Thursday and cryptocurrencies are also falling again, which puts the 20K level under pressure again, alongside another important target just below this (see below)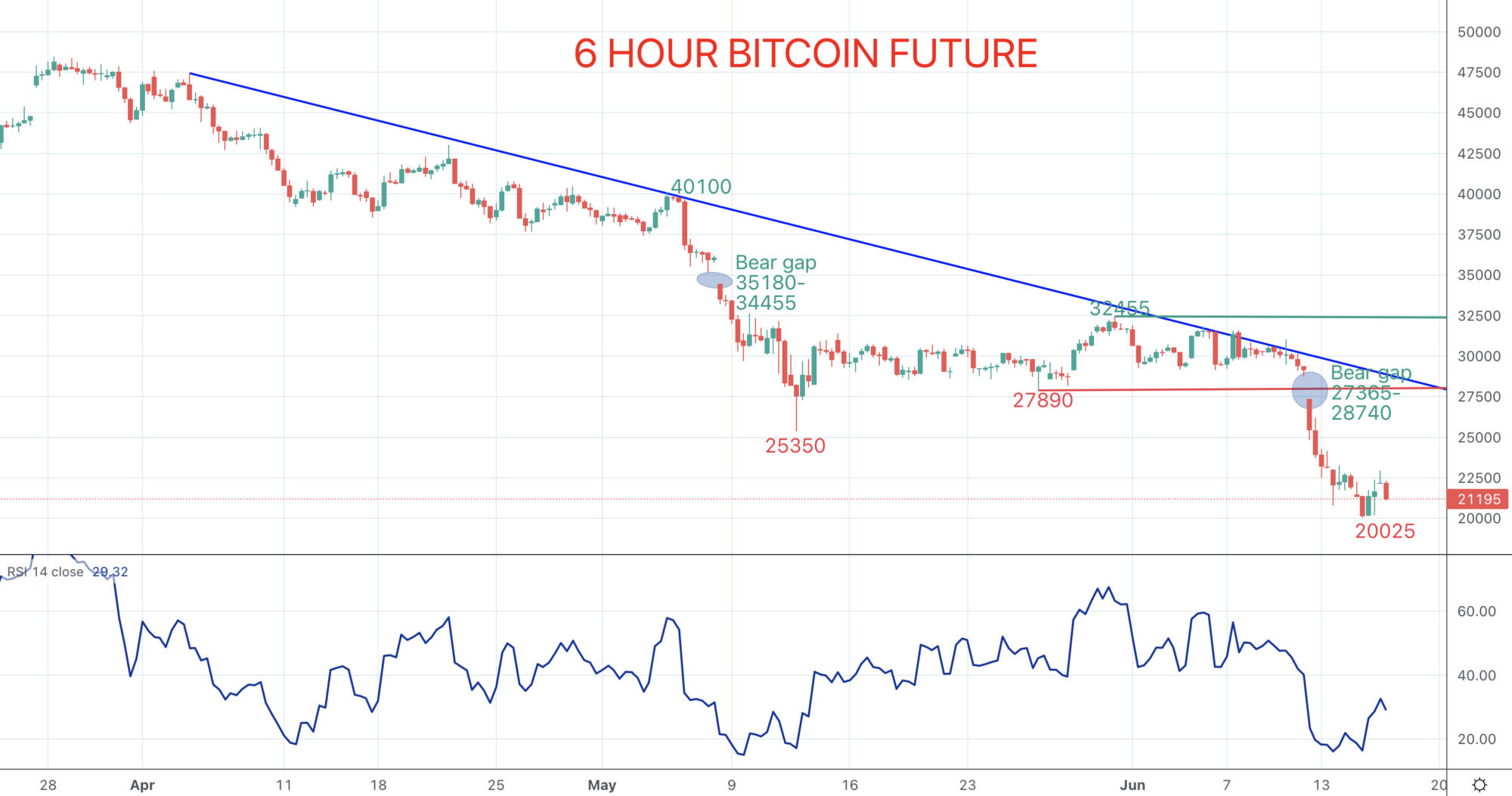 $19,511 a Key Level for Bitcoin
Not only is the $20,0000 support level important for Bitcoin, but just below this sees another significant target, at $19,511. Although Bitcoin has dropped approximately 70% from its all-time high set in November 2021, it has endured deeper losses in previous sell offs, notably more than 80% from the 2013 and 2017 then record peaks. However, during these and other large bear moves, Bitcoin has never previously fallen below the previous cycle high. That level for Bitcoin is at $19,511, so beware of a break below here!