Key points:
Plus Therapeutics has just gained a $17 million grant to develop their lead treatment
This is good, of course it is, free money always is
But it also reduces the pressure on stockholders to fund capital requirements
Plus Therapeutics (NASDAQ: PSTV) stock is up 100% or so from yesterday on the news that it has gained a grant. That's not quite so much the news though – the grant solves the capital problem for PSTV, which is what is driving the stock price rise here. This underlines the importance of capital to clinical stage pharma companies and a solution that doesn't require stockholders to put in more is hugely welcome.

Plus Therapeutics has a lead candidate in Rhenium – 186 NanoLiposome. That all means nothing to most of us but it's a potential treatment for a specific subset of cancers – those in the cerebrospinal fluid. Development costs are markedly lower for this than many other medical treatments as it has Fast Track designation from the FDA. Almost as an aside the usual use for the metal rhenium is in jet engines (the vast majority of world production) but as it "seeks" bone when in the human body then the radioactive isotopes can be directed to where their radiation will do the most good. It's been/being tested on a number of different cancers.
So far so good but clinical stage pharma research eats capital. There's no product here, so no revenues. Further, it takes years – a decade perhaps – to get from even original patent granting to actual sales after FDA approval. Fast Track helps with that but only a bit. Finally, it's far too risky to be funded by borrowing – no one would lend. So it has to be capital from stockholders that funds the entire adventure.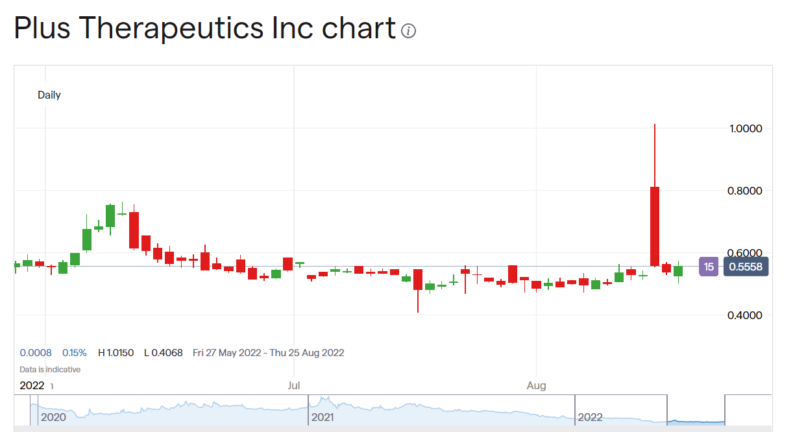 Also Read: Five Best Pharmaceutical Stocks to Watch in 2022
What this means is that we all know that PSTV will have to come back to the market for more capital to keep the show on the road. That's just what research pharma does. This puts a downward pressure on the Plus Therapeutics stock price because we know there will be more capital raises.
The effect of this grant (from Texas itself) is not therefore just that PSTV now has the resources to develop the treatment further. It's also that it's not going to come to stockholders to fund that. The downward pressure of the future likely capital raise is now unwound.
Of course, in the long term the PSTV stock price is going to be determined by how effective the treatment is and how and whether it passes the FDA licence hurdles. Today's news doesn't change any of that. It just alleviates the pressure upon current stockholders to finance the next stages of work to get to where that decision might be taken. The rise in the Plus Thera stock price thus looks justified in this short term and for that technical reason. Trading positions should probably be based upon evaluations of the treatment in the future.