Key points:
Carnival (CCL) shares have risen 24.2% in the past three weeks.
The move comes after the firm raised about $1 billion via a share offer.
Carnival shares are trading below a crucial resistance zone.
The Carnival Corp (NYSE: CCL) share price has risen by 24.2% in the past three weeks, despite raising about $1 billion via a share issue on July 21, 2022. However, many investment analysts criticised the share issue and pointed out that it should have happened a few months back when its stock price was trading at a higher valuation.

Despite the ill timing of the equity raise, the move was a step in the right direction for Carnival, which already has a massive debt burden, given that the capital raised via an equity offer is not repayable and does not earn interest as opposed to raising capital via debt.
Also read: The Best Undervalued Stocks To Watch In 2022.
Still, the analysts were worried that the capital raise, which was at a discount on the cruise ship operator's current stock price, could trigger further selling among investors. Luckily for Carnival shareholders, the company's stock quickly found a bottom and has been edging higher, as seen on the daily price chart below.
Carnival shares have been trading at a crucial resistance level since July 10, 2022, when CCL stock slipped below it. The stock has attempted to break above this crucial level twice in the past with no success.
The stock is currently trading below the level, with many watching to see if it can break above the level this time. A decisive break above the level could see CCL shares rally much higher in the coming weeks, given the significance of this level.
If CCL stock can break above the $11.14 resistance level, it will be headed to the $14 resistance level, then on to the $16.40 resistance as our following two fundamental levels. First, however, we must get a solid break above the current resistance level for this to happen.
Looking at CCarnival'sfundamentals, demand for its luxury cruises remains high, given that its target clients have higher disposable incomes than the average consumer. Hence, despite the high inflation, the company sold tickets for its 2023 cruises at higher prices, driven by high market demand.
I would consider buying Carnival stock if it breaks above the $11.14 resistance level and retests.
*This is not investment advice. Always do your due diligence before making investment decisions.
Carnival share price.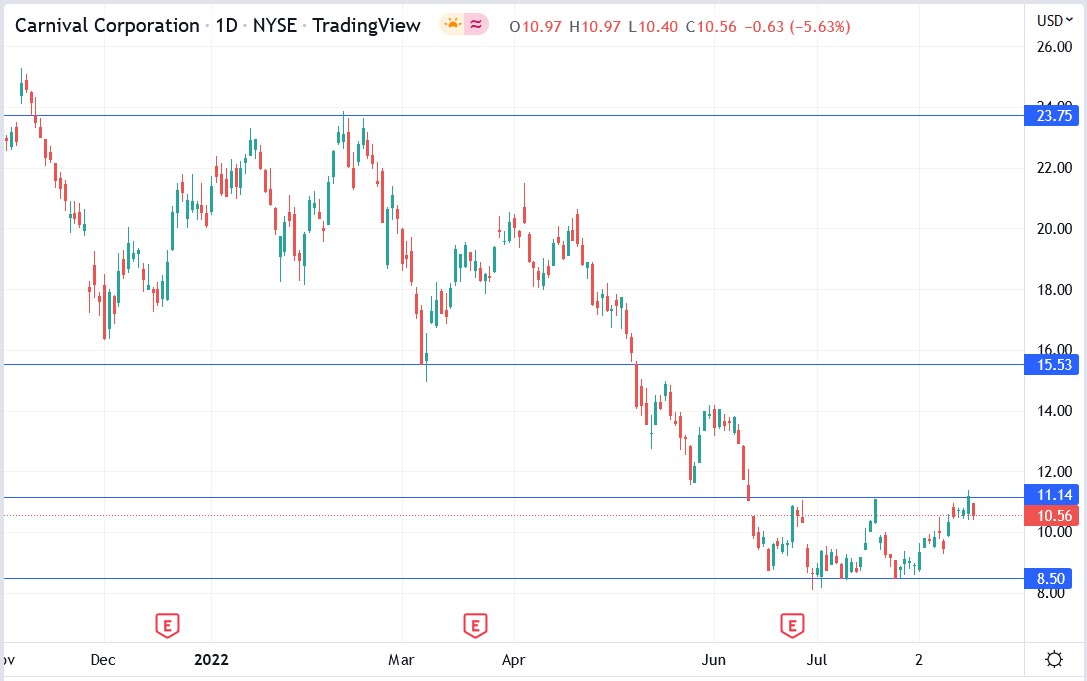 The Carnival share price has risen 24.24% from its July 27 low of $8.50 to its current price of $10.56.