Key points:
Regis Corporation is up 18% premarket
This follows a recent doubling in RGS stock
Is this the beginning of some meme stock status, or tracking a real business turnaround?
Regis Corporation (NYSE: RGS) stock is up 18% premarket this morning and a little thinking is required to work out why. For, as the base logic of the current markets seems to run, Regis is a bombed out reatiling stock and there seems to be a near inexaustible supply of investors who think that all bombed out retail stocks are going to be the next GameStop. We refer, of course to the meme stock goings on of Bed, Bath and Beyond, Gamestop itself, Revlon – which isn't quite retail but – and so on.

So, whenever some bombed out retailer starts to move we've got to consider that it could be that meme engine gearing up to have a go. Or, of course, someone trying to prime that meme engine to go and hoping to encourage a bit of momentum trade behind a previously established position. For whenever some pattern does emerge in a stock market there will always be those who try to prompt it to their own benefit.
Or, of course but possibly more rarely, there's the possibility that management are getting their act together and there's a real change in the underlying business. This isn't mutually exclusive with meme stock status but we would still differentiate – people buying because everyone else is or people buying because the business itself is improving.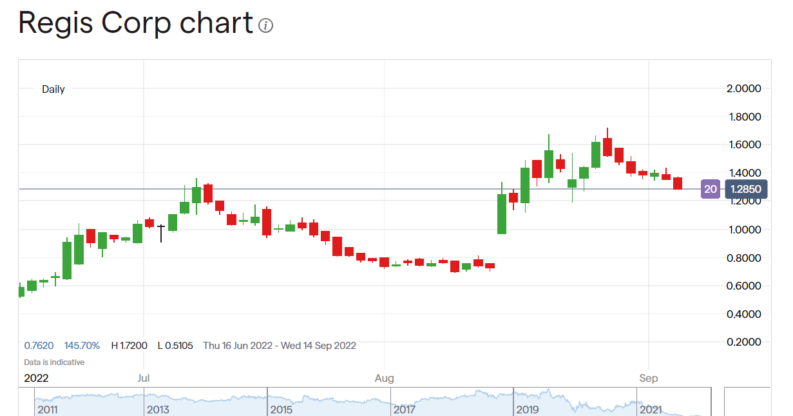 Also Read: The Best Clothing Stocks To Buy
We've looked at the meme stock Regis possibility before. There was a 91% jump in the RGS stock price one day, which is how these things often start. That held for a little, but then gently sagged back. However, this past few weeks there's been another revaluation, including a doubling in the Regis Corp stock price. What's interesting to try to work out is whether this is just RGS being the plaything of speculators or whether there's something real happening underneath.
For there could be something happening there under the hood. Regis owns hair salon brands. Supercuts, Rooster and so on. There are some 5,000 of them spread out across the country. Of course, lockdown – and work from home – near entirely killed this business. The biggest problem at the corporate level for Regis being that they owned, directly, some 300 of these salons. Rather than the losses landing on the franchisees' books, they flowed through up to the corporate parent. Recovery was looking difficult what with the resultant debt burden.
However, in comes new management and things start to turnaround. Directly owned stores are cut to 105. Regis income is now near entirely from franchise fees rather than direct trading. Yes, that gives up some of the profit but also reduces both risk and management expenses. They've also been able to refinance the debt on beneficial terms. There's less of a sucking sound from that wound at least.
Now of course this does not mean that Regis is going to pull through but it does make it more likely. It's also a good sign for any meme stock status. For those which have really succeeded have been those like Hertz that actually had a reason to succeed – rather than just got chased by the crowd's buying.
The real point here being that we've got to make up our minds about what is happening at Regis before we take a trading position in it – or not, of course.