Shares of Volex PLC (LON: VLX) are up 12.5% this year, and the firm has announced a positive update for the current fiscal year. Are the shares headed much higher?
The company's group revenues rose 13.3% on a year-on-year basis, while its underlying profits surged 35.8% to $42.9 million.
Volex's underlying profit margins also rose to 9.7% marking its best year over the last 20 years. The company also acquired DE-KA to create a truly global power cord manufacturer.

The power cord maker also revealed that it had doubled its production capacity at its manufacturing facility in Batam, Indonesia, and expanded its sales and marketing teams.
Volex shares rallied higher on Thursday following the release of its annual report but later fell on Friday as sellers jumped in at a crucial resistance level.
From a technical perspective, Volex shares are trading below a crucial resistance zone and could fall further if the level holds in the future. Therefore, the current price setup favours a decline instead of a rally higher.
However, the trend could shift to bullish if the shares reverse course and rally higher above the 353p level, which would indicate the potential for further gains.
Meanwhile, bullish traders should wait for a move higher before jumping in or dropping to the support level, followed by a bounce indicating that buyers are willing to defend such levels.
Volex might not be a high-flying growth stock, but investors who bought at this time last year are sitting on gains of 140%, which is quite impressive for a company that makes power cords.
As short-term traders, we look to profit from price swings lasting for a few days or weeks by taking trading at key swing levels that provide the best risk-reward setups, which means that we will often have to sit out a trade that does not have an excellent risk-reward ratio.
*This is not investment advice.
Volex share price.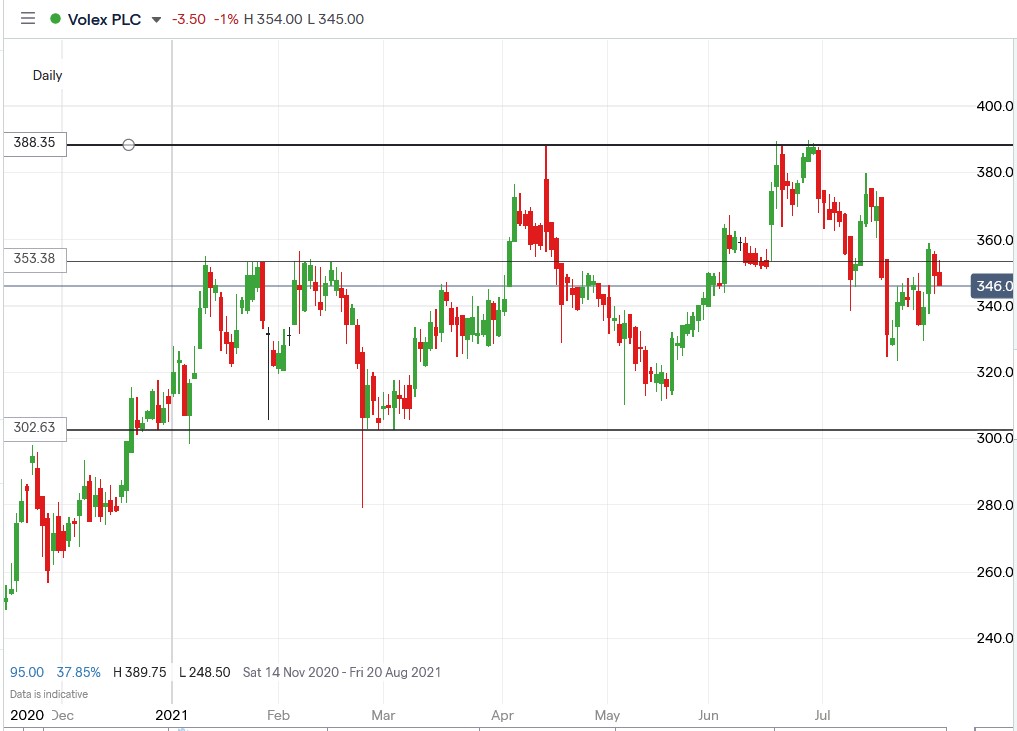 Volex shares are up 12.54% in 2021 and have announced a positive earnings outlook. Are they headed higher?
Should you invest in Volex shares?
Volex shares are traded on the London stock exchange's AIM market (the alternative investment market), which is the submarket specifically for smaller companies. AIM stocks are attractive to investors as they have tax advantages and smaller companies have the potential to benefit from rapid growth. But are Volex shares the best buy? Our stock market analysts regularly review the market and share their picks for high growth companies