101Investing is the latest platform to be launched by industry veterans at FXBFI. Aimed primarily at the novice investor, 101Investing is a platform that aims to help you grow from being a rookie trader to a seasoned pro. Headquartered in Cyprus, and with a highly experienced development team behind it, 101Investing offers a platform that is an all-around solid performer. Although it doesn't offer anything that deviates from the familiar trappings of the bigger platforms out there, what it does offer to users, it does very well. With hundreds of CFDs ready to trade across a variety of financial instruments – including forex, commodities, metals and cryptocurrencies – 101Investing offers one of the most well-put-together packages around. We are big fans of the different account types and educational resources made available for free on the platform, which allow you to progress from a first-time trader to an industry pro. Keep reading the following 101Investing review to get the complete picture. With that said, let's carry on and review 101Investing.
101Investing Review Navigation
#

101Investing Forex Review
| | | | |
| --- | --- | --- | --- |
| Min Deposit | App Support | Max Leverage | Trading Fees |
| €100 | Good | 1:30 | Low |
Overall, 101Investing offers users a solid forex trading platform. It has a decent selection of currency pairs to trade CFDs on, with most major currency pairs represented. For example, if you fancy trading EUR/USD, GBP/USD or USD/JPY, you will be well looked after. If you are looking to trade CFDs on some more exotic currency pairs, you might find the 101Investing platform slightly more limiting, however. In terms of the spreads on offer, this will depend on what account type you open. The basic Silver account provides pretty competitive spreads. However, these do get better as you progress to Gold and Platinum account levels. As one of the most liquid markets to trade on, forex CFDs are a great way to diversify your trading and investment portfolio.
#1

101Investing CFD Review
| | | | |
| --- | --- | --- | --- |
| Min Deposit | App Support | Max Leverage | Trading Fees |
| €100 | Good | 1:30 | Low |
Compared to a lot of the other platforms out there, 101Investing offers a pretty good selection of CFDs to trade. In total, you can trade over 250 CFDs. While this isn't the largest selection out there, for the type of user that 101Investing is marketed towards, this is a decent selection and more than enough for most novice users. These include CFDs on forex, cryptocurrencies, commodities, stocks and indices. The leverage you can use when trading CFDs is limited to 1:30 on the Gold account level, which is the maximum permissible by law. However, this increases significantly for the professional trading accounts – Silver, Platinum and Pro.
#2

101Investing Stocks Review
| | | | |
| --- | --- | --- | --- |
| Min Deposit | App Support | Max Leverage | Trading Fees |
| €100 | Good | 1:5 | Low |
Although it doesn't give you direct access to trade full stocks on the open markets, 101Investing does give you immediate access to hundreds of stock CFDs that you can trade. While not quite the same as offering access to full stocks, the CFD trading experience holds its own as an alternative. In total, 101Investing gives you the ability to trade over 75 of the biggest stocks from across the major markets, which is a great way to ensure that your trading portfolio if fully diversified.
#3

101Investing Social Trading
| | | | |
| --- | --- | --- | --- |
| Min Deposit | App Support | Max Leverage | Trading Fees |
| €100 | Good | 1:30 | Low |
As of writing this 101Investing cryptocurrency review, 101Investing does not currently offer any social trading features. However, as access is provided to the MT4 trading platform, you can use this to get the MetaTrader trading signals, which provide a similar experience. Although not quite the same as a dedicated copy trading platform, this should provide a short-term solution for most novice traders. If you do want a more full-featured trading platform, there are better options out there that cater specifically to this.
#4

101Investing Crypto Review
| | | | |
| --- | --- | --- | --- |
| Min Deposit | App Support | Max Leverage | Trading Fees |
| €100 | Regular | 1:2 | Low |
Once again, as 101Investing is a platform aimed mainly at CFD trading, it does not give you direct access to buy, sell and hold cryptocurrencies. What you can do, however, is trade a range of cryptocurrency CFDs on the main currencies out there. These include bitcoin, dash, ethereum and litecoin, among others. In total, you can trade over 50 cryptocurrency CFDs
What did our traders think after reviewing the key criteria?
101Investing Fees
When it comes to fees and commissions, 101Investing is one of the most cost-effective options around. Users of the platform will not be charged any deposit fees or any fees on trades. This means that for the most part, you shouldn't encounter any fees when using the platform. The only instances where you may get hit with a fee is if you go for 60 days without using your account, at which point you will get charged an account inactivity fee. Similarly, if you have less than €100 in your account and you make a withdrawal, you may get charged a small fee. When it comes to your trades and investments, however, you will not get charged a fee for using the platform, with 101Investing making its money off the spreads it offers you. Generally speaking, the spreads it offers on CFDs are pretty competitive. Although they are not necessarily the tightest margins out there, the spreads offered by 101Investing do keep pace with other similarly sized platforms. It's important to remember, however, that the spreads you get offered will ultimately depend on which of the four account types you sign up for. This can have a big impact on what profits you will be able to make on your successful trades, so be sure to pay close attention to the fine print when signing up.
Account Types
One of the most attractive features of the 101Investing platform that helps it really stand out from the competition are the various account types on offer. 101Investing has four account types on offer, which include options for both professional and more casual traders. The Silver account is the entry-level account type, with these increasing to Gold, Platinum and Pro. The Pro account type is the most exclusive of these, and the benefits you get are completely bespoke and negotiated by you. For most casual traders, the Silver account type is a solid option and gives you access to some decent spreads on trades as well as the standard leverage allowed by law. Although it will not be relevant for the majority of users, the approach taken by 101Investing with the Pro account is very interesting and gives you the opportunity to negotiate a package that suits your needs.
101Investing scores highly based on the various types of accounts offered, which allows you to choose one that best suits your needs, investment size and trading strategy. This ensures that the trading experience is completely bespoke to what you want. This is one of the main reasons why 101Investing has scored so highly in this 101Investing CFD review.
Platforms
As with most other platforms around, 101Investing gives users access to MetaTrader 4 (MT4). There are no great surprises here, and the MT4 platform is pretty much the industry standard when it comes to trading platforms. Access includes a desktop, browser-based and mobile version of the app, all of which are known for their reliability and stability. In an ideal world, 101Investing would also give you access to the MetaTrader 5 (MT5) platform. However the industry has been much slower to make the switch to the new version, so we can't really fault 101Investing for that. The mobile trading platform is particularly useful for when you want to make some quick trades on the go or if you simply want to check how the markets are doing. While not as robust and fully featured as the desktop version, the mobile app is useful for checking that your trades have executed properly or for calling a stop to a trade at short notice. One thing that we would like to see added in the future would be the inclusion of the MT5 trading platform, which a number of the larger online brokers are now offering.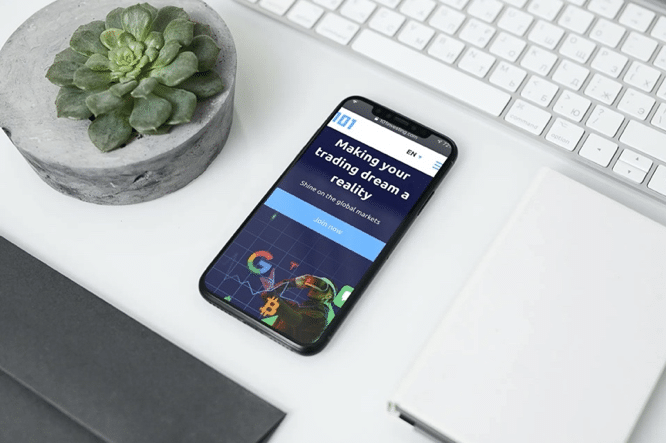 Usability
When it comes to actually using the platform, the 101investing platform just about manages to hold its ground. When completing this 101Investing review, we found the overall aesthetic to be very sleek looking and the overall layout of the website to be very intuitive to use. When it comes to the design, it doesn't take too many risks, which is probably why the performance is so solid. The usability of the MT4 platform is very much what you would expect if you have used it before. Overall, it is very user-friendly once you get over that initial learning curve. As an added bonus, 101Investing has a comprehensive educational and learning resources section on its website that contains a number of tutorials on how to use the website itself and the MT4 trading platform. These are incredibly useful and provide a comprehensive guide to getting started with the platform, which helps you overcome the initial learning curve when using 101Investing.
In terms of other processes on the platform, such as opening your account and making deposits and withdrawals, the user experience is fairly seamless. Everything is well signposted on the website, and you never feel like you are searching to find the right option. Considering that 101Investing is a platform aimed primarily at the novice trader, this is a really good sign and shows how it has incorporated this focus into the design of the platform.
Customer Support
As many of the big trading websites know all too well, having decent customer support on offer can make or break a trading platform. Even just a few negative user reviews of the customer support team can be enough to create a very negative image of the website online. Thankfully, this is not the case for 101Investing. Based on our own experience and the research we conducted online, the reviews of the customer support team seemed generally pretty positive. The team appears to be very responsive and knowledgeable – however, the opening hours are not quite as long as other similarly sized platforms.
Customer support is offered in multiple languages – English, Spanish, Portuguese, Italian and German – with lines opened on weekdays between 07:00 and 17:00 GMT. The customer support can be contacted via telephone, email or the live chat feature built into the website. Of these, the live chat feature is probably the most efficient, and in this reviewer's experience when preparing this 101Investing CFD review, the team were very responsive to messages sent through this channel.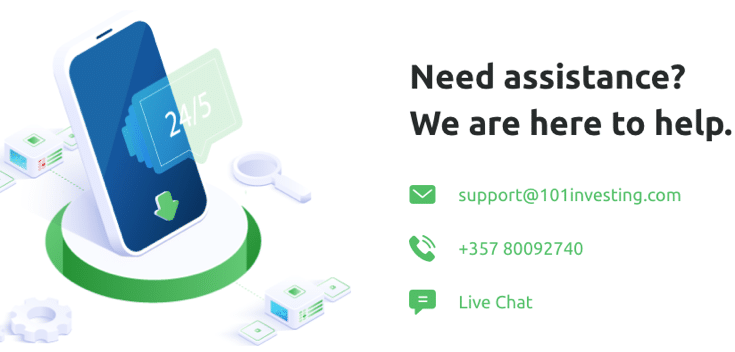 Payment Methods
Once you have a fully registered and verified account, you can make deposits to and withdrawals from your trading account. The methods you can use to do this are pretty much what you would expect from brokers of this size, with 101Investing accepting a range of traditional and electronic payment methods. This 101Investing review found that the broker is generally very efficient when it comes to processing payment requests. It's also important to point out that there may be withdrawal fees applied if you attempt to withdraw an amount under €100. 101Investing has a number of payment methods you can use, including: bank wire transfer, credit and debit cards, Neteller, Skrill, Inpay A/S, KoalaPays, eMerchantPay Limited and Trustly.
Card payments: Withdrawals and deposits can be made using most of the major debit and credit cards. Generally, you won't be charged for using these, though your credit card carrier may apply a charge.
Bank wire transfer: 101Investing accepts international and domestic bank wire transfers. You won't be charged a fee for using this option. However, you may incur charges from your local bank. Out of all the available payment methods, wire transfers take the longest to process and will usually be fully cleared within three to five days.
e-wallets: As with most online brokers these days, 101Investing supports a number of electronic payment methods, including cryptocurrencies, Neteller and Skrill. These are an efficient way to top up and withdraw from your trading account, with deposits typically being processed the same day.
Best Offers
In terms of the total package on offer, 101Investing isn't quite as feature-packed as some of the bigger platforms out there – though to a certain extent this makes it the perfect platform for newer traders who are still getting to grips with CFD trading. The MT4 platform provides plenty of advanced trading features to help you get started, and various educational and learning resources are offered to help you advance your skills. When it comes to special offers, however, 101Investing falls a little behind the curve, and it doesn't appear to have any welcome or sign-up bonuses.
Regulation and Deposit Protection
As soon as you start using the 101Investing platform, it is immediately clear that it takes customer security incredibly seriously. The relevant information on what security measures it has in place is readily available in the 'About Us' and 'Legal Documentation' sections of the website, which gives you instant access to a full breakdown of how your trading account is protected. Additionally, 101Investing is established in Cyprus, which means that it is regulated by the Cyprus Securities and Exchange Commission (CySEC), one of the most notable financial regulation bodies around. This means that the funds stored in your account will be protected under the MiFID II financial regulations.
Awards
As one of the newest brokers, 101Investing has yet to amass any major awards. This isn't something you should necessarily be put off by, however, as it usually takes a couple of years before the industry publications really begin to take notice of new brokers and platforms. 101Investing has, however, been on the receiving end of a fair amount of industry buzz in recent months, which is a sign of things to come. The industry publication The European awarded 101Investing its 'Best Crypto Broker' award in its Global Business Awards 2020, which is a sign that big things are in store for this broker. As we have said elsewhere in this 101Investing forex review, awards aren't the only thing you should look out for when choosing a broker, as it is always best to focus on the actual quality of the product it offers. For this reason, we haven't taken too many points off 101Investing in terms of the final review score, as we didn't feel that it was fair to penalise it when the company is so new. Industry awards are a much better measure of success when it comes to more well-established brokerages.