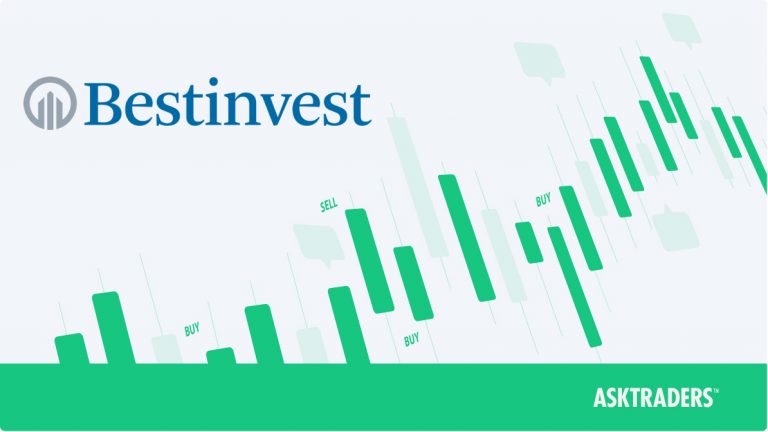 Founded in 2017, Bestinvest is an online investment and brokerage company that has its headquarters in London, UK and is regulated by the Financial Conduct Authority (FCA). The stock and ETF platform is part of the Tilney Group and currently serves over 100,000 clients from 300 offices.
The company provides the opportunity to trade over 2,500 funds, shares, investment trusts and exchange-traded funds (ETFs). They also promote a wide range of additional investment opportunities, including Individual Savings Accounts (ISAs) and Self-Invested Personal Pensions (SIPPs). Clients can also benefit from using the company's research material and online tools.
The company features an online investment screener, which can be used to search among the best-rated ETF assets, it also provides four different types of ready-made portfolios for clients, who can then choose the level of risk to suit their personal preferences. Upon request, the company can also provide restricted advice. However, they do charge a fee for this service.
Please note that we will not be reviewing CFDs, cryptocurrencies or forex markets as the company does not offer these asset classes to its clients.
Bestinvest Review Navigation
#

Stock
| | | | |
| --- | --- | --- | --- |
| Min Deposit | App Support | Max Leverage | Trading Fees |
| £1 | Good | 1:1 | Low |
When it comes to stock trading, its clients can deal in hundreds of shares pooled from some of the major stock exchanges. Naturally being based in the UK, the company offers a large pool of shares from the FTSE 100. Some of the exchanges that Bestinvest connects to are: the Euronext Stock exchanges in Brussels, Paris and Amsterdam, the Frankfurt Stock Exchange, the Hong Kong Stock Exchange, the Tokyo Stock Exchange, Nasdaq and the NYSE.
Investors can select one of four ready-made investment portfolios, available at four risk levels:
Aggressive growth – more adventurous and higher-risk investments.
Growth – this is designed to grow investments.
Defensive – these are lower-risk investments for more cautious investors.
Income – this is designed to provide an income from investments.
The investment team manages these portfolios to reflect the company's market analysis and what they consider to be profitable investment ideas.
The company also allows you to transfer accounts within the system and transfer external investment into the Bestinvest platform.
#1

ETF
| | | | |
| --- | --- | --- | --- |
| Min Deposit | App Support | Max Leverage | Trading Fees |
| £1 | 216 | 1:1 | Low |
When it comes to trading, Bestinvest provides access to 216 ETFs, which is a decent selection for an ETF broker. ETFs are the primary instrument offered, and you can trade them through both ISA and SIPP accounts.
A few ETFs even provide exposure to the spot metals market, including gold, silver and palladium. They also offer several other types of funds that include Investment and Rated Funds.
Furthermore, you can trade all of the ETFs listed on a discount basis, and with several savings plans that start from £0 per month. They do not stipulate a minimum balance for any of its investment accounts.
Keep in mind though that discounted ETF trading only applies to trades executed using their web-based platform and mobile app.
What did our traders think after reviewing the key criteria?
Fees
For the Online Investment Service, there is a tiered fee structure. A fee of 0.4% (0.3% for SIPPs) is charged for accounts up to £250,000, and 0.2% for between £250,000 to £1 million. However, there is no charge for accounts of over £1 million in size.
Furthermore, buying and selling funds online is free, while share dealing costs £7.50 per trade. Voice trading incurs a £75 fee. There are no extra charges for placing limit orders or inactivity.
There is an Online Investment Service Fee charge which is 0.4% of the invested balance and an Ongoing Fund Charge of 0.67%. It means you will pay a fee of 1.07% of the total investment on all invested amounts.
Bestinvest charges no fee for cash withdrawals via a BACS transfer which takes 3-5 working days to reach your bank. Faster payments via CHAPS cost £35 and can be arranged upon request.
Charges will be held in your account starting on the 20th of each month. It is then collected on the 25th of the month, and the fees are visible under your account transactions.
Account Types
The company provides plenty of investment options for their clients, and ISAs offer an easy and tax-free way to save. The amount of money clients can invest in an ISA is determined by the UK government, and was set at £20,000 in the 2018/19 tax year.
Investors can split ISAs between a Cash ISA and a Stocks and Shares ISA, or invest in either one. There is also a Junior ISA for children which has a maximum limit of £4,260 in the 2018/19 tax year. If a client invests their £20,000 allowance in a Stocks and Shares ISA, then any resulting gains will be tax-free.
UK investors can also elect to open a SIPP that lets them choose whether to get the help of a professional advisor or to make their investment decisions independently. The Pensions Advisory Service describes a SIPP as an individual contract between a pension provider and a client. You can also open a SIPP for a child.
In general, SIPPs provide you with broader investment options than those usually available for group and individual personal pensions. A range of assets available for SIPP investment include:
Unlisted shares.
UK and overseas stocks and shares.
Property and land insurance bonds, excluding most residential property.
Collective investments, such as open-ended investment companies (OEICs) and unit trusts.
Investment trusts.
Clients can make use of a SIPP as a low-cost personal pension, yet one that attracts the same tax benefits as other types.
Investors can also use a SIPP if they want to purchase investments and need a loan to do so, although not all SIPPs will permit individuals to invest in the entire range of available investments. Clients pay a service fee at just 0.3% per year, and those who opt to purchase a ready-made portfolio will incur no setup fees and also enjoy free fund dealing.
Bestinvest doesn't currently allow clients to open a demo, although there is no minimum deposit to open a live account. The broker's website does not mention an Islamic investment account, although it does have an Islamic ETF.
Platforms
Their primary trading platform is web-based. From the homepage of its website, Bestinvest customers can log in and head to the My Accounts sections of its website. Once there, they can explore overviews of their investments, check investment performance and transfer investments.
The broker also offers a mobile trading app called MyTilney that you can use once you sign-up. MyTilney gives clients mobile access, so they can manage their investment portfolio when on the move. The screenshot of MyTilney below shows the app's login screen.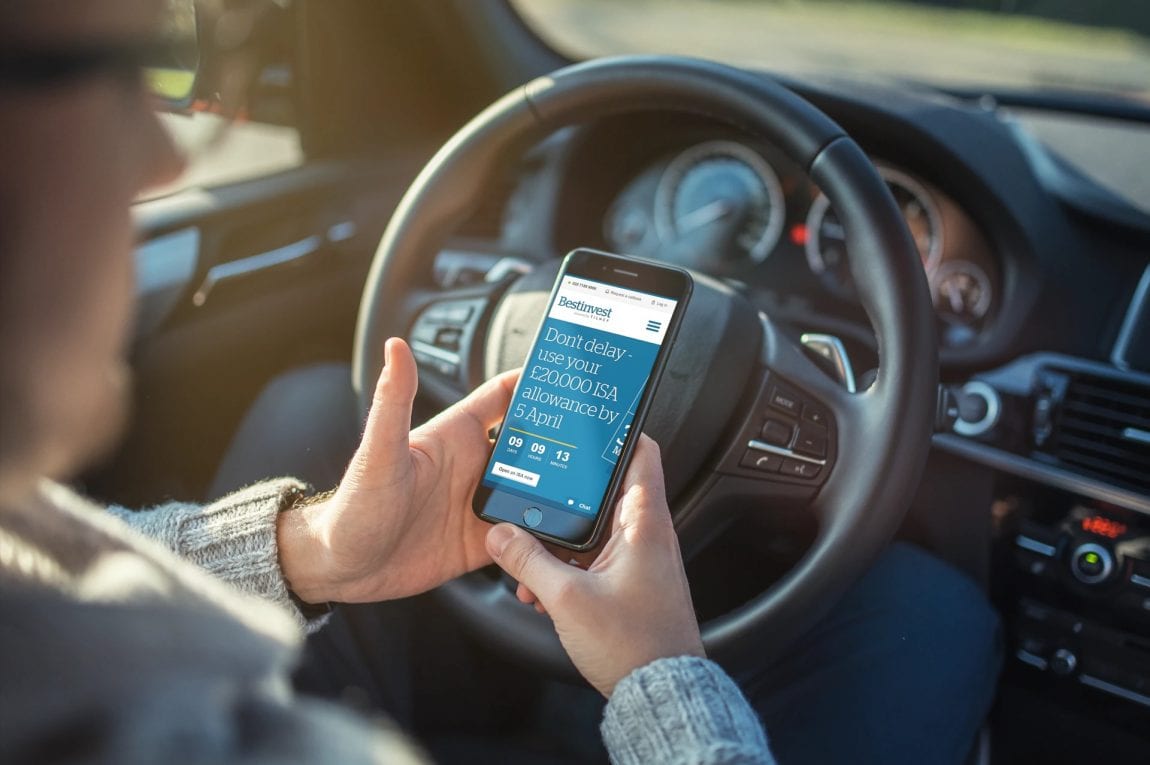 You can track recent transactions, and current portfolio values via MyTilney, the app has an interactive portfolio tool to compare investment performance with goals. Many online reviews seem impressed with the features of this app.
Secure messaging is available so clients and their relationship managers can send and receive information about sensitive data. A document store allows clients to download tax valuations as well as the most up to date valuations statements. The Chief Investment Officer also keeps the app up to date with interesting and relevant news in the Tilney Insights section.
The company has a mobile iPad app that lets users access guides, investment ideas, investment team insights and online summaries of their investment service.
Usability
The company's website is aimed at investors. The helpful menu system at the top means you should have little difficulty browsing around to get the information you require.
The website has these tab options: Our service, Pensions and Retirement, ISAs, Investment research, Investment guides, News and Events. It provides a good sense of the organisation of the company's website, and the pull-down menu associated with each tab provides more detailed navigation information.
The website also has a help & support button in the top right corner of its homepage that you can use to find additional information about the platform, such as its payment options, forms, fees and transfer methods. You can find other helpful links at the bottom of the website.
Customer Support
Customer reviews generally state that clients receive courteous responses from Bestinvest customer support. The company has the primary forms of customer support channels investors are used to, which include email, telephone, online form, live chat and a callback request form.
The Live Chat service is available for 12 hours each day from Monday to Friday.
Their website has numerous informative articles and a helpful FAQ page that contains commonly-requested information.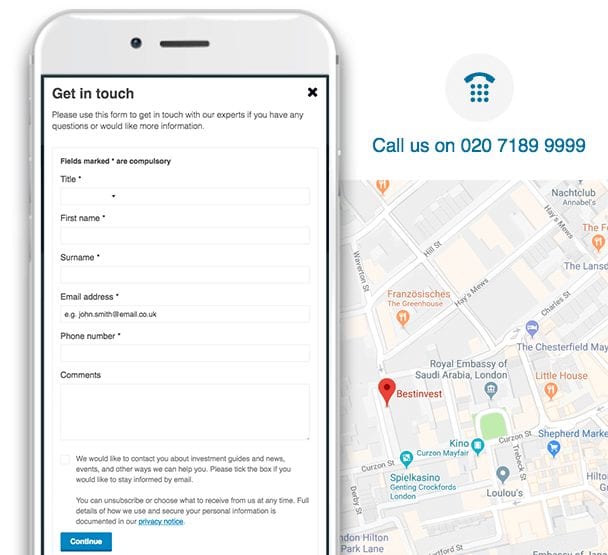 Payment Methods
When it comes to depositing funds, several options are available to users. The main option involves logging into your account on the main website where you will find the 'Cash' tab. You can then press the 'Add Money' button. At that point, you will be able to deposit funds using either a debit or credit card.
Alternatively, you can deposit money at Bestinvest via traditional bank wire transfer instead of using the online portal. Usually, bank transfers get credited to accounts on the next business day, but this depends on where the funds are arriving from. Please note that they ask for users to call them on the phone when making wire transfers to ensure that the process goes smoothly.
Best Offers
Bestinvest offers expert investment research, market analysis and news reports on its website's investment research tab. It also has a 'Spot the Dog' guide that helps you identify what the underperforming funds in your portfolio are.
The Investment Selector is a helpful tool that lets an investor research ETFs and other fund assets. You can choose from the multi-asset portfolio consisting of a selection of ETFs picked by the company, or you can select the investment funds yourself.
Alternatively, the Multi-Asset Portfolio Management tool features robo-advice that presents four ETF portfolio management levels for their investors. These are Aggressive Growth, Growth, Defensive and Income risk levels, in descending order of aggression. You can invest in these portfolios using the various account types offered, as long as your minimum investment is £500.
They also have social media profiles you can follow. They fall under the company's parent group name of Tilney, although they are not especially active. The Tilney Group Facebook page presently has over 1,700 followers, its YouTube channel has just 241 subscribers, and its Twitter has over 4,700 followers.
Regulation and Deposit Protection
Due to its headquarters in the UK, the company is regulated by the Financial Conduct Authority (FCA), and the platform is part of Tilney Investment Management Services Limited. Since it is currently in the European Union, they need to operate under the Markets in Financial Instruments Directive II (MiFID II), although that is subject to change post-Brexit. MiFID II regulations state they must segregate their funds from clients' money, which gives clients added protection in case the company experiences financial troubles.
Furthermore, they don't hold any client funds themselves. Bestinvest's client's funds are held by a "nominee company" called SEI, and are ring-fenced, away from SEI's assets following FCA rules. SEI holds customer funds in "client money" bank accounts which are established with the status of statutory trusts. Bestinvest is also covered by the UK Financial Services Compensation Scheme (FSCS). If the company defaulted, then eligible clients may be compensated up to £75,000 for deposits and £50,000 of investments.
Looking at data security, we can see that the company keeps your data safeguarded with the industry-standard form of SSL encryption. It must also protect its EU customer data according to the General Data Protection Regulation (GDPR) guidelines and the European Data Protection Act (EDPA), so client information cannot be shared with third parties and should be responsibly protected against data breaches.
Awards
Bestinvest is a reputable broker with long investment experience that seems especially well-suited to assist with the management of smaller portfolios for clients who do not have much investment experience. The company has therefore received generally favourable reviews and awards throughout its operational history.
In terms of its awards, the company was presented with the prestigious Best Direct SIPP Provider 2017 award by YourMoney.com. They have also picked up similar awards from other sources, in addition to honours for Best Fund Platform and Best SIPP for Beginners.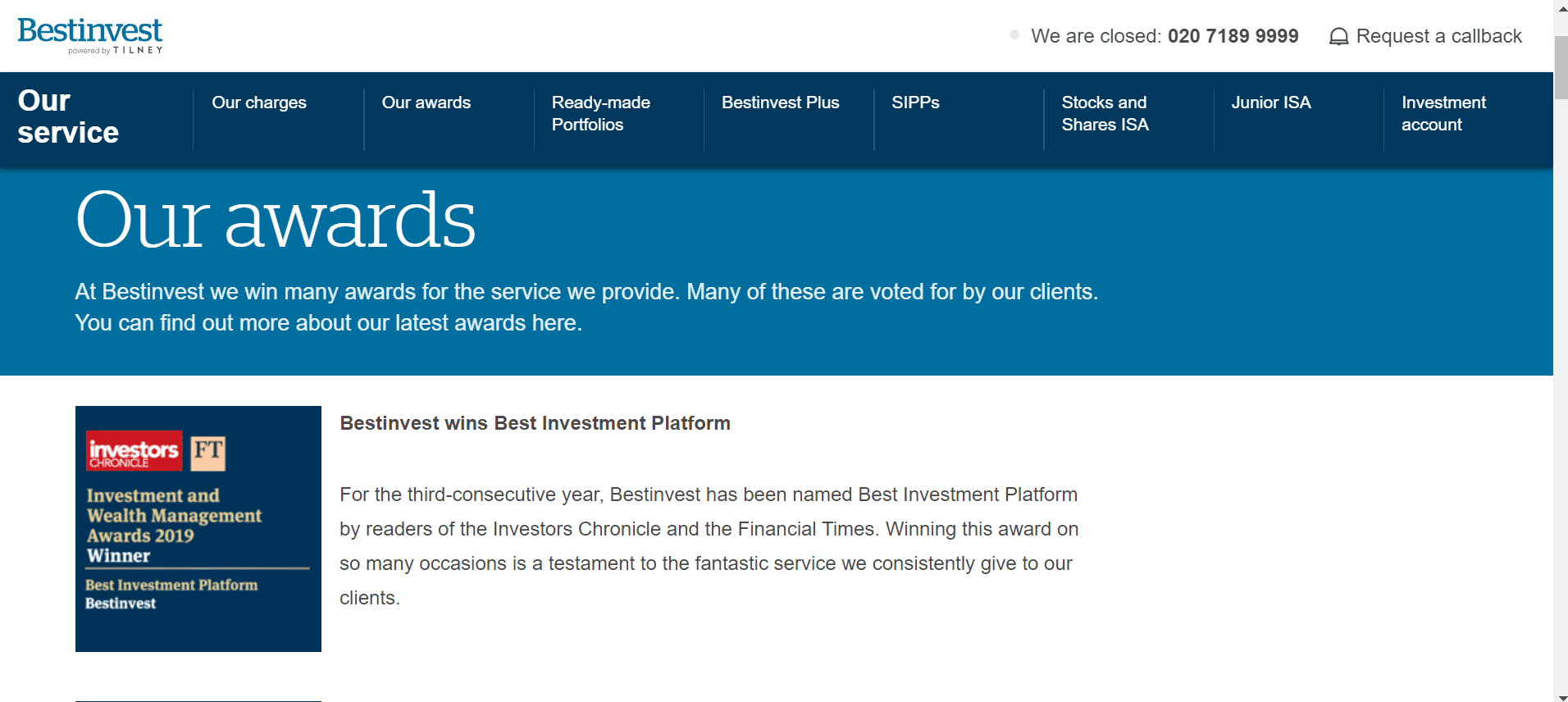 Furthermore, in a public vote, the company won the Best Stocks & Shares ISA Provider 2017 from Shares Awards. The broker also won an award in 2017 for the Best Fund Platform from COLWMA.
Looking further back over its history, it has won a series of awards dating back to 2011 in many different categories.
PEOPLE WHO READ THIS ALSO VIEWED: