Many cryptocurrency companies have risen to prominence in recent years, but few have gained as much recognition as Coinbase. They are one of the oldest digital currency exchanges around, and since being founded in 2012 by Brian Armstrong and Fred Ehrsam, the company now serves over 30 million customers in over 100 countries. So far, they have traded over $150 billion in digital assets to date.
They are based in San Francisco, California, and are considered the of the world's largest Bitcoin exchange. They also have the backing of well-known and established investors, including Union Square Ventures, Andreessen Horowitz, and more. In this review, we will look over every aspect of the platform to help you decide if it is the platform for you…
Coinbase Review Navigation
What did our traders think after reviewing the key criteria?
Fees
They offer a spread of 0.5% in addition to the market price of the asset you are buying.
For example, let's say that the quoted price of 1 Bitcoin on the platform is $8,000. This would mean that the exchange rate would be shown as $8,040. It should be noted that the quoted spread might differ from the actual spread as a result of market volatility. We feel that is an extremely reasonable fee given the other positives that the platform provides.
There is also an additional Coinbase fee. This fee is different depending on where you are located, and what kind of payment method you are using. A wire transfer often requires no cost, while debit cards and credit card transactions might result in a fee of up to 3.99%.
Account Types
There is only one account type available on the platform, which is obviously focused around trading cryptocurrencies.
Unfortunately the company does not offer a demo platform for users to try out.
Investors looking to trade other asset classes such as forex, commodities, stocks or indices should look elsewhere.
Platforms
The platform is easy to sign up for, although it does require some sort of identity verification due to them being available in various countries, including the United States, UK, Canada, Mexico, and many more.
The web-based platform is easy to use and navigate. There is also the ability to link your bank account to your Coinbase account to purchase digital currencies.
All of the sections are well-organised, whether you are searching for a particular product, coin, or part of the website. Overall, the platform is excellent and easy to use, no matter who you are, or where you are.
Mobile App:
The company has mobile apps for both Android and IOS. One of the reasons the company has emerged as one of the leaders in cryptocurrency trading is because of their fantastic app. Again, the ease of use is one of the aspects that stands out. It is considered one of the best apps in the world for buying and selling digital currencies.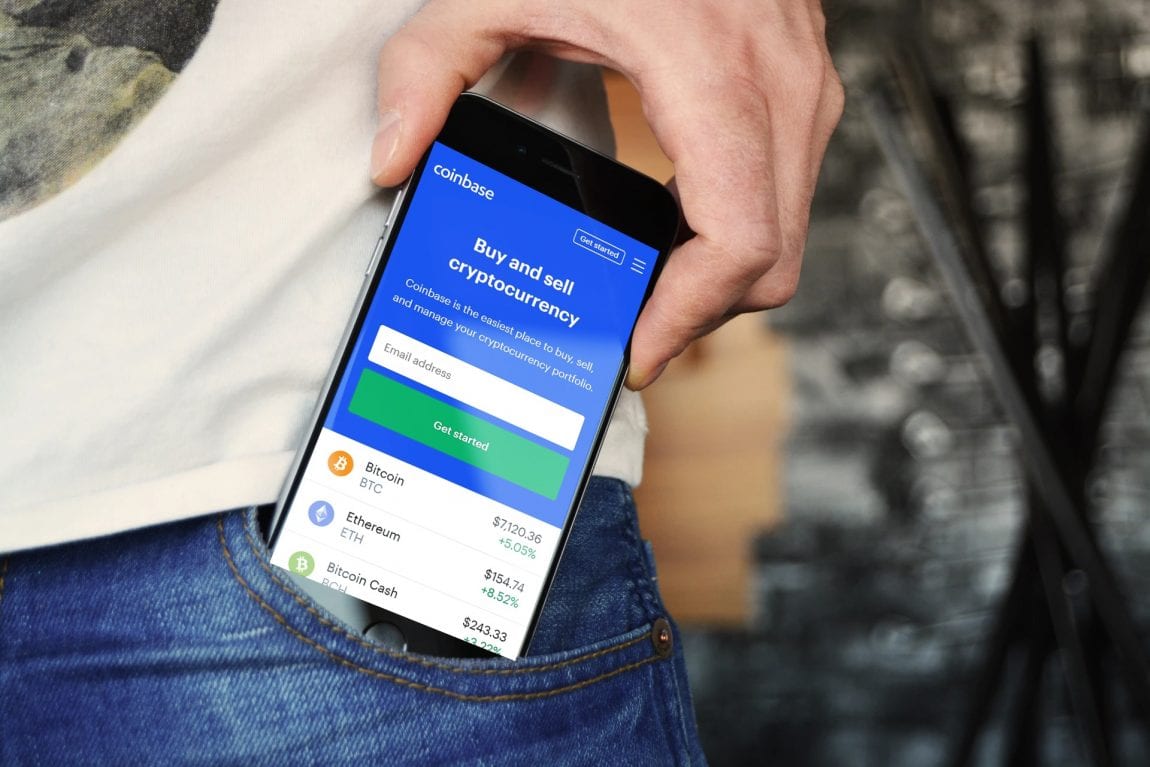 Usability
The website is exceptionally well designed. The text is large and comfortable to read, and the site has a blue/white theme. The uncluttered presentation makes it extremely easy and convenient for traders and doesn't "confuse" the user in any way.
There is an FAQ page to clear up any confusion, and there are a wealth of articles that clearly explain and define how to use different aspects of the platform.
One of the reasons as to why the company has become so popular is because of its user-friendly interface.
Customer Support
You can contact the customer support team via phone or the contact form provided on their website. They also have a chatbot available to help you find answers to any queries you may have.
The support section on their website is very well organised based on topic and subtopics.
However, one of the main drawbacks of Coinbase is that you might be waiting a while to hear an answer from their support team regarding issues.
This can be extremely frustrating to traders who have an urgent need to speak with one of their team.
On Trustpilot, which is one of the most secure consumer review websites in the world, with over 1 million posts per month, they have a poor score, with a rating of 1.8 out of 5, at the time of writing.
Email response, in particular, is quite slow…and it can take more than a week to get a response. For international users, you may have to deal with international fees when calling customer support, given the fact that there are only U.S. and U.K. numbers available.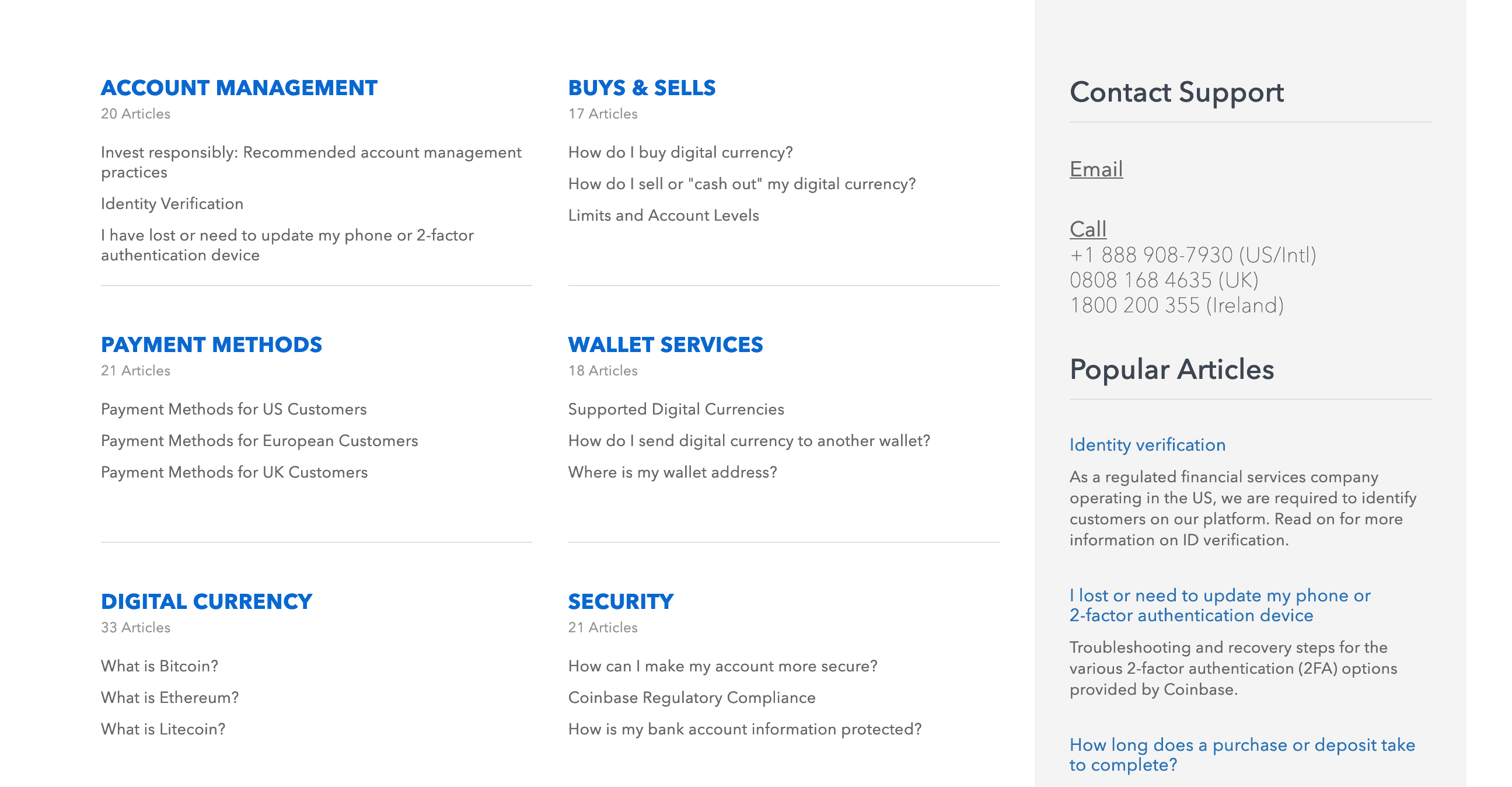 Payment Methods
If you are in the United States, you will have more options than most when it comes to depositing money. Users in the region are not only able to fund their account using a debit card or credit card – but they can also use a wire transfer.
It should be noted that the company no longer accepts NEW CREDIT CARDS and that Paypal can only be used for withdrawals. The platform accepts some fiat currencies– specifically, USD, EUR, and GBP.
European customers must use a SEPA (Single Euro Payments Area) to fund their account, and U.K. customers can use this, OR a direct wire transfer. The company also boasts an "Instant Pay" option which is another added benefit when depositing funds
You can also set up recurring purchases through its "Recurring Transactions" page, while there is also a feature to sell automatically as well.
The platform is perfect for those who are too busy to consistently watch the cryptocurrency markets. If you want to invest in digital currencies, then Coinbase offers the ideal platform to do so.
Best Offers
The company has previously been criticised for not providing clients with a general education regarding the industry. However, it has since changed. The company now boasts "Crypto Earn", a way for those new to the industry to learn AND earn at the same time.
They suggest that Coinbase Earn will not always be available. Currently, however, users can watch videos to learn about digital currencies and earn coins by watching videos and answering quizzes.
There is also a significant amount of information offered about the markets on both the website and app. Another valuable tool for traders/investors to learn more about the industry or specific coins they are interested in buying. It also offers information about the biggest movers and losers of the day. A simple way to look for new trading opportunities.
ADDITIONAL OFFERS
The company also allows you to earn money through referrals. An advantage for those who have family or friends wanting to sign-up.
If one of your referrals were to initiate a buy or sell of at least $100 worth of cryptocurrency within the first 180 days (6 months), then you and the person referred would be able to earn $10 as a result.
You will also receive $10 as a new user when opening your account for the first time.
Regulation and Deposit Protection
The company is based in the United States, which means that it abides by KYC/AML laws. This is hugely refreshing for many traders that have previously traded on other exchanges that are not regulated or secure.
The company holds over 40 licenses to operate in the United States alone. Additionally, their employees must pass a background check.
Its customer's funds are FDIC-insured, as well, meaning that customers are entitled to $250,000 in the case of a loss of some kind.
As mentioned previously, they are based in San Francisco and backed by some of the most trusted names in Silicon Valley, including Andreessen Horowitz and Union Square Capital. The New York Stock Exchange has even invested, as well. While that doesn't automatically provide safety to customers, it is reassuring to know.
The company, unlike many other exchanges, keeps 98% of customer funds stored offline. This is significant when one considers that many crypto exchanges have suffered massive losses as a result of data breaches and hacks. When funds are in cold storage, they can't be hacked! This obviously gives users peace of mind that other exchanges cannot provide.
2018 was a record year for hackers, with $2.7 million stolen from exchanges EVERY DAY. Customer data is not even stored on their servers, for added protection. Coinbase also boasts a bug bounty program to ensure that the platform runs as seamlessly as possible.
Users benefit from 2-factor authentication, which adds an extra layer of security. They also offer online insurance, although it is limited in terms of what it covers (it doesn't include losses that might result from your account being compromised, but would cover any damages arising from an employee stealing funds from you). All website traffic is SSL-protected, and also uses advanced encryption for wallets and keys.
The regulation and protection provided to customers by the company is probably the most secure we have come across in the industry and gives us full confidence in the company and exchange.
Awards
There are a lot of positive aspects of the platform, including its usability and its regulation and protection.
The company is one of the most well-known names in the cryptocurrency world, but we are not aware of them winning any awards to date.
We here at AskTraders believe that it is an incredible platform due to its tremendous amount of protection that cannot be found on other exchanges.
The company has the resources to make sure that they are legally compliant in all the countries that they operate. They also provide adequate tools for education/research.
Even though their customer support is lacking, the platform is fantastic, and will likely remain an industry leader for some time.