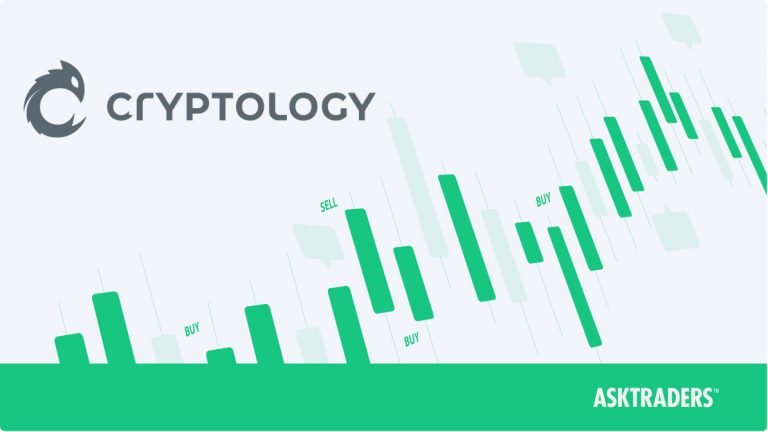 Launched in January 2018, Cryptology is one of the many new online cryptocurrency brokers established in the aftermath of the crypto gold rush of 2017. Headquartered in Cyprus, Cryptology offers online trading across a number of cryptocurrency-based financial instruments. In just over two years since it was founded, Cryptology has grown from strength to strength, and it now finds itself well within the top 100 most active exchanges. How does Cryptology compare to the competition, though? If you are looking for a new cryptocurrency platform to trade with, keep reading the following Cryptology broker review to find out if Cryptology is worth checking out.
Cryptology Review Navigation
#1

Crypto
| | | | |
| --- | --- | --- | --- |
| Min Deposit | App Support | Max Leverage | Trading Fees |
| £25 | Many | 1:1 | Low |
As you might have guessed from the above review, as a cryptocurrency-focused broker, Cryptology has a solid selection of cryptocurrencies ready to trade on its platform. In terms of what cryptocurrencies it has on offer, Cryptology primarily sticks to the most popular cryptocurrencies — bitcoin, ethereum, ripple, litecoin, stellar, Zcash, Bitcoin Cash, and tether. While this is a pretty decent selection of the main cryptocurrencies, the selection of more exotic altcoins is quite limited. For this reason, if you want to trade mainly altcoins, you might be better off using a different platform.
#2

Crypto Exchange
| | | |
| --- | --- | --- |
| Min Deposit | App Support | Max Leverage |
| £25 | 5 | 1:1 |
Having said that, the trading rates that Cryptology offers on the major cryptocurrencies are very competitive when compared with the industry averages, so the platform is definitely worth checking out. We were particularly impressed by the progressive trading fee system it has in place across all cryptocurrencies supported.
What did our traders think after reviewing the key criteria?
Broker fees
As a cryptocurrency-focused platform, the fees and commissions structure that Cryptology has in place differs slightly from what you might find with a multi-asset broker. Cryptology has put in place what it calls a system of 'progressive' trading fees. This means that, essentially, the more you trade, the lower your fees will be. The trading fees in this system are set at a certain rate, with the full list of fees easily accessible through the homepage of the website. The progressive fee system works by calculating your trading volume over the course of a 30-day period and then charging you a percentage fee based on that. Generally speaking, the percentage fees you will get charged decrease as your total trading volume goes up.
The trading fee you get charged will depend on whether you are a 'market maker' or a 'market taker'. For trading volumes under a total value of €50,000, both market makers and market takers will get charged a flat 0.0020% of the total volume traded in the previous 30 days. For trading volumes above €100,000, this decreases to 0.016 (market makers) and 0.0018 (market takers). This slowly decreases all the way up to a total trading volume of €10,000,000.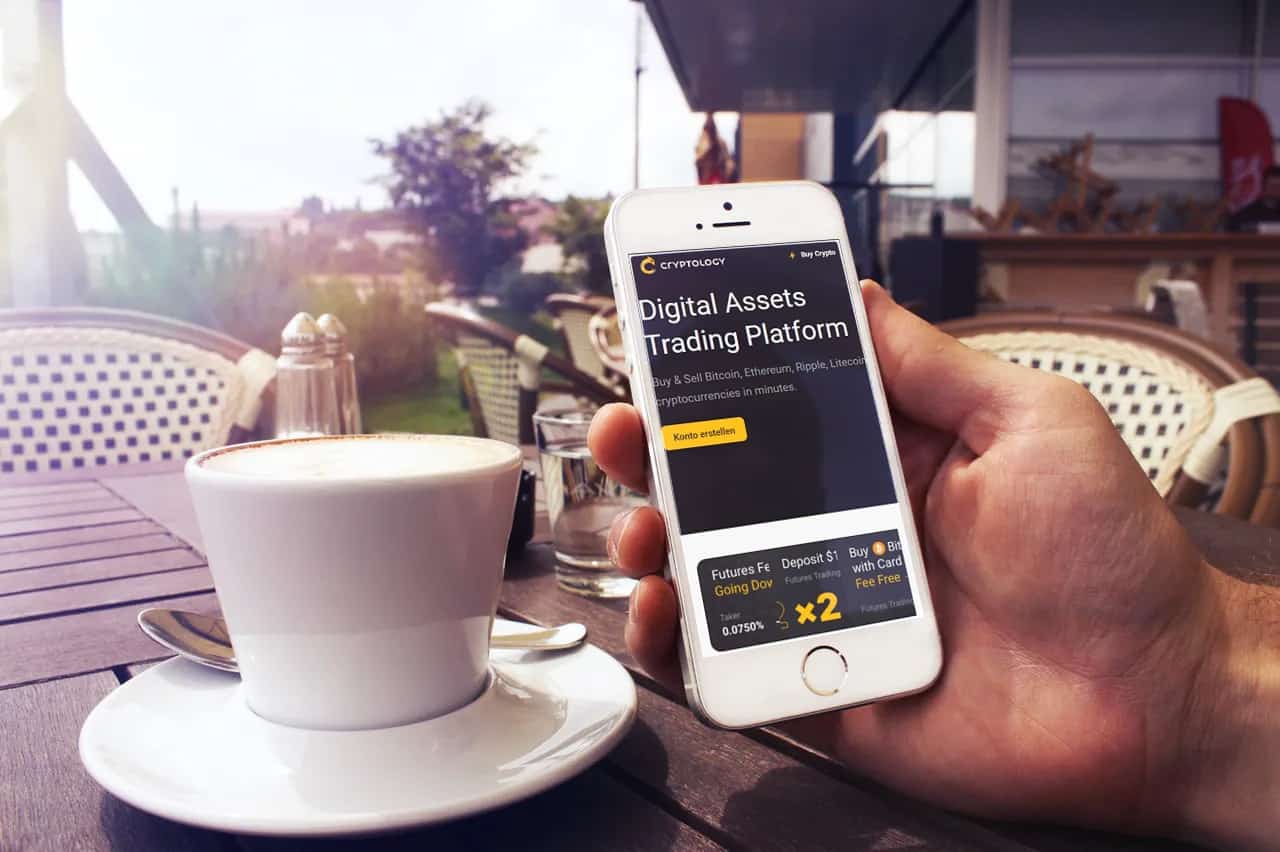 Additionally, there are fees on certain types of deposits and withdrawals to the platform. Deposits of digital assets are not subject to any deposit fees. However, withdrawals of digital assets will be subject to additional fees. Bitcoin withdrawals, for example, will be subject to a 0.0005 fee. If you are depositing or withdrawing to a fiat currency, you may get charged an additional fee. Debit and credit card deposits will be subject to fees ranging between 2.65% and 1.7%. Wire transfer withdrawals will be subject to a €7 fee.
While some of these deposit and withdrawal fees might seem quite high, they are in and around the industry averages for cryptocurrency platforms. Similarly, the progressive fee system on cryptocurrency trades was competitive with some of the other larger brokers out there.
Account types
Instead of having a number of different account options available, with each offering a different fee and pricing structure, Cryptology has a progressive fee system in place that mimics this account type structure. In certain respects, this fee structure is actually much better from a value perspective, as it allows you to benefit from a pricing system that accurately matches your trading volume. This also means that you don't get locked into one account type. For this reason, the progressive pricing system that Cryptology has in place makes a good alternative to the account types offered on some of the other crypto trading platforms.
Platforms
Trading on the Cryptology platform is delivered through a desktop version of the trading platform and a mobile version. The desktop trading platform is accessible through any current web browser and doesn't require any additional downloads to get up and running. This comes with many benefits, including strong performance and general ease of use. In the tests that we ran over the course of writing this review, the browser-based version ran very smoothly and didn't appear to exhibit any signs of slowdown. The mobile app versions of the Cryptology trading platform performed similarly well. The mobile app supports both Android and iOS devices and is generally quite lightweight considering the performance it delivers.
Usability
Generally speaking, the Cryptology website is very user-friendly. As far as trading platforms go — which have a reputation for being difficult to use — it is clear that the development team at Cryptology has put a lot of effort into ensuring that the platform is as beginner-friendly as possible. Trading is undertaken either through a web-based trading platform accessible through your web browser, or by using the mobile app. The app and the browser version are equally easy to use and have clearly been streamlined with beginners in mind. The trading terminal manages to fit all the necessary information on the screen at once, without feeling crowded. Information is clearly displayed, and you never feel like you have to go searching to find relevant data. For this reason, Cryptology scores highly on usability.

Customer support
When it comes to customer support, Cryptology just about makes the grade. The contact options available to clients are very much what you would expect, with email support coming as standard. Additionally, customer support tickets can be submitted via the homepage of the Cryptology website — this includes the ability to submit supporting documentation or screenshots with your query.
Where Cryptology falls down, however, is the lack of both a customer support phone line and a live chat feature. We were unable to find either of these facilities during the research conducted for this review, and as such, we had to mark Cryptology down. Going forward, it would be good to see the customer support options available expanded to include these.
Payment methods
The Cryptology online brokerage provides support for a number of different payment methods. This includes the traditional methods of credit card, debit card and bank transfers (wire transfer and SEPA). Additionally, Cryptology supports a number of digital payment solutions. As a cryptocurrency trading platform, the cheapest and most efficient way to deposit cash on the platform is using cryptocurrency.
Card payments: Cryptology provides full support for a range of credit and debit cards. Deposits can be made using Mastercard or Visa cards without fees. It should be noted, however, that withdrawals from the platform cannot be made using credit or debit cards.
Bank wire transfer: Full support is provided for a variety of different bank transfer methods. This includes SEPA deposits and traditional wire transfers. Wire transfers are limited to fully verified users. There are no additional fees on deposits made via bank transfer, though withdrawals made by wire transfer will be subject to a flat €7 fee.
E-wallets: Cryptology supports a number of different electronic and digital wallet solutions. As a cryptocurrency-focused platform, this also obviously includes deposits and withdrawals made via cryptocurrency. It should be noted, however, that crypto deposits and withdrawals will be subject to a flat transfer fee. This will depend on the particular asset you choose, with bitcoin subject to a 0.0005 fee per withdrawal.
Best offers
Cryptology is currently offering a number of different bonus schemes and offers to attract traders to the platform. One of these is a deposit bonus for cryptocurrency futures trading accounts. To avail this bonus, simply sign up for an account, deposit a minimum of $100, and you will receive a $100 bonus credit to your account. While deposit bonuses are quite a common bonus type offered by trading platforms, these are often offered as a percentage of your initial deposit. In contrast, Cryptology gives you a bonus credit deposited straight to your futures trading account, which significantly simplifies the process. Additionally, Cryptology also has a deal in place with Visa and Mastercard that allows you to benefit from fee-free bitcoin purchases using Visa and Mastercard cards.
Another bonus scheme that Cryptology has in place relates to the referral programme. This allows you to earn a small commission for every new trader you invite to the platform who signs up for an account using a discount code link provided to you. By sharing a referral code or using a referral link, you will earn up to 30% of the trading commissions paid within three months after their registration. There is no limit to the amount of commissions you can earn through this scheme. This is a great way to earn some extra cash that you can then use to trade on the platform.
Regulation and deposit protection
Although it was originally established in Singapore in 2018, Cryptology is a limited liability company incorporated in the Republic of Estonia under company registration number 14626039. Under the terms of the licence issued by the Financial Supervisory Authority (FSA Estonia) and the Financial Intelligence Unit, Cryptology is authorised to provide digital assets to fiat and fiat-to-digital assets exchange services. In addition to the terms of this licence, Cryptology has comprehensive AML (Anti-Money Laundering) and KYC (Know Your Customer) processes in place. Cryptology is also fully compliant with the terms of the GDPR, which means that any personal data submitted to it and stored on its servers will be safe.
With all that said, it is clear that Cryptology takes its regulatory commitments very seriously, and it offers the level of protection that we would expect to see from an online brokerage of its size. Based on the research that we conducted for this review, we were unable to find any negative experiences or customer feedback posted online, which is a good sign in terms of regulation and deposit protection. If you want to check the accuracy of any of the details mentioned here, all of the regulatory information is readily accessible from the homepage of the Cryptology website.
Awards
When looking for a new online broker, an easy way to see whether a particular broker is worth trading with is to check and see what industry awards it has won in the past. If a broker has a number of high-profile industry awards to its name, this can be a good indication that it has something on offer for you.
As a relatively new broker, however, Cryptology does not have any awards listed on the homepage of its website. While at first glance, you might think that this is a bad sign, we shouldn't be so quick to dismiss the broker just because of a lack of industry awards. As a relatively new broker, and with only around two to three years of experience under its belt, it would be rare to see it win any major industry awards so soon after launching. As such, we won't immediately discount a lack of industry awards on the part of the broker. This will be something to look out for in the future, however.