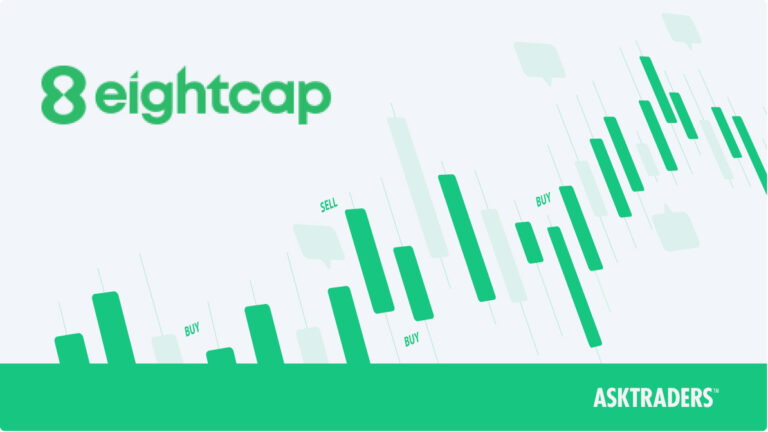 Eightcap is a global, award-winning broker with five offices across the globe. Initially founded in Melbourne, Australia, in 2009, it complies with Tier-1 regulatory standards of the Australian Securities and Investments Commission (ASIC) when accounts are issued from that corporate entity. For traders that desire a more relaxed regulatory approach to leverage and promotions, the firm also supports a licence issued and authorised by the Securities Commission of the Bahamas (SCB). Client deposits are segregated from the firm's operating capital in both cases.
Eightcap is a CFD provider for over 800 individual tradable assets. These instruments include 40+ major and minor forex pairings, along with popular offerings in shares, indices, commodities, and cryptocurrencies. Traders of all experience levels will find the assets they wish to trade at tight spreads via a simplified account structure. Eightcap does not confuse or mislead customers with benefits tied to their deposit size. There are two account types, one for traditional retail forex traders and the second for professional traders with large trading volumes.
The former account is priced favourably for the average trader with no commissions and spreads that start from 1 pip. Typical spreads for the "EUR/USD" pair range from 0.5 to 1.8 pips for the Standard account classification. For the high-volume trader, spreads start at zero pips and a commission of $3.5 per lot. Spreads for this account category termed the Raw account, can vary from 0.0 to 1.0 pips for the "EUR/USD" currency pair, depending upon the time of day. Scalping and hedging are allowed (not available for ASIC clients), as well as using EAs for automated trading.
The management team, listed on the firm's LinkedIn website, elected early to provide the most popular trading platform in the forex industry by going with the MetaTrader platform products. The company supports MT4 and MT5 offerings with mobile applications for the on-the-go trader. It also supplements this offering by providing access to TradingView. This company's platform software is known for its charting expertise and user base of more than 30 million traders.
Eightcap has taken a positive step in its growth strategy for the future. In January 2023, outgoing CEO Joel Murphy, who will now serve as a non-executive chairman, announced the appointment of Alex Howard as the new CEO for the broker. Howard recently served as the head of the IG Group in the Asia Pacific region in Singapore. Howard also noted that Eightcap is in great shape and that he will continue to drive the company to new heights of growth and success in the future. An Eightcap broker review follows.
Eightcap Review Navigation
#

Forex
| | | | |
| --- | --- | --- | --- |
| Min Deposit | App Support | Max Leverage | Trading Fees |
| $100 | Good | 1:500 | Low |
Eightcap provides a broad portfolio of major and minor foreign exchange pairs for trading either by traditional spot or through the use of CFDs. With a CFD, a trader deals directly with the broker, speculating on the direction that price behaviour might take in the future and not requiring the buying and selling of the underlying asset. For spot, swap fees apply for holding positions overnight, and CFDs charge no commissions for a Standard account. Spreads apply to both opening and closing a position. Based on account choice, average spreads for the most heavily traded "EUR/USD" currency pair can start at zero pips for the Raw account. For non-Australian clients, a third-party VPS service is offered for lightning-fast execution speeds, no downtime, and low latency.
*Fees are not charged on Standard accounts but commission charges apply on Raw accounts for forex pairs.
#1

CFDs
| | | | |
| --- | --- | --- | --- |
| Min Deposit | App Support | Max Leverage | Trading Fees |
| $100 | Good | 1:500 | Low |
Eightcap is a CFD provider in that its entire portfolio of 800+ asset offerings is available for trading using this derivative instrument. The breadth of this offering is not too small or overwhelmingly large but just about average for an industry forex broker. In all cases, the most popular items are there for the choosing. This portfolio includes forex pairs, shares, indices, commodities, and cryptocurrencies. In each case, the trader can benefit from price volatility in the market as long as he protects against downside risk. This derivative derives its value from the asset's price activity in the market, although a trader does not have to purchase the underlying security involved. Access to individual assets may also be tied to specific trading platforms.
*Fees may apply to open positions held overnight.
#2

Stocks
| | | | |
| --- | --- | --- | --- |
| Min Deposit | App Support | Max Leverage | Trading Fees |
| $100 | Good | 1:500 | Low |
Trading CFDs for shares can be accomplished with Eightcap using the MT5 or TradingView platforms. These platforms allow you to go long or short on US, London, Australian, and German stock exchange offerings. Shares for the largest and most popular companies, including Apple, Amazon, AstraZeneca, Facebook, Netflix, and Volkswagen, are available. For Raw accounts, spreads start from 1 pip. Share CFDs are effective for profiting from market volatility, but risk management tools are essential for preventing large losses.
#3

Social Trading
| | | | |
| --- | --- | --- | --- |
| Min Deposit | App Support | Max Leverage | Trading Fees |
| $100 | Good | 1:500 | Low |
Since Eightcap offers MetaTrader and TradingView platform products, traders can access each service's extensive social networks to exchange trade ideas, analyses, and basic interactions. Eightcap does not have a copy-trading service but has contracted with Capitalise.ai. This unique third-party service will help you to backtest a trading strategy and simulate performance results easily. The website assures traders that no coding experience is necessary. There are live training sessions, enabling all traders to automate their trading routines, and monthly webinars to pass along the latest tips and explain new features.
#4

Crypto
| | | |
| --- | --- | --- |
| App Support | Max Leverage | Trading Fees |
| Regular | 1:500 | Low |
Eightcap excels in this area by offering one of the most comprehensive product portfolios in the industry, a grouping of 100+ crypto CFDs. CFDs also make trading cryptos a short and easy thing to accomplish. Traditional buying and selling of a crypto asset from a related exchange does not permit going short in a convenient and easy fashion. The firm also publishes a comparison with other leading brokers according to spread offerings. For Bitcoin and alternative coin programs, Eightcap is currently significantly better than spreads offered by many other leading online platforms. For non-Australian clients, Eightcap also offers a third-party trading tool called "Crypto Crusher," which provides daily scans of the market, special indicators, and trading ideas for qualifying customers. However, it is not available to Australian customers.
WHAT DID OUR TRADERS THINK AFTER REVIEWING THE KEY CRITERIA?
Eightcap Fees
Eightcap is not trying to be the lowest-cost forex broker, but it does offer tight spreads with commission-free and commission-structured pricing models. There are no specific trading fees for the Standard account classification, but if you choose the Raw account, a $3.5 commission per lot applies with spreads for most assets starting at zero. The Standard account starts at 1.0 pip for the popular "EUR/USD" forex pair, and the average, 0.6 pips, for the two accounts falls in line with industry averages.
The website presents detailed spread pricing for types of assets for a Raw and Standard account. Forex and Commodities start at 0.0 pips, while Indices begin at 0.5 pips and Shares at 1.0 pips. Swap fees do apply for overnight forex rollover transactions. Withdrawals are free, as are deposits, but check with your banking intermediary. These payment service providers often have fee schedules independent of whatever Eightcap may control. There is no listing on their website currently for inactivity fees.
Account Types
To its credit, Eightcap keeps things simplified regarding its account structure. While some competing brokers offer as many as five account classes where low spreads only apply to high-deposit accounts, Eightcap offers only two account possibilities – a Standard and a Raw account. The former has no commission but spreads start at 1.0 pip. The Raw account is for high-volume traders willing to pay a small commission per lot to access spreads that start at zero.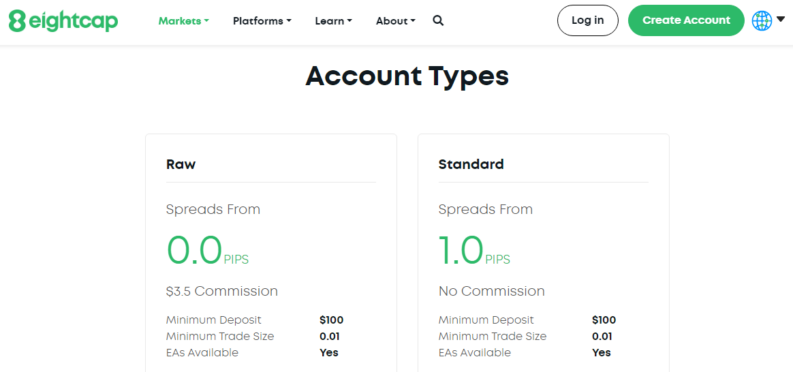 Minimum deposits are the same under each category – $100. You may use EAs for automated trading, and scalping and hedging strategies are also supported. Depending on your asset choice, commissions under the Raw account classification can be lower than $3.5. Margin Call levels are 80%, and Stop Out levels are 50%. The minimum lot size may be as low as 0.01, and you may choose between seven base currencies for your account – AUD, USD, EUR, GBP, NZD, CAD, or SGD.
Platforms
Eightcap does not offer a proprietary trading platform. It opted to provide the two most popular platforms available from third parties – MetaTrader and TradingView. MT4 and MT5 are well known for their features and simplicity, but the Eightcap TradingView partnership offers a system used by over 30 million satisfied customers. Both offerings have associated mobile apps, user forums, and charting tools for expert analysis. The broker also provides free demo systems (available for 30 days) to allow you to test each platform before making a final decision.

Usability
Following your Eightcap login, you will discover a very favourable trading experience. Platform offerings are user-friendly, and execution speeds are swift. Spreads are low, and account classifications are not confusing or overwhelming. The firm's asset portfolio contains 800+ items of the largest and most popular trading instruments.
MT4, MT5, and TradingView have achieved reputations for excellent charting tools, features, and a robust support community. Ease-of-use is consistent with a highly favourable trading session, and customer comments reflect a universe of satisfied customers. Lastly, the Eightcap website is easy to navigate and multilingual, and information is readily available at your fingertips.
Customer Support
The Eightcap website can be read in nine different languages, and the broker has offices spread across the globe. Support staff members are multilingual and include some of the following languages: English, French, German, Spanish, Vietnamese, Korean, Thai, and Italian. Customer Support can be accessed via live chat, email, or telephone.
Support staff are eager to assist you; the firm has won awards in this area. For beginners, there are guides, educational materials, and an active YouTube channel at youtube.com/c/eightcap, where videos and additional information about trading analysis and strategies can be reviewed at your leisure. Daily trade ideas and professional trading insights help you trade smarter.
Payment Methods
Unlike many competitors, Eightcap offers several funding methods instead of only wire transfers, which can take time and be quite expensive. The firm also allows for seven different base currencies, an important factor when depositing or withdrawing. Your payment intermediary may charge excessive conversion rates for using a cross-border payment mechanism where the host currency differs from the destination currency.
Eightcap has a webpage listing various payment options and related information for available currencies, estimated processing time, transaction fees, deposit limits, and supported countries or regions. In addition to credit and debit cards, the broker supports payment methods such as POLi Payment, BPAY, Skrill, Neteller, Bitcoin and PayPal. Always check with your selected payment service and your bank for the possibility of additional fees.
Regulation and Deposit Protection
Eightcap regulated broker entities comply with regulatory rules and regulations in several global jurisdictions. Like other modern-day forex brokers, Eightcap has established a series of corporate entities to adhere to local regulations while providing services that their customers want. This individual website offers services regulated by the Australian Securities and Investment Commission (ASIC) and the Securities Commission of the Bahamas (SCB).
From other websites and for other jurisdictions, Eightcap also complies with the Financial Conduct Authority (FCA) in the UK and the Cyprus Securities and Exchange Commission (CySEC). In all cases, the firm's compliance means that client funds are protected by segregating them from operating capital and that all personal and trading information is protected from prying eyes by using the latest in encryption technology, in accordance with the firm's Privacy Policy.
Awards
Eightcap has garnered several industry awards over the years in our Eightcap review. These awards were for the trading environment it provides, plus excellent customer service, user-friendly trading platforms, and its portfolio of tradable assets. Some recent examples include:
2022: Forexbrokers.com – #1 Most Cryptos
2021: Global Brands Magazine – Best Customer Service Broker
Global Business Review Magazine – Best Trading Experience Asia
AtoZ Markets – Best Crypto Broker
FAQs
Is Eightcap regulated?
Yes, Eightcap, under this website address, is licensed and regulated in two jurisdictions – Australia and the Bahamas. In Australia, it complies with the Australian Securities and Investment Commission (ASIC), regarded as a Tier-1 regulator, and with the Securities Commission of the Bahamas (SCB), regarded as a Tier-3 regulator. Other website entities fall within the purview of the Financial Conduct Authority (FCA) in the UK and the Cyprus Securities and Exchange Commission (CySEC).
What trading platforms does Eightcap support?
Eightcap provides the most popular family of trading platform products in the industry, MetaTrader 4 and MetaTrader 5, along with its mobile trading apps. Eightcap supplements this offering with TradingView, a robust platform system known for its charting capabilities and used by over 30 million traders across the globe.
What leverage options are offered by Eightcap?
Your maximum level of leverage will depend on the legal entity that your account resides with and could also vary by your trading instrument. For the Australian entity, maximum leverage can reach as high as "30:1", while if your account is with the entity in the Bahamas, the maximum leverage allowed can be up to "500:1".