With over 300 tradable assets and four different account types available to traders at all experience levels, eXcentral prides itself on being a trading platform with something for everyone.
Founded in 2019 — albeit as an offshoot of a previous platform that was in existence from 2014 — the broker has quickly grown to become a leading trading platform across much of mainland Europe expanding from their Cyprus headquarters. Indeed, this is the platform of choice for many traders in Germany, Spain, Italy, Poland, Netherland, Portugal, Italy, the Czech Republic and beyond.
In addition to its comprehensive CFD offering, the firm also offers Forex trading and a small selection of cryptocurrency pairs. You also get the chance to trade commodities, precious metals, stocks and other instruments.
With traditionally low spreads and leverage in the range of 1:30 for retail clients and 1:400 for professionals, these are conducive trading conditions that are incredibly competitive when compared to other operators.
One of the firm's particular strengths is its educational offering as they provide a wealth of resources for new and experienced traders alike. Premium account holders benefit from VIP webinars about advanced trading strategies hosted by various industry experts. You even have access to a handy selection of analysis tools.
But how does this new entrant stand up to scrutiny, particularly when assessed based on the features and functionalities that traders would typically expect? We cover all that and more in this review.
eXcentral Review Navigation
#1

Forex
| | | | |
| --- | --- | --- | --- |
| Min Deposit | App Support | Max Leverage | Trading Fees |
| £250 | Mid | 1:30 | High |
There are nearly 50 different tradeable currency pairs available to traders including all of the major pairs as expected as well as minor and exotic pairs.
All of the main currencies are available including the USD, GBP, EUR, JPY, and CAD among others, along with some niche currencies that can offer excellent trading opportunities.
As mentioned, leverage is set at 1:400 for professional traders and up to 1:30 for retail clients, which is essentially the industry norm these days. However, it should be noted that spreads are higher than average here, with as high as 2.8 pips being charged on GBP/USD trades.
#2

CFD
| | | | |
| --- | --- | --- | --- |
| Min Deposit | App Support | Max Leverage | Trading Fees |
| £250 | Mid | 1:30 | High |
There are more than 300 CFDs available to trade including many of the popular indices, stocks and commodities. The instruments offered are drawn from six different asset classes.
The indices offered include the Dow Jones 30, the NAS100, the UK Cash Index 100, the JPN225 and more, while commodities that are traded against a selection of currencies include gold, silver, platinum, palladium and crude oil.
Most impressive is the huge number of stocks and shares which you can trade as CFDs. These include all of the big hitters such as Apple, Alibaba, Facebook, McDonald's and many more as well as some intriguing up-and-coming brands. These are tracked and monitored via a selection of charts and analysis tools making the company a 'one-stop-shop' for trading activity.
As always, you are advised to exercise caution when trading these assets given the inherent risks associated with them. These are complex instruments that carry a high risk of losing money rapidly due to leverage. An average of 71% of retail investor accounts lose money when trading the same.
You should consider whether you understand how CFDs work and whether you can afford to handle the losses that come when you make the wrong trade.
#3

Crypto
| | | | |
| --- | --- | --- | --- |
| Min Deposit | App Support | Max Leverage | Trading Fees |
| £250 | Few | 1:2 | High |
The firm doesn't have the most in-depth crypto trading platform available, and at the time of writing this review only had three different crypto pairs were available: BTC, ETH and BCH.
It's possible that this range will increase over time, but it's important to keep in mind that crypto trading is not as big of a deal in Europe as it is in the US, the UK and Asia.
The trading platform allows these three cryptos to be traded with ease, but we would like to see an improvement in this area.
Fees
There are some significant spreads and fees to consider when trading with the firm and they can be on the high side.
For example, the spread when trading EUR/USD is 2.5 pips, while for GBP/USD it is up to 2.8 pips. The two would typically be around the 1.0 mark for both pairs when trading with other firms.
Much of the firm's revenue is generated from spreads and commissions, and if you choose to trade stocks and shares, you will have to pay a commission of 0.8%.
However, you should bear in mind that clients who open a VIP account also benefit from much lower fees and spreads, so you might need to consider whether this could be beneficial for you if you are a high-volume trader.
If you are planning on opening a basic account, the high fees charged ought to be a major consideration.
Account Types
There are four different account types available to traders and the one you choose to open will depend on your circumstances and trading preferences.
The Classic account is designed for newcomers to trading and those operating on a hobby basis. It features large spreads and leverage of up to 1:400, with a minimum trading volume of 0.01 lots and a maximum of 50. You will also receive expert tuition and training from a range of educational materials available for your use.
The Silver account offers all of the above plus educational webinars with a team of industry experts that cover advanced trading topics.
The next level is the Gold account, which benefits from all of the features outlined in the Classic and Silver tiers as well as lower pip spreads, SMS trading signals, a dedicated account manager, VIP webinars and monthly trading overview reports are also part of the package.
Finally, the top-tier offering is the VIP account, which features all of the benefits already mentioned at the Gold level, backed by the lowest spreads available from this brand: 0.9 on EUR/USD and 1.4 for GBP/USD and USD/JPY.
You'll also have access to the services of a dedicated senior account manager, be invited to participate in VIP educational seminars, weekly updates on your trading activities and more.
When it comes to professional clients, there is a wide range of options available based on similar parameters outlined in the individual accounts.
Platforms
There are two trading platforms offered by the company as far as desktop trading is concerned: MT4 and WebTrader.
With these, you can choose the 'off the shelf' versions or opt for the firm's proprietary tweaks offered via web trading software.
All the usual tools and features are available on both, and you can modify the charts, signals and technical indicators to your liking, helping you to stay ahead of the curve with regard to your preferred assets and instruments.
You can access WebTrader through any browser you want with no download necessary, and you can also access both platforms via their dedicated apps.
All 300+ of the company's tradeable assets are available on both platforms regardless if you are using a computer, smartphone or tablet.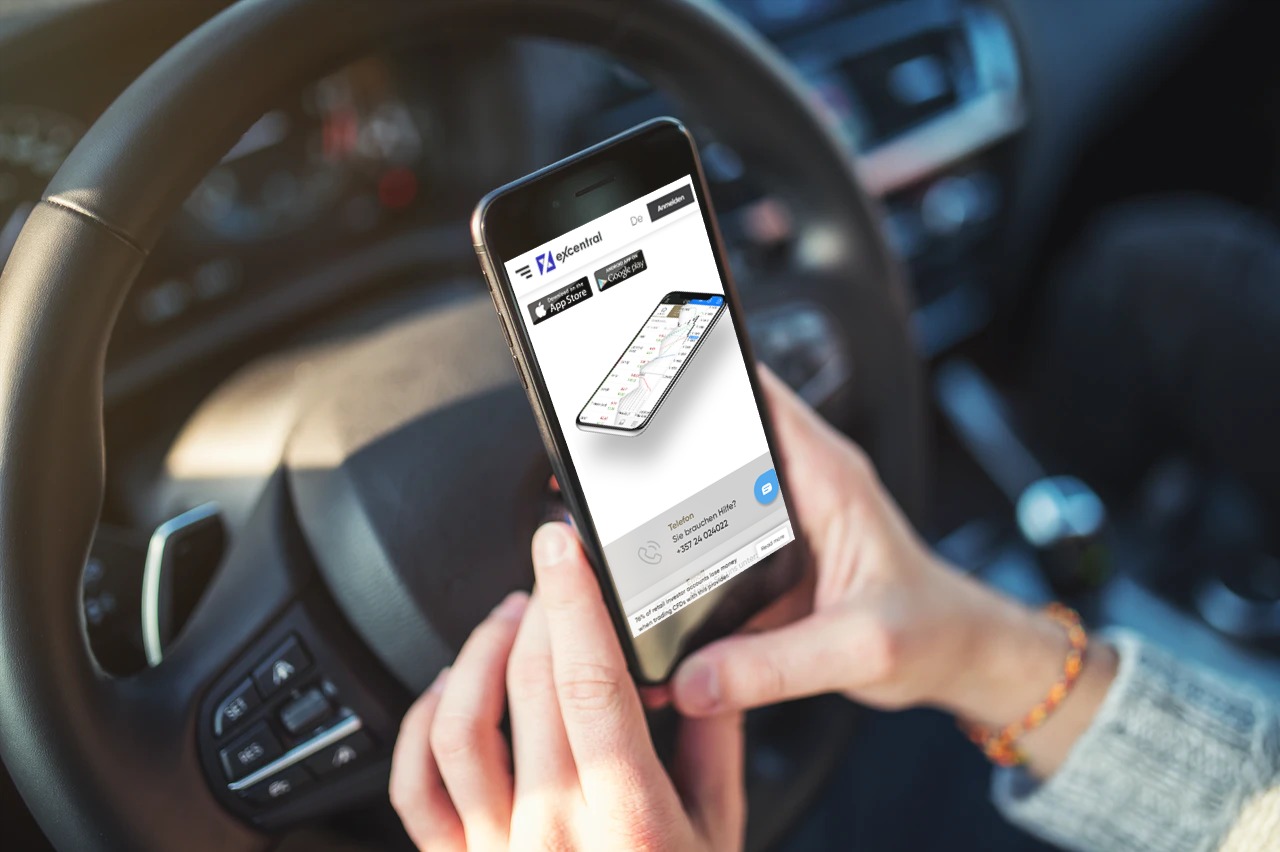 Usability
The homepage isn't overly stuffed with information, but some traders may be frustrated that while key topics are introduced — such as 'account types', 'trading tools', 'assets available' and so on — none of these are later described in greater depth.  
However, there is a real-time financial feed, which is an interesting innovation. You'll find this on the homepage where you can take advantage of live updates on many of the leading shares, Forex pairs, commodities and crypto. That way, you can get a quick overview of how your portfolio is performing and whether any action is required. 
Scroll down to the bottom of the page, and all of the key licensing information about the firm including its address and some of the terms of its operation are listed. You will also see a link to a client agreement section, which we urge every person interested in trading with the firm to read first before joining.
The website's homepage is nothing more than a waypoint, which can be frustrating from a user experience perspective, but all of the important sections can be accessed via the menu button in the top left corner of the screen.
When you are logged in, you can access the client trading area, which showcases all of the instruments available to trade and the various charts related to modifiable timeframes. You can also execute rapid one-click trading here.
The menu button also leads you to all of the key background information and legal requirements that one has to adhere to, in addition to providing links to the broker's wealth of educational material and trading analysis tools.
In short, the website is easy to use and, while it may not be stylistically the most earth-shattering, the simple black-on-white colour scheme makes the user experience straightforward enough. It does take an inordinate amount of time to find what you are looking for on occasion due to the home page being of very little use at all.
If you are somebody who performs trades and monitors market activity via your mobile device(s), we strongly recommend downloading the specific app for your phone or tablet. These have been purposely designed to operate on a smaller screen, whereas the mobile browser site is just a slightly downsized version of the main website — so the bugs outlined above are magnified.
Customer Support
When it comes to accessing customer support, the three main methods are all present: there's a phone line that is manned during traditional office hours (and certain hours outside office hours too), a live chat feature on the website, and email. You can also request a call-back or contact the firm via its social media platforms. For all support queries, you can reach the support team at the following number: +357 24 024022.
Depending on your account type, you can also have access to a dedicated account manager, who from our experience was very helpful and professional. The manager will help you manage your portfolio and offer indicators and assistance regarding opportunities that you may or may not want to trade next. This is, of course, completely optional.
Frankly, we would have expected the FAQ section on the website to be a bit more comprehensive and in-depth, but at least the customer support team is easily accessible.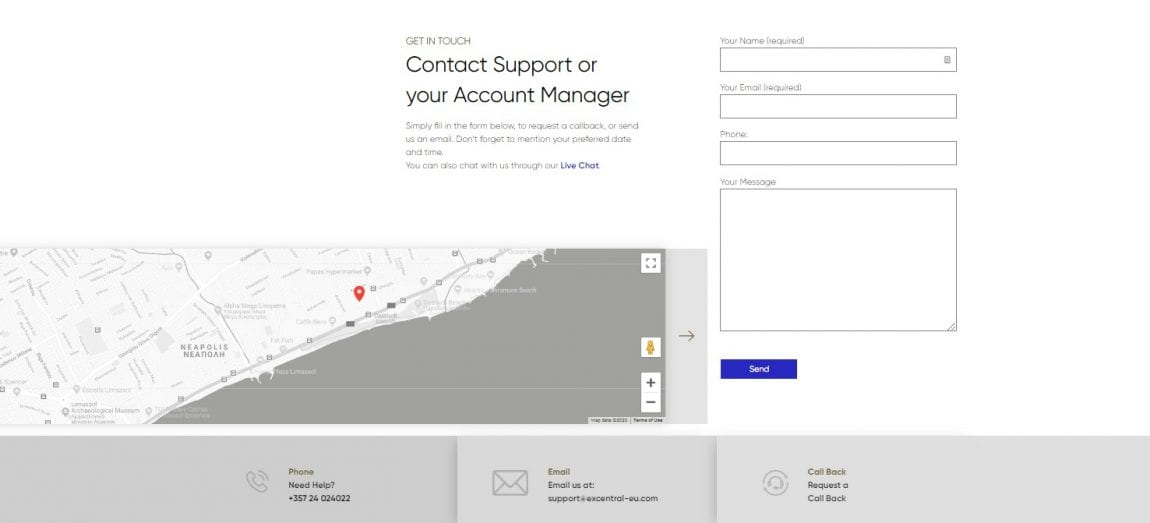 Payment Methods
There is a distinctly European feel to the company and that is reflected in the payment methods available to its clients. These include Visa/Mastercard debit or credit card, Skrill, Neteller or wire transfer.
The minimum deposit is 250 GBP, USD, EUR or CHF.
Withdrawals are easy to request from your client area, and these are typically paid back via the depositing method unless you specify otherwise.
The minimum withdrawal amount is $35 on cards and $100 for bank transfers, although Skrill and Neteller don't have minimum requirements.
Clearly, they should add new payment methods in the near future so they can grow their potential audience.
Best Offers
One of the best things about the company is its commitment to educating its clients about trading — whether you are a relative newcomer to the game or you are seeking advanced tuition to help take your trading to the next level.
These educational materials take the form of ebooks, video tutorials and live webinars, which are provided by the brand's head of trading, Michalis Efthymiou. A full calendar of events is published on the website, and you can join any you wish — as long as you have the right account type.
Backing up the educational offerings are the trading analysis tools that the firm offers free of charge. These range from basic market news updates to economic calendars, helping you to time your trades to perfection. There are advanced charting analysis features and trading calculators to help you know when to get in or out of a market.
If you are completely new to trading in general, it is reassuring to note that demo accounts are available if you want to try the trading platform offered before committing to a live account.
At the time of writing, there was no welcome bonus being offered to new clients, nor were there any kind of ongoing incentives.
Regulation & Deposit Protection
The firm is quite transparent and you can even see its listed business address on the website for further confidence. This is a proper business address and not a 'spare bedroom' operation.
Although it was established in 2019, the platform is owned and operated by Mount Nico Corp Ltd, which also has the NicoFX brand under its belt. Its expertise and experience date back decades, so this isn't some newcomer to the trading game.
A Cypriot headquarters means that the firm is regulated by the CySEC and is licensed to operate across the EU and the EEA region.
What we know about the CySEC is that this is one of the most uncompromising financial services regulators. The CySEC demands the highest standards from its licensees, and this is an organisation that doesn't issue licenses left, right and centre — unlike some other jurisdictions around the world.
Traders can have complete confidence that they are in safe hands, and that's supported by some of the rules imposed by the CySEC. For example, you can rest assured that your funds are safe because they are held in a segregated account with a major financial institution. In fact, €730,000 must be set aside in external accounts, as required by the CySEC. That proves that they have plenty of operating funds and won't use your balance as a way to conduct their own trading activity.
Moreover, all firms under the CySEC umbrella have to register as members of the Investor Compensation Fund, which pays out up to €20,000 to clients in compensation should anything untoward happen.
Awards
Given that the firm came to the market in 2019, it's not a big surprise to learn that the trophy cabinet at eXcentral, for now at least, remains bare.
However, the platform owner's, Mount Nico Corp Ltd, has been nominated for various trophies in the past for its Nico FX platform. Given some of the strengths that they bring to the market, it surely won't be long before it, too, is in the running for some awards.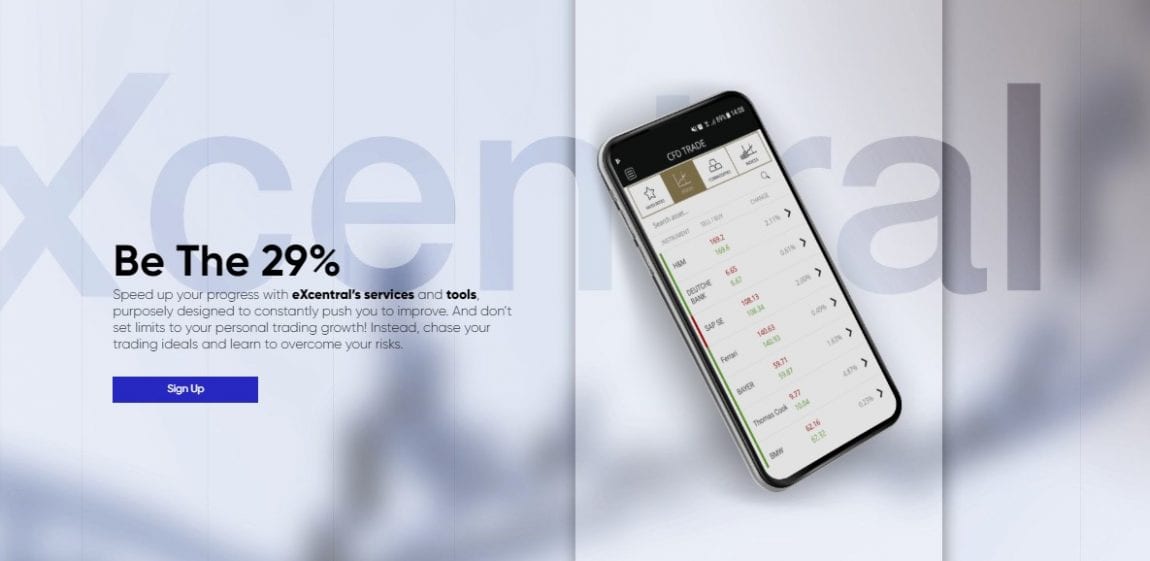 eXcentral FAQs
eXcentral is the brand name of Mount Niko Corp Limited, a Cyprus-registered CFD broker operating since 2019. Users can trade in 120 CFD instruments comprising FX, commodities, cryptocurrencies, stocks, indices and futures from the broker's proprietary and MT4 platforms. eXcentral has something to offer to all its clients. While beginners can use the learning material and video tutorials to get an insight into the markets, experienced traders can access several analytical tools to carry out informed trading decisions.