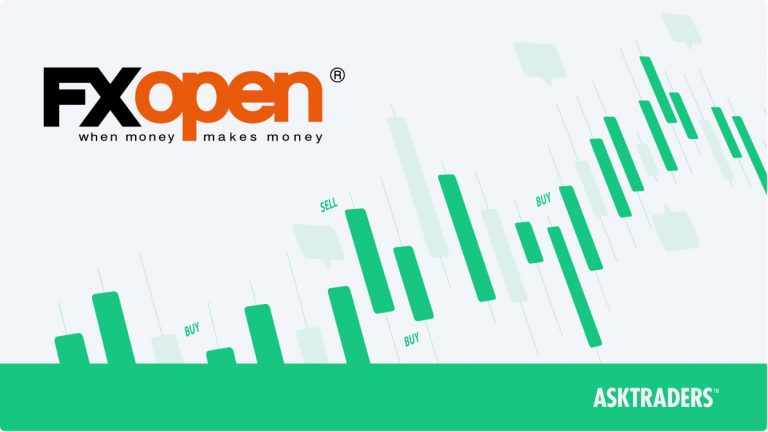 FXOpen has been around the block, having been part of the early wave of online brokers. It set up its operations in 2003 initially as an education resource for traders, mainly focusing on the technical analysis side of things. It was just a couple of years after that they decided to open up a brokerage, By 2013, there was a monthly trading volume of over $100 billion.
In terms of UK offering, it is regulated by the Financial Conduct Authority (FCA), which is one of the strictest regulators for financial services companies in Europe. There is a range of different options when utilizing their platform.
This review takes into account the different variables that make up an online broker and to see where it stacks up well and where it might fall down a bit in the rankings.
#

FXOpen Forex Review
| | | | |
| --- | --- | --- | --- |
| Min Deposit | App Support | Max Leverage | Trading Fees |
| £10 | Good | 1:30 | Mid |
As the name suggests, FXOpen still mainly operates as a forex broker. This is still its main focus today, with many currency pairs being tradable, even pairs that include the likes of Bitcoin. While the amount of tradable currency pairs is not as large in comparison with many of its competitors, it is still a good spread.
You have spot FX trading and you can quickly compare the spreads on offer with DXOpen with other popular brokers thanks to the comparison table on the site.
#1

FXOpen CFDs Review
| | | | |
| --- | --- | --- | --- |
| Min Deposit | App Support | Max Leverage | Trading Fees |
| £10 | Mid | 1:30 | Low |
There is a selection of different CFD investment products that you can access through FXOpen. You have more than a dozen different choices, which is somewhat limited when compared to other brokers. The range of options you have does vary somewhat depending on the type of account you have signed up for. You have access to the likes of common CFDs that track the price movements of market indices, crude oil and stocks.
#2

FXOpen Crypto Review
| | | | |
| --- | --- | --- | --- |
| Min Deposit | App Support | Max Leverage | Trading Fees |
| £10 | Many | 1:2 | High |
There are now 43 different crypto instruments also open for you to trade, which is larger than most of the competitors in the space today. There is a special account for crypto trading also. This allows you to trade the likes of Bitcoin, Litecoin and Ethereum against the US Dollar and use leverage of up to 1:30.
The liquidity is aggregated from the leading exchanges which hedges the potential risks for a client's exposure. Most of the popular styles of Forex trading are catered for with the crypto account, such as scalping and hedging. The spread on crypto trades is floating and there is a 0.5% half-turn commission.
#3

FXOpen Advisor Trading Review
| | | | |
| --- | --- | --- | --- |
| Min Deposit | App Support | Max Leverage | Trading Fees |
| £1000 | 5 | 1:30 | Low |
You can avail of automated Forex trading at FXOpen if you wish to do so. This is a form of algorithmic trading and it utilises the expertise of trading robots that will place orders and trades for you automatically without you having to do anything. These systems run around the clock on weekdays. The FXOpen robo trading is offered through ZuluTrade and Myfxbook.
What did our traders think after reviewing the key criteria?
Fees
The fee structure for FXOpen is very visible on the main page of the website. This is laid out in a table with comparisons to the fee structures that are in place for other brokers in the space today. This table updates in real-time, so you know that you are looking at the most up to date info possible. Generally, broker leads the way across the board in terms of the lowest spreads for its currency pairs.
At the time of writing, the spread for EUR/USD was 0.5 for example. The spreads do vary depending on what type of account you sign up for, so you do have to bear this in mind when you are signing up. You will also have to consider that there are some fee sin place when adding and withdrawing funds from the platform.
Account Types
Currently, there are four main different types of accounts you can sign up for through the FXOpen offering. The Micro account will usually have a EUR/USD spread of 2 pips. There are floating spreads and there is no commission on any of the trades you make. You can place a trade of as low as £1, with the minimum lot size being set at a 0.1 micro lot.
The STP account has tighter spreads, fluctuating depending on how much liquidity there is at the market at that given moment in time. These offer competitive spreads usually and there is no commission that you will have to deal with. The minimum required deposit is only £10, so it is an ideal entry point for beginner traders.
The ECN account has raw spreads and there are commissions in place. These commissions being at 1.5 units per lot. You also have to consider the minimum required deposit of £100 and the lot size minimum of 0.1.
The Crypto account has tight spreads and each transaction will have a 0.25% commission levied. This type of account also has a low minimum deposit at £10.
Platforms
With FXOpen, you have access to the industry-standard MetaTrader 4 platform. This will be familiar to a lot of experienced brokers as it is the main choice for brokers that do not have their own proprietary software or the broker simply wants to offer a choice when it comes to the trading platforms on offer. To put this in perspective, over 70% of the brokers offer MetaTrader 4 to its users. Over 90% of all Forex transactions are made through this platform also.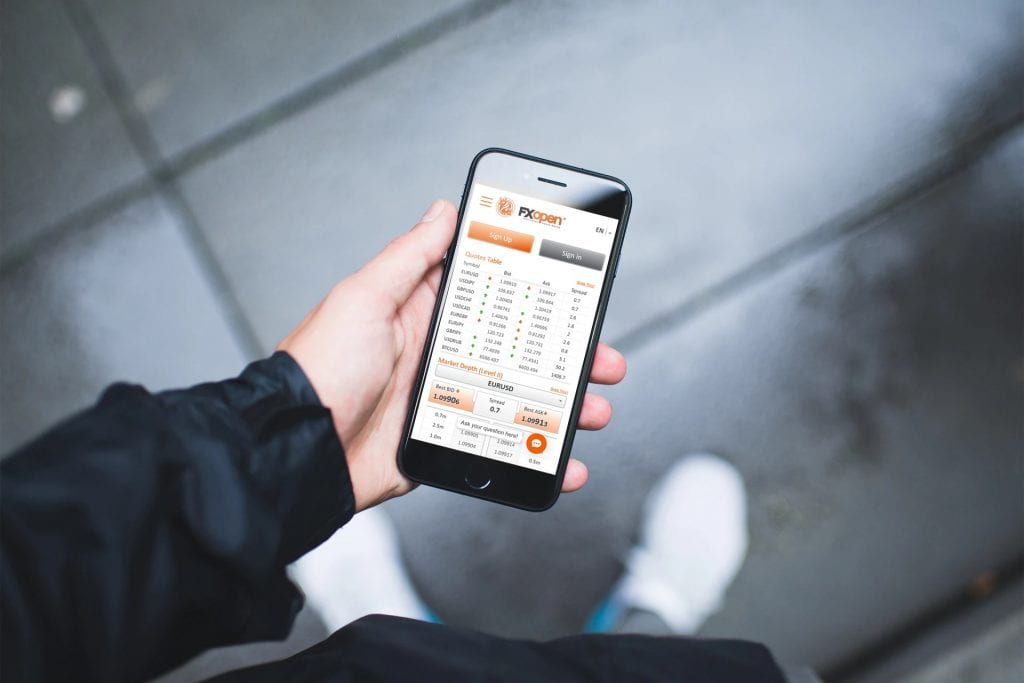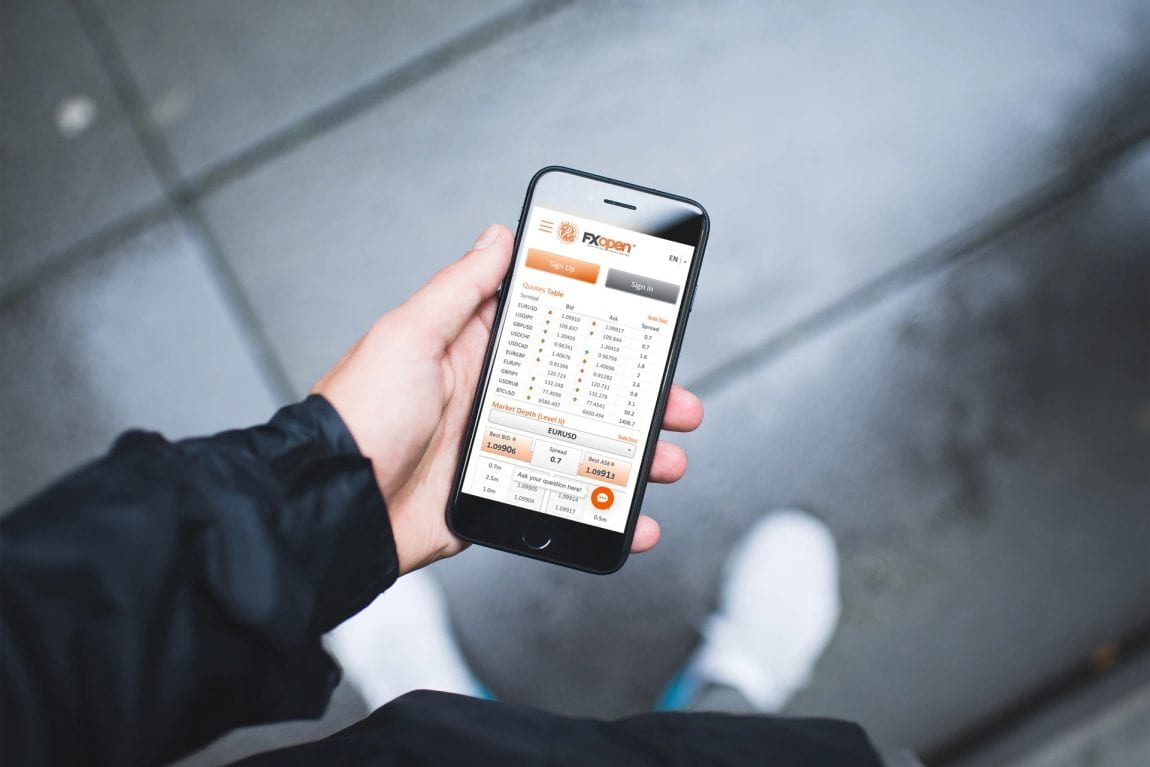 It has a great array of tools and features, allowing you to easily carry out your research and execute your trades as needed. You also have access to the MetaTrader 4 mobile app for both Android and iOS devices. You even have automated trading as part of this offering and a wide range of technical indicators if you are using a Micro or STP account to trade. This is because a slightly different variants of the MetaTrader 4 platform is used for these types of accounts. You now also have the ability to use the MetaTrader 5 platform, which has a number of upgrades in comparison with the previous MetaTrader version.
Usability
While the actual design of the website is a bit outdated, the functionality of it is on a different level. There are not many brokers out there that offer so much clarity to their users. You can quickly see what the fee structure is in real-time at FXOpen and have it compared to other brokers in the space.
The home page provides you with a clear overview of all the info about the trading products on offer. The menu is well split up into proper sections so you do not have to trawl around the website for ages to try and find a piece of information. Overall, you will be hard-pressed to find a better broker at laying out key info than what is seen with the brand.
Customer Support
There is a very good FAQ section you can look at on FXOpen if you have a question or query that needs to be resolved. This can save you time, instead of having to reach out directly to the customer support team. There are also six different languages that the support team can cater to if you get in touch with them.
There is 24-hour support available on the broker, which is ideal. This means that no matter what time it may be, you can pick up the phone and give the team a ring or send them an email or use the website's live chat function. Each of these options have their own pros and cons. However, the quality of the customer support is pretty good, with the team being knowledgeable about most topics at hand. There is also a forum where you can interact with fellow traders on any issues you may be having.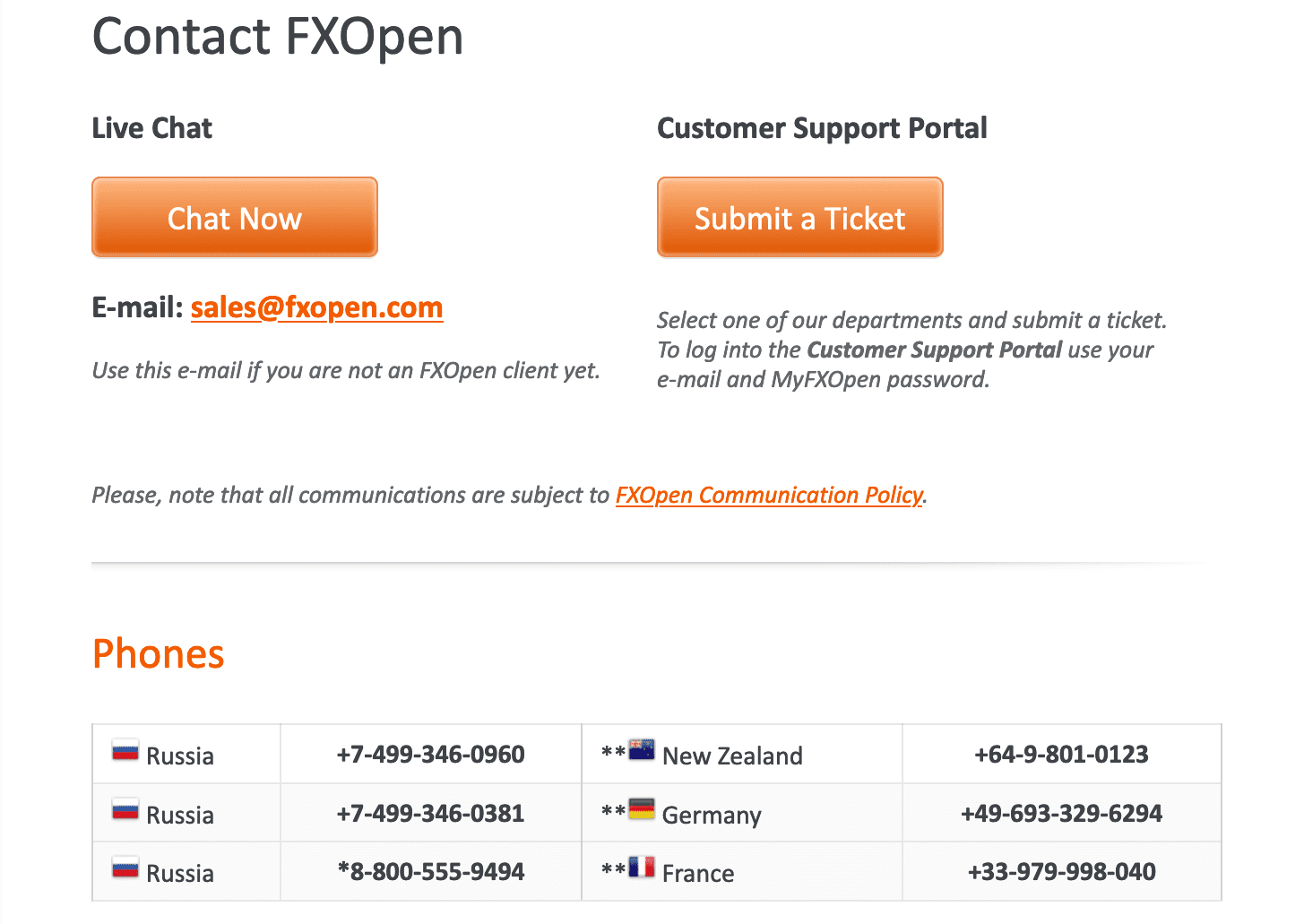 Payment Methods
You have a selection of payment methods when you sign up for an account with FXOpen. The bank wire transfer will cater for seven different currencies, required minimum deposit of £25 and it will take 1-3 business days for these funds to process. A SEPA transfer just caters for euros and has a minimum deposit of EUR25 and takes 1-2 business days to process. There is also a selection of local bank transfer options which will vary depending on the region you are in.
For UK customers, the likes of Skrill is an option in this regard. You can also add funds through a credit or debit card. There is a minimum deposit of £1 and the funds will process instantly. There are a few different e-wallet options, mainly Skrill and Neteller. Finally, there are some prepaid card options that can also be used.
For withdrawing funds, a bank transfer can process your funds in 1-3 business days and it needs a minimum withdrawal of £100. Credit and debit cards can be used, with the funds usually processing within 24 hours. The minimum withdrawal is only in the region of £10. You can also withdraw as little as £2 using the likes of Neteller and Skrill.
Unfortunately, there are fees associated with depositing and withdrawing funds on this brand. This will vary depending on the third-party. For credit and debit card deposits for example, there is a 2.5% charge plus a small flat fee. This is similar when withdrawing.
Therefore while there is a good selection of payment methods on offer, the fees are a major downside.
Best Offers
There are a few different promotions on offer through FXOpen for clients to avail of. For those opening up an STP account, there is a £10 no deposit bonuses. For those signing up for a Micro account, there is a welcome bonus worth £1. Finally, there is a ForexCup trading contest bonus for those who use an STP account.
All trading accounts have access to the 90-day cashback program. This sees you gifting a refund as high as £1,000 on your trading if you meet certain conditions. The amount of cashback you receive depends on the size of your trades, with a useful table being available on the website that you can consult to see what you might be entitled to.
One of the more popular aspects of the  platform is the automated currency trading. These are very popular in the space as you can sit back and let your trading to be automated. In theory, you can make money while you are sleeping. However, there is always a risk that this will actually lead to losses rather than profits.
There is not really a proper educational offering at the broker, which is not ideal for those beginner traders who are looking to learn the ropes of trading. There is a range of research tools on offer. You can get access to regular market news and commentary, as well as being able to check out the likes of economic calendars.
Regulation & Deposit Protection
FXOpen is a long time player in the broker space, so you know that it would not have survived for so many years if it did not satisfy its clients and keep their funds and data safe and sound. For its European operations, it is licensed by the FCA in the UK. This is one of the best financial services regulators in the world today. It also has licenses in many global markets, including in Australia and New Zealand.
All of the client funds on brand are kept segregated in different bank accounts. This means that these funds will not be targeted in case the broker experience significant financial trouble. There are also in-depth anti-money laundering regulations in place on the broker which ensure that everything is above board and the integrity of this broker is maintained.
In an age where privacy of data is becoming more and more important, FXOpen does a great job in this regard. The best of encryption technology is used to protect client funds and data.
Awards
Naturally, FXOpen has been on the receiving end of numerous industry awards over the years. This is recognition of the quality of the brand offering across a variety of different aspects. These types of awards showcase when a platform fulfills what it promises. Some of the awards FXOpen has won include being voted as the Best Islamic Broker, the Best ECN Forex Broker and Best South-East Asia Forex Broker.