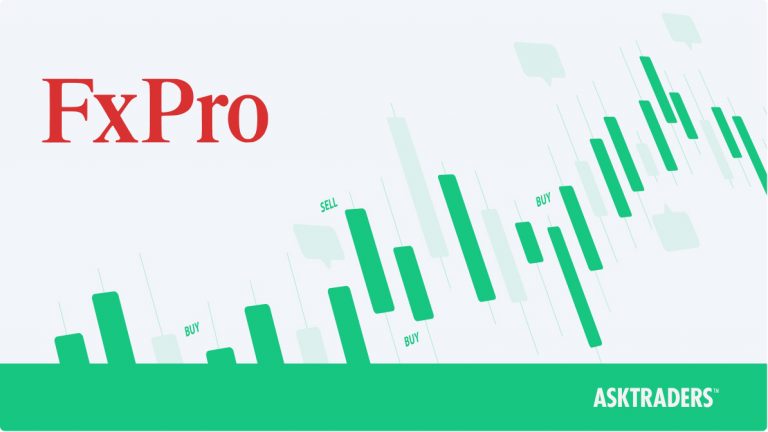 FXPro is a well-established broker in the forex and CFD trading industry with a main operating base in Cyprus where they are regulated by the widely respected CySEC regulatory body.
Our FXPro review also notes that the company offer services within multiple other jurisdictions on a well-regulated basis such as Dubai, and South Africa.
The company trades as a (UK) Limited in the United Kingdom where they offer a full range of broker services to a growing trader base which has been built in over a decade in the industry since they first entered in 2008.
#

Forex
| | | | |
| --- | --- | --- | --- |
| Min Deposit | App Support | Max Leverage | Trading Fees |
| £100 | Mid | 1:30 | High |
When it comes to trading we can safely say that our FXPro review team were left impressed by the number of assets the broker makes available for you. This availability starts with more than 70 currency pairs from all around the world. These include major pairs like the USD/EUR and more like you would expect, to a large number of minor pairs and a selection of exotic pairs too. You can find much of what you need as a forex trader here.
Though the choices here are varied and this created happiness within our review team, they were not so pleased to note the higher than average spreads across each account type even when some of the commission-free trading was taken into account.
The average spread on major forex markets with brand starts from a rather heft 1.4 pips at best on most account types and only goes up from there. There is also a confusing, time-bound system in place which can serve to elevate this number further.
With that said, broker does provide a huge brand-name recognition in terms of trading forex and our UK review team, in particular, think that this can act as a good counterbalance to the marginally higher spreads.
#1

CFD
| | | | |
| --- | --- | --- | --- |
| Min Deposit | App Support | Max Leverage | Trading Fees |
| £100 | Good | 1:30 | Mid |
An FXPro CFD review from our team also informs us that the broker offers in excess of 250 tradable CFD assets. That is in the mid to high range when we compare it with other top brokers in the industry and is something which should be expected of the broker has been in the sector for more than 10 years.
The CFD review showed us that these CFD assets span across multiple markets and include assets in shares, commodities, indices, and futures. This is something that could be considered somewhat rare for a major broker.
#2

Stocks
| | | | |
| --- | --- | --- | --- |
| Min Deposit | App Support | Max Leverage | Trading Fees |
| £100 | Good | 1:13 | Mid |
Our review on CFDs uncovered a particularly packed category when it comes to stocks. This enables you as a trader to get involved in shares CFDs from companies around the world. The likes of Amazon, Tesla, and more, are all available for investment. The only slight hiccup that our FXPro CFD review team do see here is the relatively high spreads and fees on the assets. These can sometimes amount to more than 2.7% although the average here does vary and represents better value on some trades than others.
With that in mind then, the UK review team would recommend carefully selecting which trades you want to make prior to doing so with the broker. This should mean that you are knowledgable and ensure to get the best deal possible for your money from the more than 150 markets available in this category.
#3

Futures
| | | | |
| --- | --- | --- | --- |
| Min Deposit | App Support | Max Leverage | Trading Fees |
| £100 | Mid | 1:10 | Mid |
FXPro futures trading is offered in a few key markets across commodities, energies, and metals.
Again the spreads remain quite high here and subject to change and increase outside certain hours. If you are interested in trading futures though, our CFD review team does note that this is one of only a few top forex brokers where you can do so.
#4

Crypto
| | | | |
| --- | --- | --- | --- |
| Min Deposit | App Support | Max Leverage | Trading Fees |
| £100 | Regular | 1:2 | Mid |
A cryptocurrency review to see what they offer in this area shows us that they have recently started to introduce new markets here. You can now select from 5 major cryptocurrencies to trade as CFDs through FXPro. These include Bitcoin, Ethereum, Litecoin, Ripple, and Bitcoin Cash pairs with the US Dollar only.
This in itself is often as much as our CFD review team have seen elsewhere, so it is an overall net positive for the broker.
#5

Spread Betting
| | | | |
| --- | --- | --- | --- |
| Min Deposit | App Support | Max Leverage | Trading Fees |
| £100 | Good | 1:30 | Mid |
This is an innovative new platform called FXPro Edge that our UK review team was captivated by. This is also the only area in which the spread betting side as a broker can be accessed.
While it is fun, new, and exciting, the platform is still in the early stages of development and so the functionality is somewhat limited. Spreadbetting itself can also be a very risky endeavor, particularly for newer traders.
What did our traders think after reviewing the key criteria?
Fees
As you will no doubt have gathered from reading our FXPro review in every category above, including the CFD review as well as from a forex perspective, the broker can be a little expensive.
The fees are proportionately higher when it comes to spreads and these are also more difficult to interpret and variable than you may find when dealing with other brokers. They do provide you with a strong choice in markets to trade and platforms nonetheless.
Account Types
The account type offering from FXPro left our review team feeling that the standards had only just been met. There are three account types to choose from, these are your MetaTrader account which provides access to that trading platform, the cTrader account for those of you who wish to trade with that, and the FXPro Edge account for anyone interested in spread betting.
This is particularly important if you are reading from the angle of an UK review because the spread-betting option is only available there.
The last account choice that our UK review team looked at was the VIP account although this is not feasibly accessible to many regular traders due to the minimum deposit requirement of $50,000.
Platforms
This is something that our FXPro review team did feel the broker excelled in. They manage to offer not one, but two of the most instantly recognizable and well-trusted platforms in the industry for trading.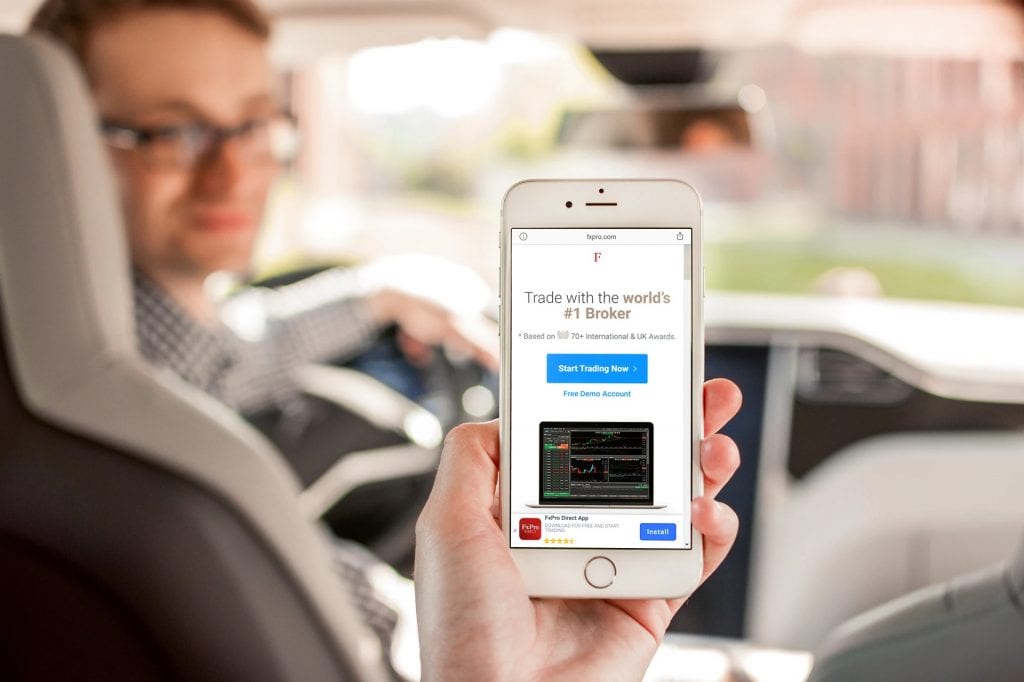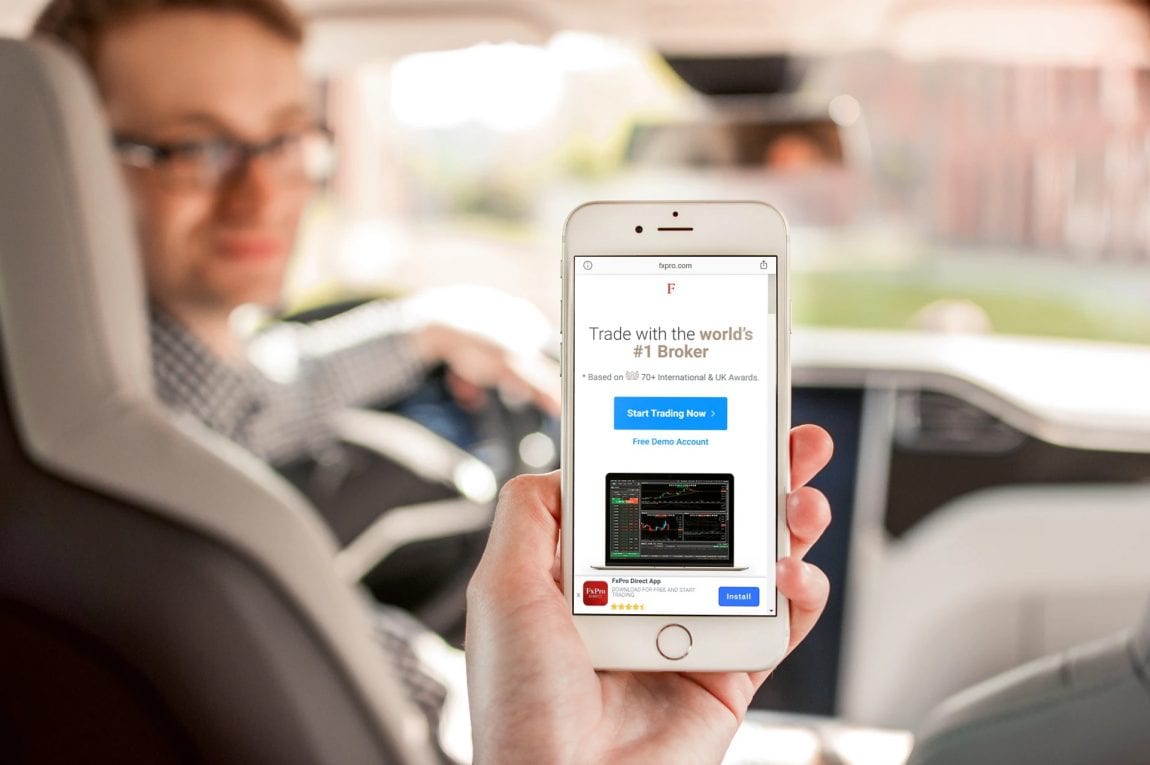 Metatrader platforms MT4 and MT5 which are both offered, are often considered to be the gold standard when it comes to forex trading and CFD trading alike. This is true, however they are closely followed by cTrader which is used by many in the industry as another really professional and well-equipped platform.
The fact that the broker manages to offer all of these options in tandem with their own spread-betting platform is a fact that our UK review team, in particular, were impressed by.
Usability
An important element of any top broker is usability. This includes the convenience of navigating the website, alongside the ease of use associated with its trading platforms. The second of these was no problem for our experienced FXPro review team.
They did find that certain elements within the site were rather cumbersome though. It was somewhat slow to load in the first instance and the process of finding and downloading your chosen trading platform and signing up for a simple demo account seemed to be unnecessarily complex.
One could make an argument that the site and broker simply have too much going on, and would provide a much cleaner and easier to use experience by simply going back to basics which include a simplified process in accessing your selected trading platform without having to delve through a range of emails.
Customer Support
Our review team were suitably satisfied with the customer support options available to you as a trader. This includes contact through a variety of methods, web-based live chat, email, and telephone.
An impressive total of 23 languages are supported and help is typically available on a 24/5 basis while markets are operating as is the case with most brokers. They found the response times to be efficient with the longest wait for a call back being around one hour.
The answers provided were both professional and to the point in how they were communicated and it was overall a pretty positive experience from a trader perspective. There is also a useful FAQ section provided on the broker website.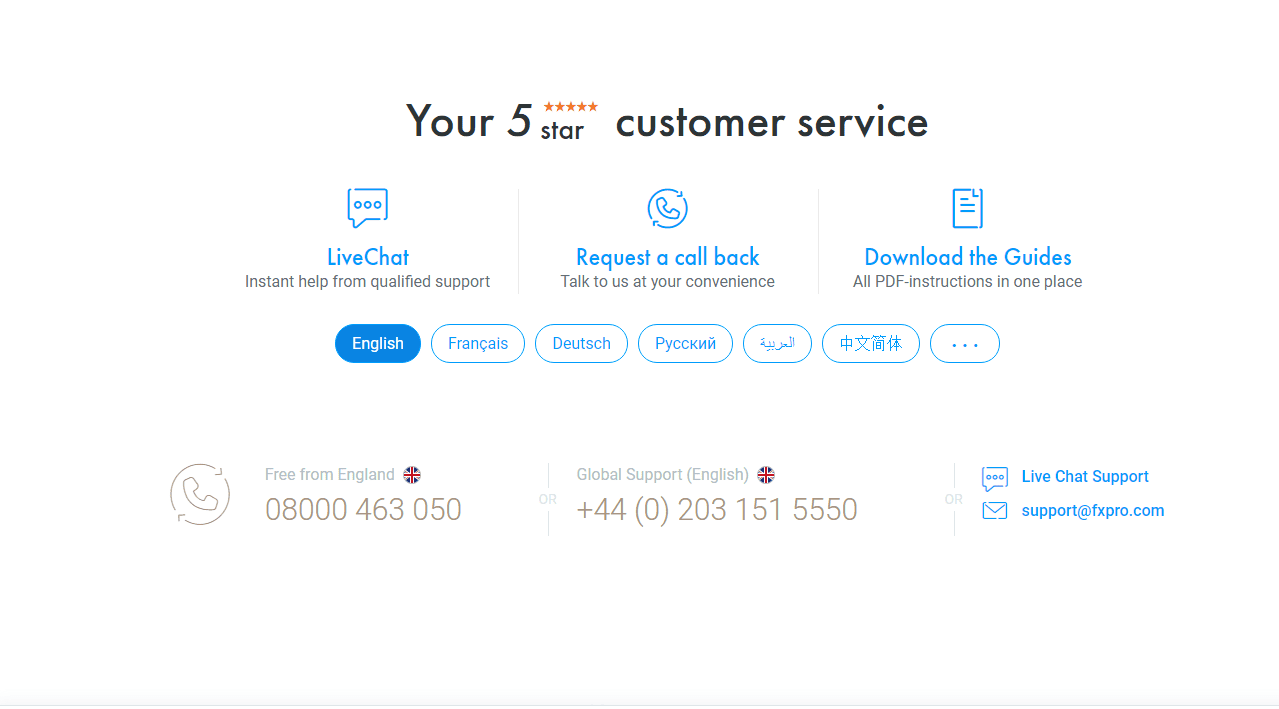 Payment Methods
Funding your account is of course of paramount importance. This is a key point noted by our UK review team. They uncovered several methods through which you could make deposits and withdrawals with the broker.
Both bank transfers and credit or debit card deposits function as the primary ways available to fund your account as a trader with FXPro. Under CySEC regulations within Europe, you can also avail of Neteller, Skrill, and Paypal for deposits from $100. To ensure this, you should naturally check your area of regulation and with the payment provider.
Best Offers
Unfortunately, due to continued compliance from the broker side in regard to regulatory requirements, particularly from CySEC, no direct FXPro trader bonus is offered at the moment.
You can of course access a wealth of other great tools including a very impressive educational infrastructure that you can use to further your forex of CFD trading journey in a more productive way than any bonus amount.
Regulation and Deposit Protection
When considering areas that stood out positively in the mind of our review team, this is certainly another. They are well-regulated by some of the most trusted bodies in the industry all around the world.
These bodies include the FCA in the UK to the pleasure of our UK review team, CySEC in Europe, and the FSCA, DFSA, and SCB around the rest of the world. This is nothing short of a who's who in terms of broker regulation.
Awards
Our FXPro review team has been watching the broker scoop up plenty of awards over the years. This includes the award of best forex provider three years in a row.
There are many other accolades they have collected over their years in the industry and this is something that will no doubt continue as they keep attracting new traders with a very positive brand image and offering.