GKFX is a leading online forex brokerage, spread betting, and CFD trading company that was founded in 2013 and is owned by the brand name AKFX Financial Services. Broker is an award-winning trading platform located in Malta. It's also a registered member of the Malta Financial Service Authority (MFSA).
Brand is also registered and regulated by FCA amongst other Europe's Regulation Authorities. It runs a 24-hour trade platform with over 3 trillion worth of cryptocurrencies to be traded each day. The customer support is multilingual for international inquiries and problem-solving help.
They offer a wide assortment of services to different traders, which include direct investment in – Forex, shares, indices, equities, and CFDs. This broker is backed by the strong legal assurance of the FCA which makes its platform safe for trading and investments. Their easy-to-use MT4 and online webtrader platforms offer flexibility for every client. Its MetaTrader 4 platform has an advanced live account charting to help traders stay abreast of international global stock trade and help monitor the rise and falls of products.
Here are some important pointers why you should open a trading account in the nearest future if you ever choose to:
#

GKFX Forex Review
| | | | |
| --- | --- | --- | --- |
| Min Deposit | App Support | Max Leverage | Trading Fees |
| £1 | Mid | 1:30 | Mid |
Forex is the world's largest financial market. It is a 24-hour open market with about nearly 3 million worth of currencies that are traded each day. The Forex trade on this platform has over 50 FX pairs, low spreads from 0.6 pips, and leverage up to 30.1 pips. Traders can enjoy Forex trading on GKFX's MT4 and webtrader platforms with technologically advanced charting features.
#1

GKFX CFDs Review
| | | | |
| --- | --- | --- | --- |
| Min Deposit | App Support | Max Leverage | Trading Fees |
| £1 | Mid | 1:30 | Low |
Contract(s) for Difference and spread betting trade allows you to trade on raw materials – 'Primary economic commodities'. The CFDs enable trading on physical materials like Oil, precious metals and many more tools. Traders can invest in the price of soft commodities and hard commodities on the platform.
#2

GKFX Cryptocurrency Review
| | | | |
| --- | --- | --- | --- |
| Min Deposit | App Support | Max Leverage | Trading Fees |
| £1 | Regular | 1:2 | High |
Cryptocurrencies are traded against the US dollars using various crypto coins such as Bitcoin, Ethereum, Ripple Dash, and Litecoin. As a trader, when you purchase crypto as an exchange, you're selling US dollars. This enables you to speculate the price of the cryptocurrencies as it moves against the dollar. GKFX allows you to trade cryptocurrencies in long or short bursts with trade spread from as a low as 0.0001.
What did our traders think after reviewing the key criteria?
Fees
GKFX fee is quite higher than many spread betting platforms but that only covers for premium and corporate accounts. The standard account can be opened without the need for a minimum deposit, but all other accounts require minimum deposits. The Premium account fee is £20 and the Corporate account fee is £25 with a minimum lot of 0.1 across all accounts. The single account with three different account features enables the traders to choose the one that suits them better according to their use of equities and indices on the platforms. With underlying assets over 273 on the platform, traders can enjoy diverse products to trade on.
Account Types
GKFX has a single but different account types that are designed to suit the client's needs and goals. These account types are Standard, Premium and Corporate Accounts.
Standard Account: This type of account can be opened and operated according to the need of the trader. Each account is made to suit the financial intentions of the trader. The Standard account charges zero pounds on its minimum deposit criteria. It can be used for all spread betting tools on the platform. This account allows the trader to make trades using EUR/USD currencies. It has a maximum trade size of 100 for EUR and USD currencies and a minimum trade size of 0.01. It has an account leverage of up to 30.1 for EUR and USD currencies. Using the standard account also affords the trader to use up to over 250 equities, over 21 indices and a lot more. The standard account has a step out level of 50% and a spread of 0.6 pips. The spread type varies according to products that traders can choose from while trading.
Premium Account: This type of account was created to also meet the specific needs of the trader. It's a level upgrade over the standard account, and it can only be operated also using EUR/USD currencies. The premium account requires a minimum deposit of £20 and up to 30.1 leverage with a maximum trade size of 100 for EUR and USD currencies and a minimum trade size of 0.0. Premium account enables extended use of equities, indices, and a lot more like the standard account. The premium account also has a step-out level of 50% with a low spread and commission as low as £6 for all traders operating the account.
Corporate Account: This type of account is the most expensive and advanced of all the accounts. This account allows the trader to use GBP/USD/EUR currencies to trade on the platform for all kinds of products available. The maximum trade size is 100 GBP/USD/EUR and a minimum trade size of £1. The same amount of leverage, and the use of equities, indices on the platform. The corporate account requires a minimum deposit of £25. The corporate account is also equipped with a step-out level of 50% with a low spread and commission of 0.6. The corporate account allows extensive use of many products amongst the other two accounts.
Platforms
GKFX has a great user-friendly online platform for all kinds of devices. It has a webtrader that allows everyone to have a good trading experience on the website and a MetaTrader 4 for mobile platforms. The app is available on both iOs and Android platforms.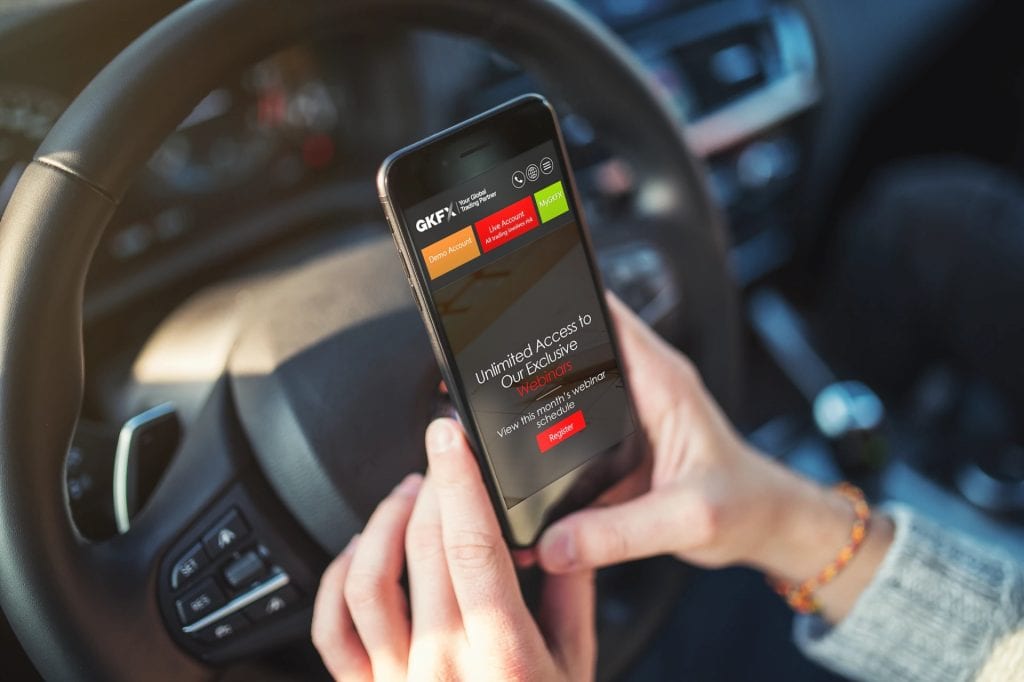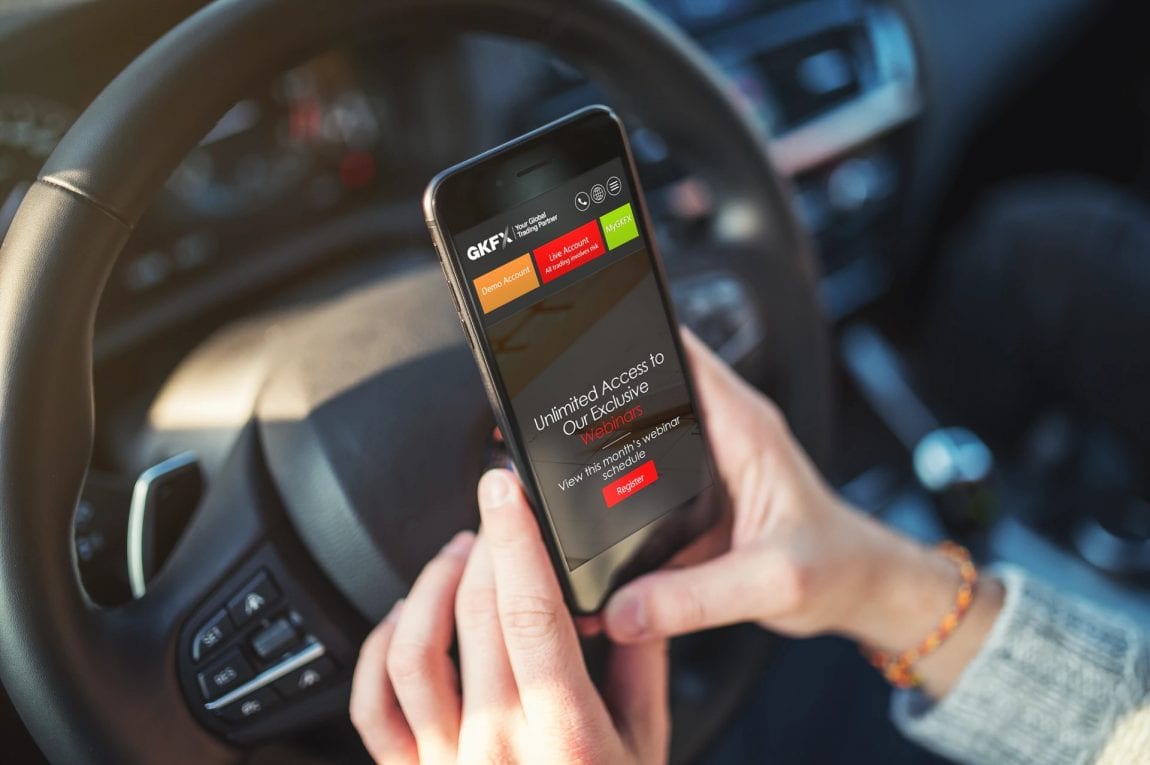 The GKFX has a demo account that allows new and inexperienced traders to learn by using it for 30 days free trial. This enables a proper understanding of the charting features on the MT4 platform. Traders on the move can enjoy the flexibility the platforms offer. The platform also contains a whole lot of videos, courses, seminars and tools that are instructively educational for their traders. They can learn how to use the features on the MT4 platforms. The website is also designed to make searching for details and information very easy. The whole idea of the online app developers would be to make online trading smooth and seamless for all the traders.
Usability
The GKFX platforms to quite easy to use with a user-friendly interface that accommodates every traders' need. Every trader can use the charting features to trade both for long term or short-term purposes. The platform gives the traders insight on the economic calendar, courses, seminar and educational tools to endear easy trading and investment success. It also allows you to enjoy a secure platform that is reliable and professional for spread betting opportunities. The MT4 allows for a live account that enables a tight spread, fast execution of trades and free educational Incentives whenever and wherever you need it. With easy access to all products available within a 24-hour window for all the traders. The apps are broker-owned software which makes global synchronization of all stocks easy and regulated. This platform allows short term and long term spread betting use which enables every trader to make money using time. Traders can also use the Customer Support forum using the hotline and emails on the platforms.
Customer Support
The customer support of GKFX is effective to address every issue of any trader within their daily time frame. They have multiple mobile numbers to address different types of issues ranging from payment issues to trading problems and account opening difficulties. The customer support feature is multilingual to help accommodate issues from their clients around the world. The customer care services help to cater for all inadequacies and errors that customers may encounter. It is fast, reliable and efficient in solving all problems on the platform.
The customer support runs for 24 hours a day from 10 pm on Sundays – 10 pm on Fridays. Mobile number: +356 2778 0848
For payment issues: 9am – 5pm Mondays to Fridays, +356 2778 0848
For trading issues: 10pm – 10pm Sundays to Fridays, +356 2778 0841
For account issues: 8am – 5pm Mondays to Fridays, +356 2778 0848
has two email addresses for Customer support and Account issues; [email protected]
[email protected]
has its address in Malta on the 5th floor, Global Capital Building, Triq XBX 1403, Malta.
Payment Methods
GKFX uses a wide range of payment methods which include credit cards, bank transfer and Payoneer across their trading accounts. They usually require verifications to allow the security of payment and prevent financial errors. However, opening an account requires a utility bill and a form of identification which may be your driver's license or personal identification card. Without these materials, payment and account opening cannot be made on the platform. The payment options are versatile, reliable and easy to use for everyone.
Credit Cards: allows the use of credit cards to help traders send their money for spread betting trading. The use of credit cards is fast, reliable, and efficient to make transfers.
Bank wire Transfer: This method can be used for both deposits and withdrawals. It is also a reliable way of getting your account funded. It is also an effective way to get your funds into your account.
E-Wallets
Clients can make deposits to their accounts via popular e-wallets such as Neteller, Skrill, PayPal, Payoneer, and Sofort.
Best Offers
GKFX platform provides a demo account for practice purposes. Moreso, their mobile apps are user-friendly and filled with amazing ways of getting your investments done.
They guarantee their MT4 and webtrader business platforms to help their traders in making the use of the charting features that are efficient for its purpose. Their spread betting platform allows traders to use cryptocurrencies and also enjoy offers on equities and indices. The offer leverages and minimum trade sizes. They have over 350 underlying assets for their platform.
Regulations, Deposits, and Protections
GKFX is under the brand name AKFX Financial Services. it is a multi-asset trading platform operated from a single account.
The investment services are provided AKFX Financial Services, which is authorised and monitored by the Financial Conduct Authority (FCA). Your investments are in a legal agreement with the organization and your investments are registered in the name of AKFX Financial Services Limited. The broker is a spread betting platform under the auspices of the Malta Financial Service Authority (MFSA). Hence, all transactions made on this platform are protected and guided in accordance with the Financial Conduct Authority of the UK.
Awards
GKFX is quite a successful trading platform across the globe and within the financial industry. They have amassed some prestigious awards but to mention a few in the UK, Europe and globally:
ADVFN – Best Platforms International Financial Authority 2017
Shares Award Hosted by Shares Magazine 2018
UK Forex Award 2018
Best FX Broker 2015
Shares Award 2015.