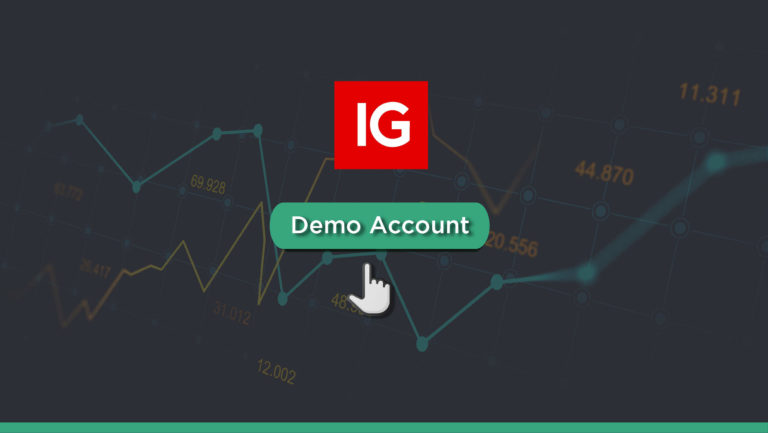 Learning how to trade on financial markets can be rather daunting, especially for potential traders who have little knowledge of how to do it successfully before plunging into the often complex world of spread betting on the rise or fall of currencies or betting on movements in stock markets worldwide.
Would-be traders can take advantage of the best demo broker by using an IG demo account to learn the ropes and take full advantage of the tools on offer as well as accessing valuable tutorials to explain the ins and outs of financial trading.
What is an IG demo account?
IG demo account login
Creating a live account
Understanding currency markets
Trading other markets
Before we get started, take a look at our other IG guides:
IG Demo Account
When trading Forex online, you will need research and practice to start to understand the ins and outs of currency trading. People considering getting into playing the financial markets should take plenty of time to study the field and begin to get to grips with the processes.
An IG demo account is a useful tool to help prospective traders practice in a real trading environment but without taking on any of the risks of trading in the real world because it's all done using virtual money.
Once an account has been set up, trades can be placed in a real money-trading environment using a supply of demo trading credits.
As with any initial move into a new area of education, it's sensible to do a demo broker comparison to see what is on offer. Traders choosing the IG demo account get access to the IG trading platform tutorial and can spend as much time as required learning how to use it.
Brokers offer different amounts of virtual money to use in demo accounts, with IG providing £10,000 for traders to start with, whereas FXCM, for example, offers £5,000 and CityIndex matches IG's £10,000.
Using IG gives traders access to IG Academy, which has exclusive educational content to make the learning process easier, and strategies can be tested on the go with the company's free mobile apps.
IG Demo Account Login
You will automatically open a demo account automatically when you open a live account with IG. You can access the demo account by logging in to My IG, where you will see it in the dashboard or the 'demo accounts' tab.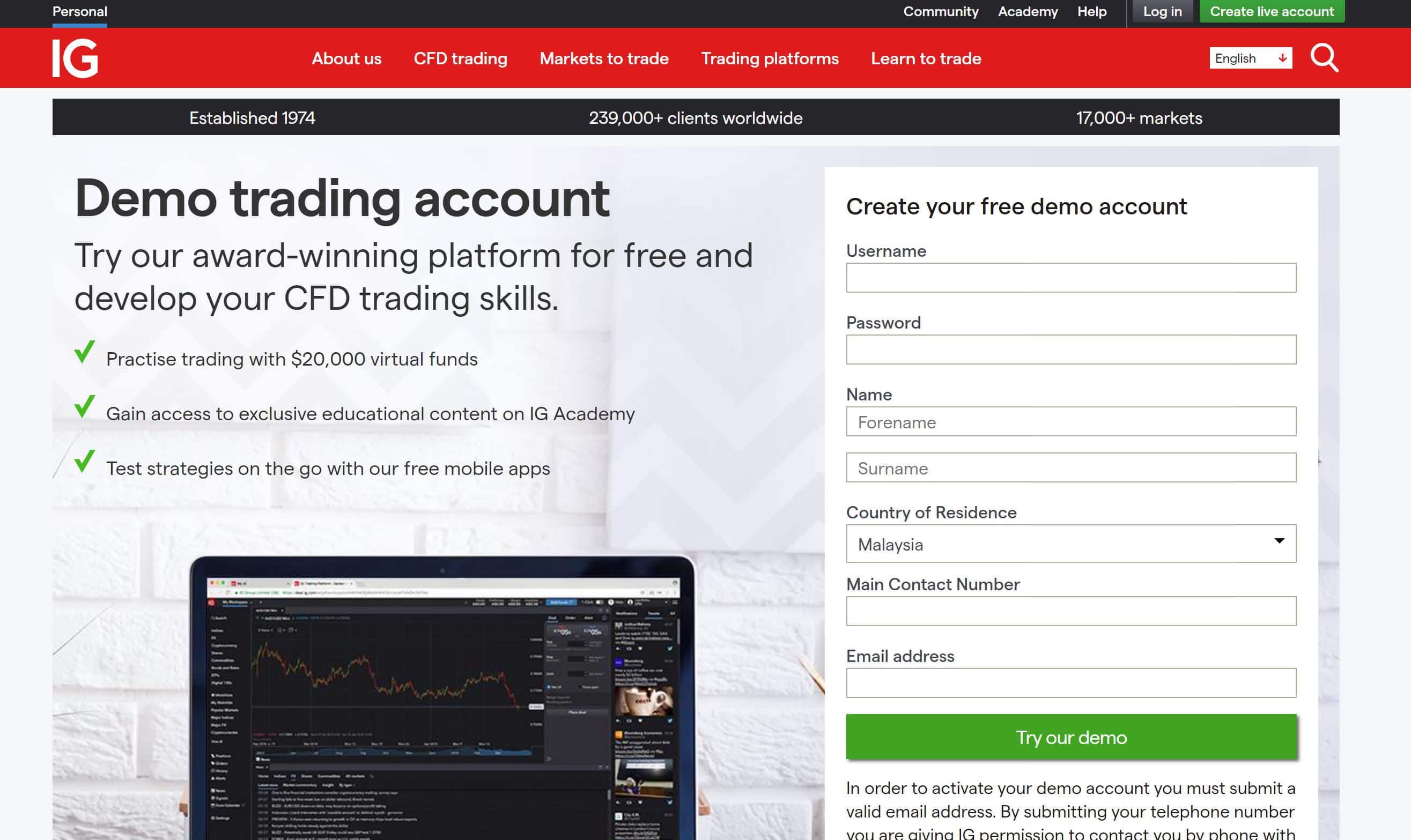 With a demo account, you can practice trading risk-free at any time. Simply navigate to the 'demo account' page under 'trading platforms' on IG.com.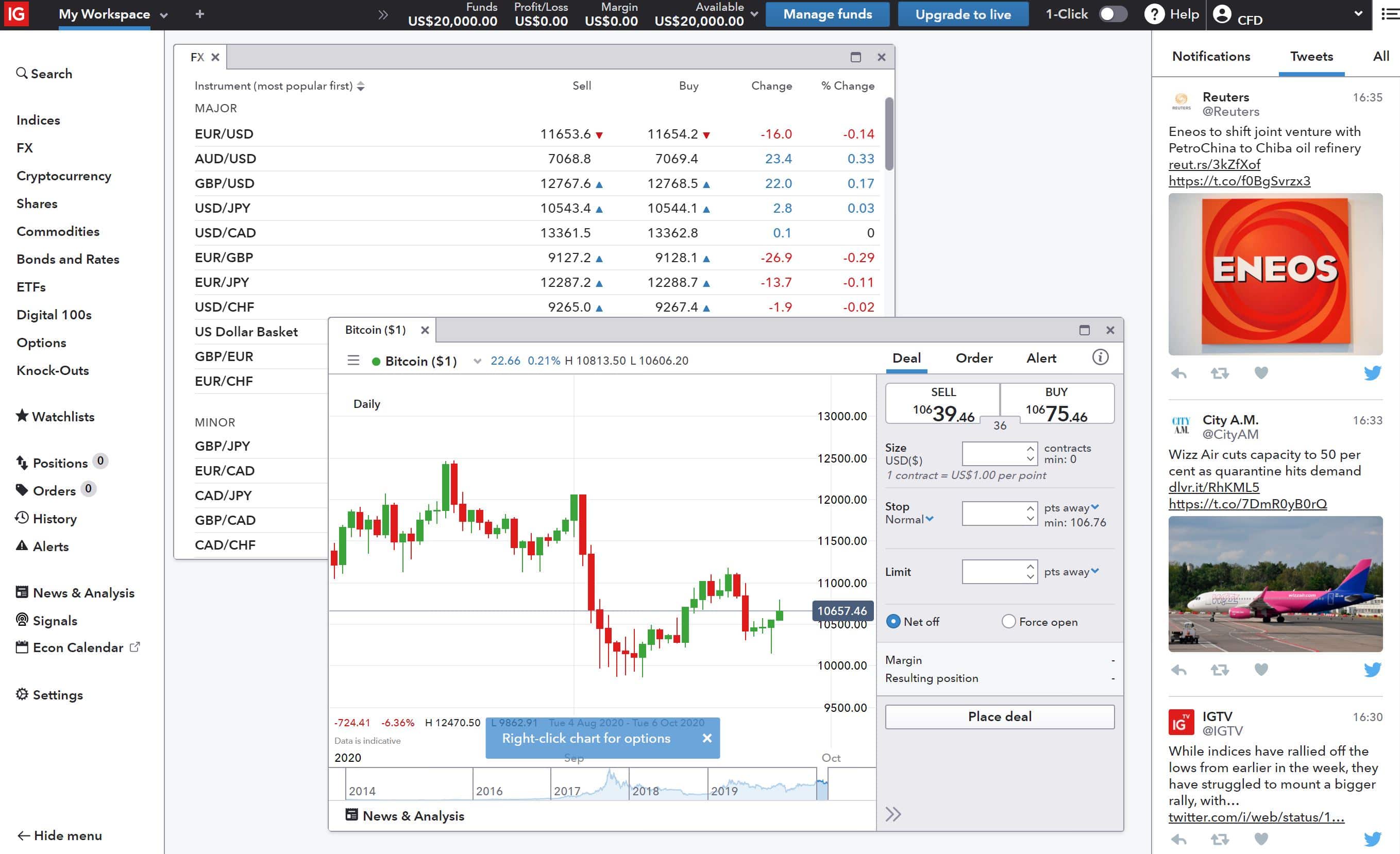 Creating a Live Account
It's a big step from practising with an IG demo account to moving into the real world of trading. However much experience is gained with the demo and IG trading platform tutorial, it's different when real life and real money kick in.
Many traders who get comfortable using a demo find that they trade profitably, but moving to live to trade and using their own money can be a shock to the system. Why? A demo account will often provide more capital than a trader will actually have available to use for live trading, and a broker comparison will highlight differences between broker offers.
Many traders dipping their toes into playing the markets live may be reluctant initially to commit too much capital to a live account.
Trading with a demo account and a large amount of virtual capital can offer an unrealistic safety net, as small losses can often be recouped more easily when more capital is available, whereas it can be harder to recoup losses on a smaller account.
Practising with a demo account can be a steep learning process and highly enjoyable, but it can't simulate the emotions traders feel when using their own real money. Hope and fear are strong feelings, as is greed.
Traders should try to treat the money in their demo account as if it were their own to cushion the shock that can be experienced in the live trading environment should something go wrong and have real-life impact.
Understanding Currency Markets
When deciding to trade in foreign currencies, it's important to understand how currency markets operate and to decide if it's the right way to go.
The Forex market is the biggest investment market in the world, it grows annually and many retail traders are now finding that currency trading platforms such as IG provide a suitable way to plan and execute their investment goals.
Currency trading operates five days a week and is a 24-hour market based on three sessions that include the US, Asian and European sessions. Accounts are traded in lots of various sizes, with a micro lot being 1,000 units of a particular currency.
As an example, if an account is funded in US dollars, the dollar is the base currency and a micro lot represents $1,000. Base currency can be any currency traded, with popular ones such as the Japanese yen, pound sterling and Euro often used as a trader's base.
Pairs are how all currency trading is done, and traders must buy one currency and sell another in the Forex market. It's different from the stock market where a single stock can be bought or sold.
Practically all currencies are priced to the fourth decimal point with a percentage in point, known as a pip, as the smallest increment of trade. Understanding the basic process of how the Forex markets work will help traders who are still learning ropes while using an IG demo account.
Trading Other Markets
An IG demo account doesn't only open up the option to trade Forex, but also gives access to the company's web-trading platforms so that a range of other markets can be explored, again without the need to use real money at this stage.
Although Forex is the largest global market, there are many other ways traders can develop skills and experience to broaden their range of options. Commodities are an important market-trading sector, the basis of the term being a product that effectively remains the same wherever it happens to be produced.
There may be some differences in the quality of the product, but there is not much to differentiate one specific product from another.
Examples of commodities that are traded include gold, grains (such as wheat and barley), natural gas, oil and beef. These are considered the traditional forms of commodities, but the definition has widened now and includes financial products such as indexes and foreign currencies.
Advances in technology mean that new types of commodities can be exchanged in the marketplace, mobile phone minutes and bandwidth being examples. As the commodities market develops, it can be hard to keep tabs on everything being traded and how best to trade them, so using the IG trading platform tutorial alongside IG's demo account can be a helpful tool.
Cryptocurrencies
Cryptocurrencies have become established over a number of years and provide another way of trading to turn a profit. They are virtual currencies and operate independently of traditional banks and governments, but they can be exchanged or speculated on in the same way as a physical currency in the Forex market.
There is a wide range of cryptocurrencies available, and IG offers spread betting and CFD trading on six of the most popular. These include Bitcoin, Bitcoin Gold, Bitcoin Cash, Litecoin, Ethereum and Ripple.
Dealing in cryptocurrencies means traders can either buy them and hope they can sell them on at a profit or speculate on their value – but not owning them – by using spread betting or CFD trading.
Traders will need an account with a leverage provider and should be aware that many of the factors that affect traditional currencies may not apply to cryptocurrencies. It's therefore essential to know and understand the market before starting to trade in this area.
Strategies need to be developed for short-term and long-term success, and these will depend on an individual trader's goals and preferences. Once ready to place a trade, the position size is entered and close conditions defined, with a "buy" instruction if the trader thinks the currency will go up in value or a "sell" if deciding it will fall.
As with any trading, there are inherent risks, so learning how to use the IG trading platform will help you understand and mitigate those risks.
Investing in Stocks
The stock market is a global entity, and all major countries have their own stock exchanges. The US has the two largest in the world, the New York Stock Exchange and the NASDAQ, with Japan third, China's Shanghai Stock Exchange fourth, followed by the European Union, Hong Kong and London.
The IG platform gives traders interested in buying, selling or speculating on stocks the option to carry out leveraged or non-leveraged trading. Using leveraged trading gives full exposure to a market while only having to put down a fraction of the actual cost.
The trader's profit or loss is based on the full value of the position taken, so from the initial outlay, it's possible to gain more than what was originally put down, but it's also possible to lose more as well.
Using spread betting allows traders to speculate on which way the price of an asset will move. How far and which way the market moves will determine profit or loss.
There is currently no stamp duty to pay and profits are tax-free, though the government could change that in a future Budget. Traders can also use CFDs – contracts for difference – where a contract is opened for the difference between an asset's opening and closing price.
Non-leveraged Trading
Trading is not all about speculation and gambling on the movements of currencies, stocks, commodities and others. It is also about developing investments that can grow money for the future.
Opening a SIPP – a self-invested personal pension – allows the holder to choose and manage the investments being made. This is a product for long-term investments to provide a secure pension on retirement and can be used to invest in a wide range of global ETFs and shares, with tax relief received on contributions.
This means that effectively you get extra money for free. Holders can either choose their own investments or use an IG Smart Portfolio SIPP that gives the company's experts the leeway to make investment decisions on your behalf.
Investors also have the choice of a Stocks and Shares ISA from IG that is flexible, in that it offers withdrawal from it without forfeiting the amount from the government's allowance of £20,000 in the 2018/19 tax year. The allowance is tax-free, and with a Stocks and Shares ISA, any profits made have no capital gains tax charges.
IG Demo Review: What We Think
Demos are the ideal way to learn about how trading works, and the IG demo is a good example of a reliable broker providing a platform that offers flexibility and plenty of education about the system.
As an introduction to trading, it has most of the same features as the live trading programme but without the need to worry about actually losing money. The demo can, in particular, give many insights into trading Forex and allow traders to experiment and get to know more about how foreign exchange markets operate.
The platform should ideally be used as if traders were working with their own money to prevent complacency, enabling them to focus on making a profit so that when they decide to move on to a live trading account, they already have the right professional mindset.
Traders using the demo can also download the mobile apps for Android and iOS operating systems so that they can continue to practise wherever they happen to be without having to be tied to a desktop computer. With clear interfaces and many support tools, the IG platform offers everything a trader could need to get started.
People who read this also viewed: