Interactive Brokers is a US-based brokerage firm that traces its roots in the industry to 1977 when it started as a market maker. It has throughout the years undergone rampant changes – all of which played a key role in helping the broker operate the largest electronic trading platform going by the average number of daily revenue traded in the country. And according to the broker's website that describes it as the "Gateway to the World's Markets," this is made possible by its adoption of advanced trading technology, a wide range of tradable products, and its low-cost services.
We sought to verify these gateway and premier trading technology claims to help you decide if the broker is worth a shot, and detail our findings in this interactive broker review. Some of the need to know aspects of the broker include the fact that it's a subsidiary and the electronic trading arm of Interactive Brokers Group Inc. The broker has its headquarters in Greenwich, Connecticut but maintains offices in five other states across the country and 13 more internationally. And that it accepts traders from over 200 other countries across the world.
In this interactive brokers review, we will be analyzing the tradable financial products fronted by the broker and rating their service delivery. And by the end of the guide, you will have reached a decision on whether the broker works for you or not.
Interactive Brokers Review Navigation
#

Interactive brokers forex review
| | | | |
| --- | --- | --- | --- |
| Min Deposit | App Support | Max Leverage | Trading Fees |
| $10000 | Good | 1:1 | Low |
Our interactive brokers review team observes that the broker supports over 24 different forex trading pairs. Any of their clients can trade these currencies with the help of the interactive broker's FXTrade tool that's integrated into the discount broker's Trader Working Station (TWS). On this platform, spreads for major currencies start from 1.0 pips.
The review team was however appreciative of the level of sophistication that the discount broker had dedicated towards forex trading on its platform. Within the FXTrade tool, the broker had integrated several order management and market analysis features. The platform, for instance, supports over 20 order types including such risk management prompts like the stop limit, trailing stop limit, one cancels all, and limit if touched. The trading pairs are also presented in the form of individualized boxed-grids that feature market information for easier monitoring and order management.
#1

Interactive brokers stock review
| | | | |
| --- | --- | --- | --- |
| Min Deposit | App Support | Max Leverage | Trading Fees |
| $10000 | Good | 1:1 | Low |
Interactive Brokers gives all its clients access to an unlimited number of stocks traded in more than 120 markets in and outside the U.S. Both the casual and advanced traders have equal access to these markets but casual traders using the IBKR Lite trading platform have the advantage of trading U.S based stocks and ETFs commission-free. On the other hand, stocks on the IBKR Pro trading platform start trading at the rate of $0.005 per share with a minimum $1 commission fee and a maximum of 0.5% the trade value.
Our review, however, observes that traders on the IBKR Pro platform have access to a free Trader WorkStation (TWS). The TWS is rigged with four different types of stock scanners that come in handy in helping you come up with trade criteria for filtering the stocks, creating a watch list and identifying what to trade with.
#2

Interactive brokers Futures and Futures options review
| | | | |
| --- | --- | --- | --- |
| Min Deposit | App Support | Max Leverage | Trading Fees |
| $10000 | Good | 1:1 | Low |
In our review of Interactive discount brokers, we observed that the company grants its clients access to over 32 futures markets across the world. The team further found the diversity of these markets and the trade items quite interesting. Some of the futures and futures contracts featured by the broker are drawn from the agricultural, metals, currency, energy, equity index (indices), soft commodity and interest rate markets.
These can be traded on the advanced IBKR Pro trading platform that features numerous market analysis tools and order execution features.
Interactive brokers mutual funds review
Our Interactive Brokers review observes that the discount broker maintains one of the biggest lists of tradable mutual funds. In all, there are over 11,000 mutual funds that both the local and international IB traders can trade and invest in. It should nonetheless be noted that 4200+ no-commission funds are only available to U.S residents. Additionally, only U.S residents get to invest in mutual funds traded in the countries exchanges.
#3

Interactive brokers robo-advisor review
| | | | |
| --- | --- | --- | --- |
| Min Deposit | App Support | Max Leverage | Trading Fees |
| $5000 | 60 | 1:1 | Low |
In its claim of being the leading and most innovative electronic broker in the market, Interactive Brokers has gone all-in when it comes to the adoption of technology. The most popular include advanced analysis tools and features, automated trading and algorithms and robo-advisors. The Interactive Brokers robo-advisor, for instance, presents traders with the option to choose from over 68 portfolios options.
What did our traders think after reviewing the key criteria?
Interactive brokers trading fees
Interactive brokers maintain one of the most complex pricing structures. They can, however, be categorized to either fixed-rate, tiered and commission-free trades. Fixed rates charge a single fee per trade/contract while the tiered rates are commissions per transaction that's dependent on the number of transactions executed every month. Our interactive broker review lists the most popular trading fees on the IB platforms as:
Stocks, ETFs, and warrants: When trading on the IBKR Lite platform, all stocks and ETFs are commission-free and you only have to foot the exchange and regulatory fees. On the IBKR Pro platform, fixed rates charges start from $0.005 per share with a minimum fee of $1 per trade. And if you prefer the volume-based fees, you will part with $0.0035 per share if you trade less than 300k shares per month and as low as $0.0005 per share for trades over 10 million shares. The minimum fee per order is $0.35.
Options: The pricing of options at interactive brokers is wholly commission-based. These charges start from $0.65 per contract when you trade less than 10k contracts per month and dip to $0.01 per contract when you trade more than 100k contracts.
Forex: In addition to the spreads charged on Forex trades, Interactive brokers impose an additional commission based on your monthly trade volumes. This is currently set at 0.02 basis points for trades below $1 billion and as low as 0.08 basis points for trades above $5 billion. Note that 1 basis point =$0.0001
Mutual funds: For U.S traders, most of the mutual funds are commission-free. You will, however, be charged a per-transaction fee that is the lesser of 3% the trade value or $14.95.
Assisted trader: You can also call the broker live and have them assist with completing a transaction over the phone or via email. Broker assisted stock and ETF fees to stand at $0.01 per share with a minimum order fee of $100. Options and futures/futures options are on the other hand charged $0.95 and $3 per contract and a minimum order price of $95 and $300 respectively.
Robo advisor: Actively managed portfolios under Interactive brokers Robo-advisory platform incur an asset-management fee of between 0.08% – 1.15% of the managed funds per annum.
Account types
Our Interactive broker review team observes that the Connecticut based discount broker maintains close to a dozen types of accounts. These range from individual accounts, joint accounts, a small business like sole proprietorship accounts and tax-deductible business accounts maintained for such entities as partnerships and limited companies.
Platforms
Interactive Brokers don't support third-party trading systems and you, therefore, can't access your IB trader account on such universal trading platforms as MetaTrader. It, however, presents clients with a host of proprietary trading platforms that include:
Desktop TWS:
The Trader Working Station Is available to every IB client. According to the broker, it was designed to serve the high volume and active day traders looking for a centralized trade environment equipped with the most advanced tools and algorithms.
IBKR Mobile:
The IBKR mobile app is available to all traders in both the Android and iOS versions. It was, according to the broker, specially designed to serve individuals that are always on the move.
IBKR WebTrader:
The IBKR Web Trader platform is only available to IBKR Pro traders. It contains all the features of the downloadable TWS but online based.
iBot:
iBot is more of an extension of the existing trade platforms than it is a standalone trading tool. Our Interactive broker review team considers it the most revolutionary tool yet in the IB trading arsenal. It draws its uniqueness from its ability to interpret text commands and translate them into market orders. This explains why it has, in most instances, been referred to as the "text interface" of IB's trading platforms.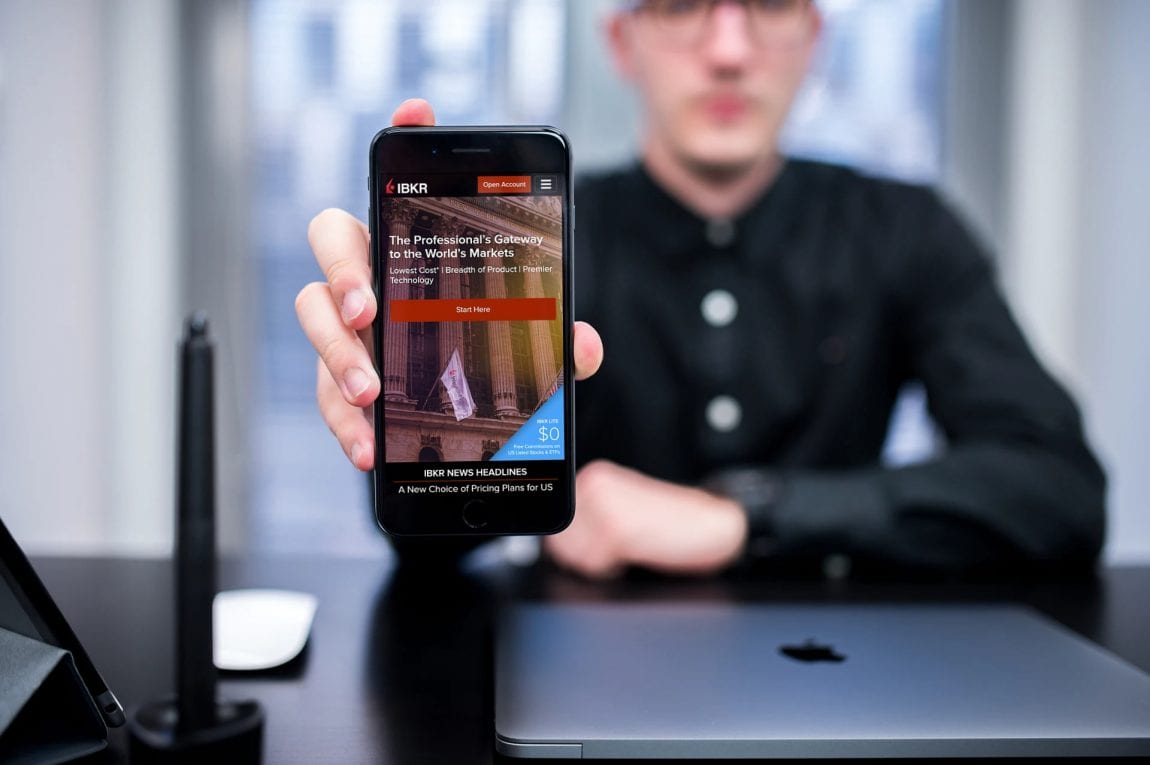 Usability
We found the Interactive Broker website and its trading platforms relatively hard to use. The site is particularly clumsy with lots of pages that we feel could be trimmed and added to the drop-down menus. First time traders would also have a hard time understanding their pricing mechanisms and bypassing the advanced financial jargon used in their trade platforms.
Customer support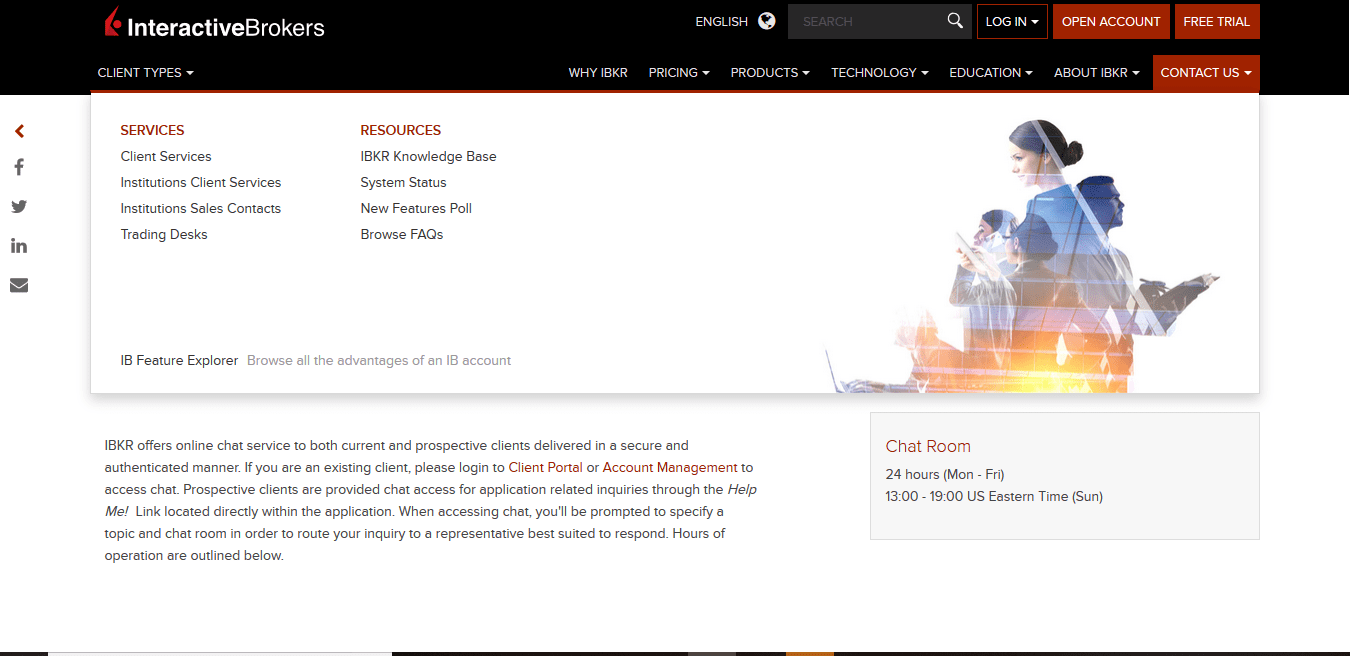 Interactive Broker's customer support team is available 24 hours a day from Monday to Friday. They can be reached via the phone, email of their social media handles. Our review team, however, observes that the broker's support team is quite sluggish when it comes to responding to customer queries.
Payment methods
There are four primary ways in which you can deposit funds into your account. You may deposit via bank wire transfer for free, through an automated clearing house (ACH) but with a daily deposit limit of $25,000, through the online bill payment feature, personal/business check, or direct deposit – all of which are free and have no deposit limit.
When it comes to withdrawals, Interactive brokers maintain three withdrawal options that include bank wire transfer, ACH, and direct debit. There is no limit to how much you can withdrawal via a bank wire and cash processing may take two days. ACH withdrawals are free but has a $5 million limit and benefit from same-day withdrawal processing. IB will also process your withdrawals and account transfers to other discount brokers or financial institutions of your choice.
Best offers
Our interactive broker's review shows no sign of current or recent IB trader account promotions or offers.
Regulation and deposit protection
Interactive brokers is a highly regulated discount broker at both the local and international level. In the United States, it is licensed and regulated by the SEC, FINRA, CFTC, NFA, NYSE, and the Chicago Mercantile Exchange (CME). Customer deposits are also covered for up to $500,000 by the Securities Investor Protection Corporation (SIPC).
Awards
Some of the awards and recognitions that this broker has been honored with for the year include the 2019 Barron's Best Online Broker, 2019 Kiplinger's Best Broker for Active, Margin and Mutual Fund Traders, Editor's Choice Broker for CardRates.com, and 2019 Best Overall Broker by Investopedia.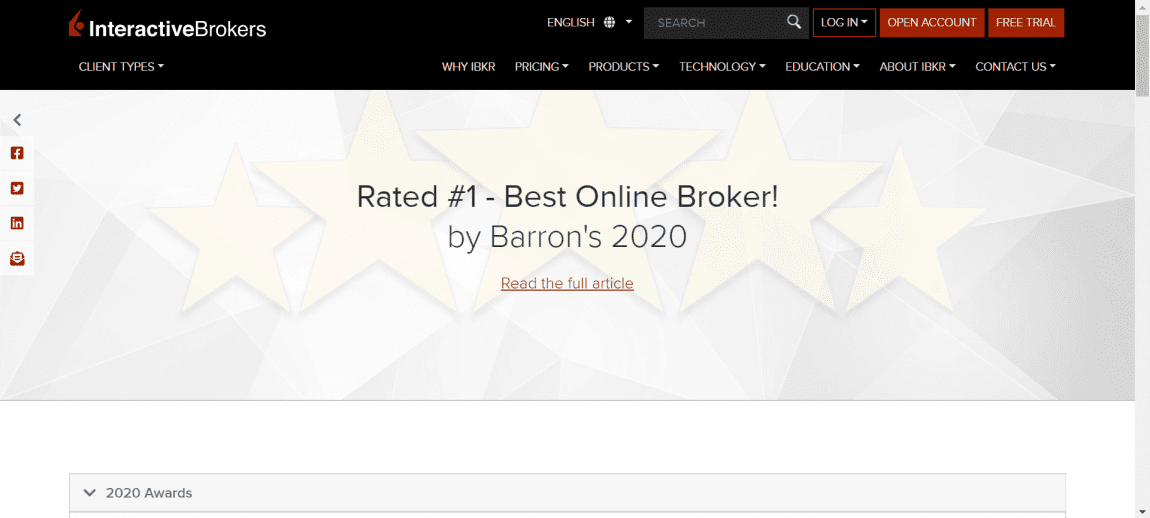 PEOPLE WHO READ THIS ALSO VIEWED: