Rakuten Trade is considered one of the leading online equities trading platforms in Malaysia. In 2017, Rakuten Trade was established via a joint venture between Japan's Rakuten Securities Inc and Malaysia's Kenaga Investment Bank Berhad. When the platform was launched, it was also known as the first full-fledged online equity broker in Malaysia.
It is regulated by the Securities Commission Malaysia (SC) and holds the restricted Capital Markets Services Licence ("CMSL"). The platform offers Malaysians direct access to Bursa Malaysia. They have won multiple awards ever since its inception, building a reputation as a leading broker in Malaysia.
Rakuten Trade Review Navigation
#1

Rakuten Trade Stocks , ETFS & REITS review
| | |
| --- | --- |
| App Support | Trading Fees |
| Good | Low |
Rakuten Trade has a straight-forward approach whereby the platform directly gives traders access to Bursa Malaysia only. Hence, traders will only be able to trade stocks, ETF, or Reits from this platform. Stocks, ETFs, and REITs that are listed on Bursa Malaysia will be available to trade on the platform.
Once you've executed your trade, you can check your trades on the order status section, which shows your current orders that aren't fulfilled and your trade history.
What Did Our Traders Think After Reviewing the Key Criteria?
Rakuten Trade Fees
Rakuten Trade has the lowest amount in terms of brokerage fees in comparison to other brokers in Malaysia.
For all of the accounts, the fees will be charged according to your transaction value, if you trade below RM1,000, you will only pay a transaction fee of RM7.42 (Inclusive of GST), which is recommended for traders with smaller capitals.
CDS Fee: Free for account opening
Transfer of shares to other brokers: RM10.60 (inclusive of 6% SST)
Clearing Fee: 0.03% up to a maximum of RM1,000 per contract with an addition of 6% SST
Stamp Duty: The platform charges RM1.00 for every RM1,000.00 in trading value (Maximum amount RM200.00 per contract) Note: There's a stamp duty exemption for selected small to mid-cap stocks
Below are the trading fees specifically for RakuMargin accounts
Interest rate: 6.8% per annum
Rollover Fee: 0.5%
Account Types
If you're looking to register an account at Rakuten Trade, the platform has 3 types of accounts, which is Cash Upfront Account, Dual Account, and Combo Account.
1. Cash upfront Account
This account is considered the basic account for the platform, whereby you only trade with the cash on hand. Deposits can only come in the form of bank transfers.
2. Dual Account
This account is a combination of cash upfront and contra account. You're able to trade like a normal cash upfront account and trade up to the X5 limit based on your collateralized share value in your contra account.
3. Combo Account
This account is a combination of cash upfront and raku margin account. You're able to trade up to RM100,000 upon approval and capabilities to use the margin facilities. A note that you will have to pay a 6.8% annual interest on the outstanding balance, and a rollover fee of 0.5%.
Platforms
There are 2 platforms available for Rakuten Trade. You can either trade by using the desktop platform or mobile version.
1. Rakuten Trade desktop platform
The platform does not require you to download any additional software for trading. The theme color of the platform is pleasing to the eye and it is easy to navigate around as most of the functions of the platform can be directly accessed from the front page.
2. iSPEED.my
The mobile platform is available in both Google Play and Apple Apps Store. As compared to the desktop version, the mobile version is considered more complicated among reviews from users. Due to disruptions to the application, there is frequent maintenance for the platform as well. One of the issues was a software bug, whereby when a trader buys the shares, your orders and capital are locked but the trades are not executed, with the trades rejected a few hours later. The main theme of the app is in black, which makes information easy to spot while navigating the app.
Usability
The desktop version of the platform is easy to navigate as compared to the mobile version. The mobile version has similar functionality as the desktop version with the only differences being the user experience of it.
By using the search bar, Malaysian traders get to find the company that they're interested in, with available information such as summary, charts, corporate information, fundamental ratio, corporate action history, marginal and non-marginable stocks. Traders can easily compare information by adding the stocks into a watchlist, then buy or sell whenever they wish to.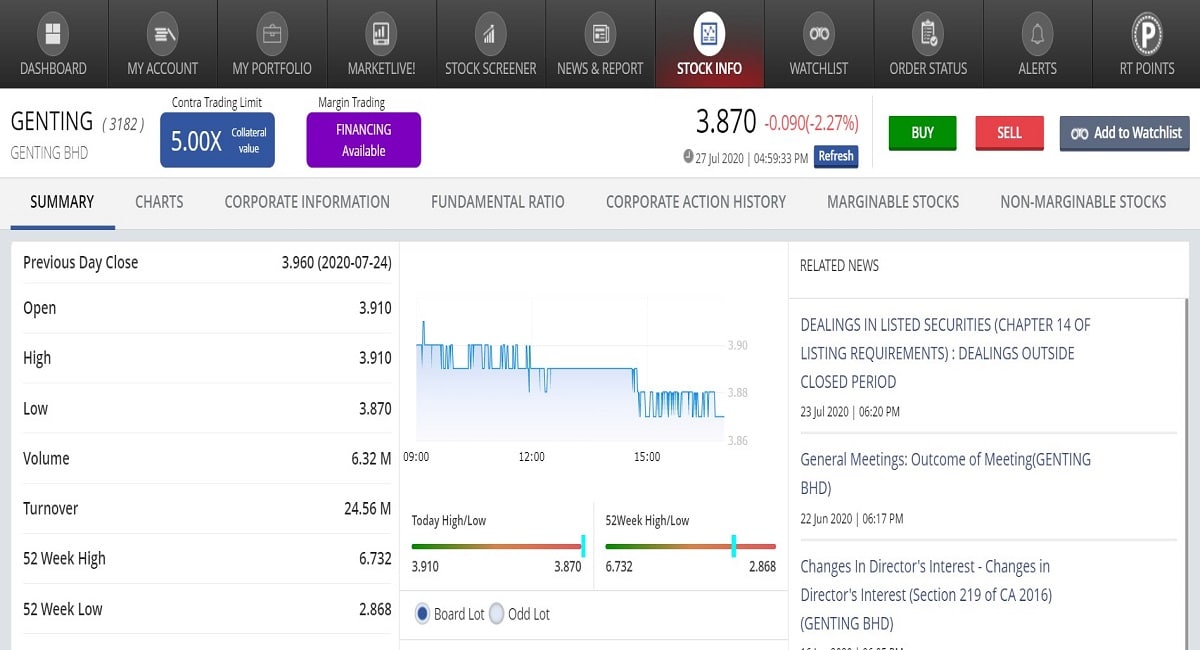 Another great feature of the platform is the stock screener. You can directly filter the investment types in the platform (which are stocks, ETFs, and REITs), Scale (whether it's a large-cap, mid-cap, or small-cap), consensus rating, sectors and also a detailed section for your selection criteria.
Customer Support
The platform has a basic customer support experience. It has a FAQ section that answers the most commonly asked questions.
For other inquiries, you can directly contact them via Facebook or even with their customer support hotline. In their Facebook support chat, you can directly click on the automated response regarding account openings and also keywords that may relate to the things you want to know more about.
The support team's working hours are from 8 am – 5 pm, Monday to Friday (excluding public holidays).
Payment Method
As all fees will be trade-related, the payment method will be through bank transfer which is done during the deposits.
BANK WIRE TRANSFER
You can transfer funds from all the local banks that are available in Malaysia. If you deposit below RM30,000 (which is the online transaction limit of Malaysia banks), you can just directly transfer the funds like how you always do. If you would like to deposit an amount larger than RM30,000, you will need to head to the local banks to request for the transfer or you can write up a cheque for it.
Best Offers
Rakuten Trade offers the RakuFriends Program, which is if you refer a friend to sign up with the platform, you will receive 500 RT points, which can be used to claim flight tickets from Air Asia, drinks from Starbucks, and so on.
The platform provides multiple educational contents for both beginners and seasoned investors. It has video tutorials for beginners that are just starting their journey of trading with Rakuten Trade. It also markets and research reports daily, with investment ideas videos posted frequently to give the traders more detail regarding the current market.
Regulations, Deposits & Protections
Rakuten Trade is regulated by the Securities Commission Malaysia (SC) and holds the restricted Capital Markets Services Licence ("CMSL"), the license allows them to deal with listed securities and at the same time provide investment advice.
To sign up for an account, Malaysians are required to provide documents (NRIC/Passport), personal details, for example, your employment, to make sure that you are a resident here in Malaysia. While signing up for an account, you're also required to fill in your trading pin, which will be needed whenever you want to execute a trade.
Rakuten Trade holds a strong personal data protection policy, whereby it ensures that trader's data are protected within the laws of Malaysia. This shows that Malaysians do not need to worry when using Rakuten Trade as data is safely protected.
The platform also exists in a whistleblowing section, which allows people to report the unlawful activities or practices done by those within Rakuten Trade.
Awards
Due to the consistent performance, Rakuten Trade has won several accolades ever since its inception on 19th May 2017.
During the 2018 Malaysia FinTech Awards, Rakuten Trade has successfully captured the title for 'FinTech Company of the year' among 90 companies nominated due to their innovative approach in the market while finding a balance between cost and benefits of its product to their clients.
In 2019, the Securities Commission Malaysia (SC) awarded Rakuten Trade the "Digitalizing Services for Retail Participation Award". In the same year, they took in two industrial awards during the 2019 Loyalty and Engagement Awards by Marketing Magazine in Singapore for Best Partnership in a Loyalty Program (Gold), and Best Loyalty Program for a Financial Brand (Bronze).