Types of ETFs
1. Equity ETFs
Stocks and equity are the same, as both represent the ownership in an entity (company) and are traded on the stock exchanges. Equity by definition means ownership of assets after the debt is paid off.
2. Leveraged & Inverse ETFs
Leveraged and Inverse ETFs are two types of ETF products created to produce targeted, multiple returns of the underlying index daily.
In the finance world, "leverage" is a technique that amplifies an investor's profits or losses. Therefore, a leveraged ETF means the fund aims to provide amplified returns of the index's daily performance.

While the word "inverse" simply means the "opposite". Thus, in this case, inverse ETF means the fund aims to provide a return or performance that is the opposite of the index's daily performance.
3. Fixed Income & Commodity ETFs
Fixed-income ETFs are also known as bond funds. There are fixed-income ETFs that focus on corporate, government, municipal, international, and global debt.
While a commodity ETF is an exchange-traded fund that is invested in a variety of physical commodities, including natural resources, agricultural goods, and precious metals. The commodity ETF focuses on either a single commodity or is focused on investments in futures contracts.
Best Brokers for Trading ETFs in Malaysia:
As a new trader, you need to choose the right online trading platforms or broker to work with. Using the wrong broker could make a big dent in your investing returns. Thus, having a good broker will help you in your investment journey. Above is the list of brokerage firms and their fee structures for your online stock trading in Malaysia.
How to Start Investing in ETFs?
Since ETFs trade is just like stocks, you can buy or sell anytime during the trading day. But you need to first open a trading account with Robo-advisors, brokers, or Bursa Malaysia. You should also have a Demat account for holding the ETF units.
A Demat account (short for a Dematerialized account) is an account to hold financial securities such as equity in electronic form.
Then, you are required to furnish documents like:
Proof of identity: Identity Card (IC), Passport, Driving License
Proof of Address: Passport, Utility Bill
Bank Account Details: Bank Account Statement
After you have completed these formalities, you can buy and sell ETFs through this account.
How to Buy a Foreign ETF in Malaysia?
If you have already started investing in an ETF, and wonder whether or not you can buy another country's ETF, the answer is yes.
Investing in foreign listed stocks can be beneficial for many reasons. One great idea is the diversification of assets or currency.
There are two ways for you to invest in an international ETF as below.
1. Use Foreign Broker
Open a trading account in the country where the respective stocks originate from. For instance, open a trading account in the US to buy shares at the New York Stock Exchange (NYSE). In this way, you can keep your transaction costs to a minimum.
Click here to open an ETF account
2. Use Local Broker with Foreign Stocks Trading
Open a global trading account in Malaysia associated with the local investment banks and security firms, and purchase foreign shares. The location of your assets will be considered local, although technically, your money is invested overseas.
Examples of ETFs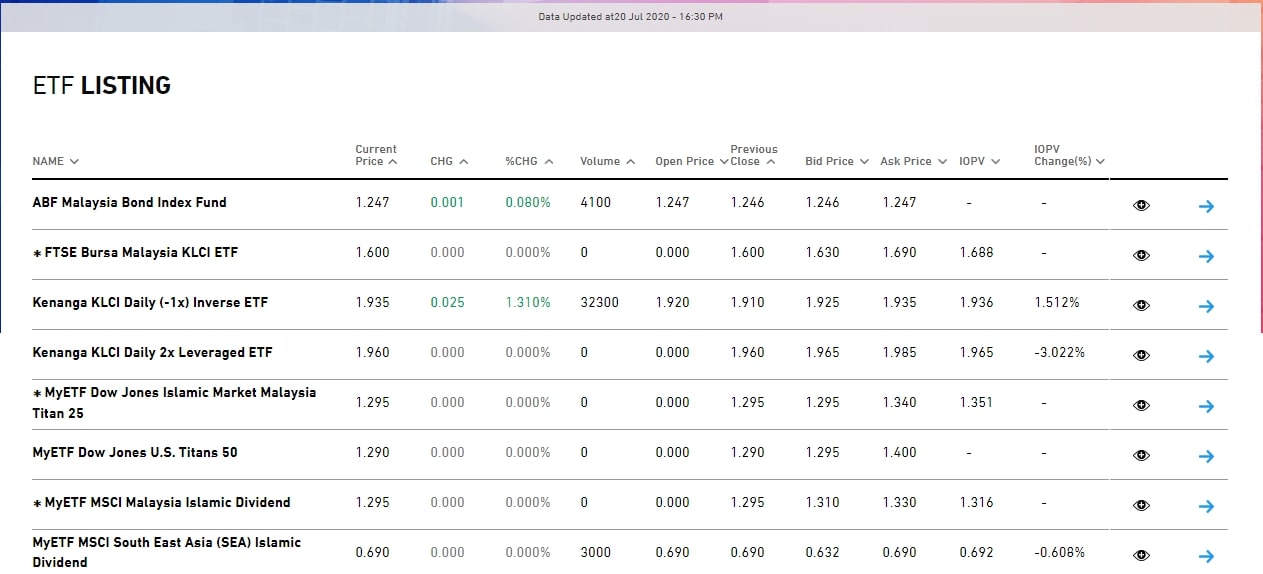 Why Invest in ETFs?
Exchange traded funds (ETFs) are ideal for new investors as they offer many benefits, such as low expense ratios, abundant liquidity, range of investment choices, diversification, and low investment threshold.
Besides, Malaysian ETFs generally have low trading volume and big market makers. With an ETF, investors can gain exposure to a geographical region, market, industry, and commodities such as gold.
Advantages of ETFs
ETFs offer exposure to a wide range of securities such as an index and are traded like a stock. Depending on the ETF scheme, you can gain exposure to a variety of stocks, countries, industries, and commodities.
Lower annual management fees for ETFs compared to unit trusts makes ETFs economical to buy and to maintain in the long run.
Most of the ETFs track an index, and this would mean passive management for the fund house to maintain the ETF portfolio. This makes it easier for the investor to know the performance of the ETF.
Disadvantages of ETFs
There are dividend-paying ETFs, but the yields may not be as high as owning a high-yielding stock or individual stocks.
For some sectors or foreign stocks, investors might be limited to large-cap stocks only due to a narrow group of equities in the market index.
If you compare ETFs to investing in a specific stock, the costs are higher. The actual commission paid to the broker might be the same, but there is a management fee for ETF that could lead to a higher cost.
Conclusion
Now that we know what an ETF is and how you can start investing in an ETF in Malaysia. ETFs are used by a wide variety of investors to build a portfolio or gain exposure to specific sectors. They have many advantages, especially compared to other managed funds such as mutual funds.
But just like any other investment, there will always be risks. The same goes for investing in an ETF. There are disadvantages to watch out for before placing an order. Thus, investors need to prepare themselves with the right investment strategy and risk management before starting.
PEOPLE WHO READ THIS ALSO VIEWED: